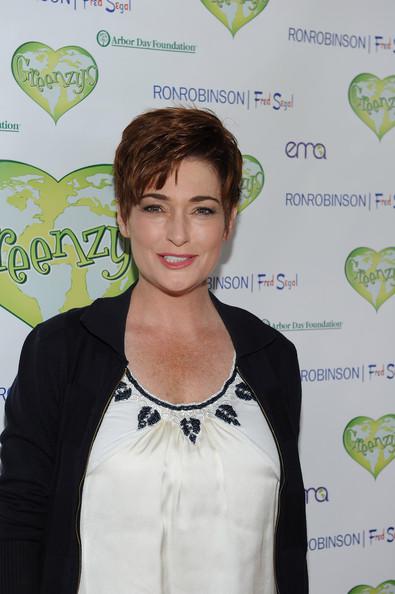 As we get closer to the premiere of season 5 of True Blood, fans far and wide are eagerly awaiting teasers, spoilers or a glimpse of anything that will tell us what's in store for this year's season. Today, we've finally got a new teaser with the introduction of Carolyn Hennessy who will be playing Vampire Authority member Rosalyn Harris. Alyse Wax  from Fearnet.com caught up with Carolyn to ask her for all goods – and she was kind enough to tell a few things like her new character for this season Rosalyn Harris who is part of the vampire Authority.
"It's funny because in the script, she is always referred to as "Rosalyn Harris." I feel like it's "Miss Barbara Stanwick" or something. The two names are one name."
We did need to know if she was high up no the vampire authority and here is what she had to say about that:
"I am not. The Authority was started by one particular member. I am not the oldest member of the authority but I was there shortly after it started. Very shortly. There are, chronologically, older members of the Authority. But it's [all relative]. It's like if the Authority is 2,000 years old, Rosalyn has maybe been on for 1,950 years. In the grand scheme of things all the Authority members – it used to be eight with Nan Flanagan, but she's gone so it is seven – are the most powerful vampires on the planet."
I know we are all wondering who she got to work with the most on the show and here is who she's had the pleasure of working with.
"I do not. I have not gotten to work with him yet. But I have gotten the best: Alexander [Skarsgard] and Stephen [Moyer]. And Chris Meloni [who plays Authority vamp Roman]. So really, a girl cannot ask for more than that. In the first season I am on – and with any luck, there will be more, but that's all in the writers' hands – to be able to work with them… let's not be greedy! When you are staring at those faces, you think, "All is right with the world." [Laughs]."
We have to wonder how much of her character was she able to create for herself.  Well here is her answer to that.
"I got three things: that she is from Texas; that she has hair high enough to interfere with air traffic; and she has a "home-spun wisdom." So she'll come up with the quip that relates to gelding a horse, or say, "Well, when I was on the ranch…." But her instincts are almost always right. Once she makes up her mind, and she knows she is right – and it takes a lot to change Rosalyn's mind. But it can be done."
To read the rest of the interview, click here.
So, what do you think Trubies? Sounds like an exciting addition to the cast and a very exciting season ahead.
Source:  Fearnet.com – "Exclusive: We Get the Dish on Season 5 With 'True Blood's New Blood, Carolyn Hennessy"
Image Credit: Michael Buckner/Getty Images