Dear reader,
I present my new business partner, Captain CanAmerica. All yours, mon ami.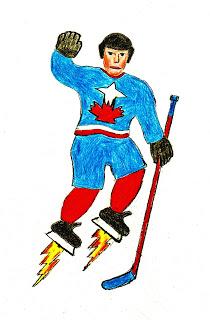 Captain CanAmerica, here to serve. Okay, I'm a fledgling superhero (props to Puckbite for his portrait of me) working on my tagline. Given the early stage of my development, I can reveal little of who I am. In comic book-parlance (I'm still waiting for an invitation to Comicon de Montréal 2011), I am the Canadian spy's sidekick.
While my partner's modus operandi is stealth—he has eluded many would-be interrogators—my method is more overt. You'll see me on guest posts here, and perhaps on other sites, as we—my partner, you, and I—combat the common villain: our inherent intolerance of those whom we do not yet know or understand.
Captain Canuck-meets-Captain America, I am not. A maple-leafed belt and star-spangled shield do not suit me. I endured no alien rays or scientific experiments to strengthen my skeletal and muscular systems.
My sole superpower (as far as we know) at which you might marvel: summoning my best self. With a super solar-powered lamp embedded in the butt end of my recycled wood hockey stick, I aim to illuminate the people who populate the provinces and territories that comprise Canada, and thus enlighten all kind-hearted citizens on both sides of the 49th parallel.
Time for me to make like a zipper, and fly.