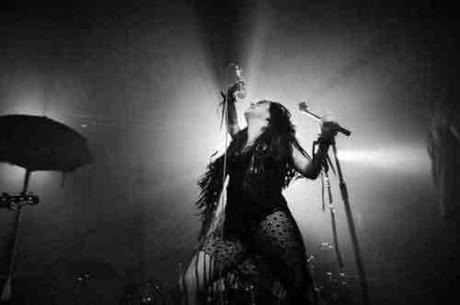 Photography courtesy of Clare Nash
Brigitte Aphrodite
Protegé to one of Britain's finest young songwriters, Brigitte Aphrodite emerges from the shadows with the kind of backing that makes you run your tongue along the left bottom side of your teeth before pouting your lips and making jazz eyebrows. You see, recently Kate Nash decided to make her own record label, have 10p, for artists of her taste and of a progressive counter culture, normality mocking mindset and Aphrodite is the spawn of this and not the marriage of mutilation and saltwater of her namesake.
At the moment she is on tour with Nash, showcasing her talent for abstract observation and way with words. She is both a singer and comedienne, occupying the middle ground between spoken word and punk songbird. There are few like her, most choosing one path or the other due to the complexities and pitfalls of mixing and potentially watering down one aspect of your appeal. Word is she's going down a storm live, showing the kind of unashamed confidence and likeability of those untainted by popular culture and time is running out to catch her as support, details of how are below.
The single itself has a heavier feel than other offerings from Aphrodite you may have heard online and from her Dance with a stranger EP. I think 6 months ago she may have been compared to a lot of other folksters. But times change and every aspect of this release feels perfectly tailored to Kate Nash's riot grrl roots and you can see why there's a lot of excitement and entusiasm at her being the maiden voyage of her record label. Miss Nash describes her as "a queen that came from the sea and used to live in a mirror ball and now does rock n roll". It's hard to resist such imagery.
I dream myself awake is a signal of intent, making it abundantly clear exactly what's in store should you stick around. Clever and stylish lyricism, grinding rhythm intertwining with sparce yet direct musicianship and intelligent nuances. The single is available on limited release vinyl and Itunes from 20th April. It also features a b-side demo of Miss Hedonistic which, while it was featured on her previous EP, the bass has now been turned up and her vocals are grittier and more engaging than ever suggesting she's really finding her groove. If this is where her sound is, you should be as excited about her as everyone else is.
We'll be interviewing Brigitte this week, so check back before the weekend and tweet me anything you want to ask at http://twitter.com/outroversion.
Tour Dates-
Tonight (6th)- Newcastle, Cluny
Tomorrow (7th)- Carlisle, Brickyard
9th- Darlington, Inside Out
10th- Edinburgh, Cabaret Voltaire
18th – Single Launch- London, St Pancras Old Church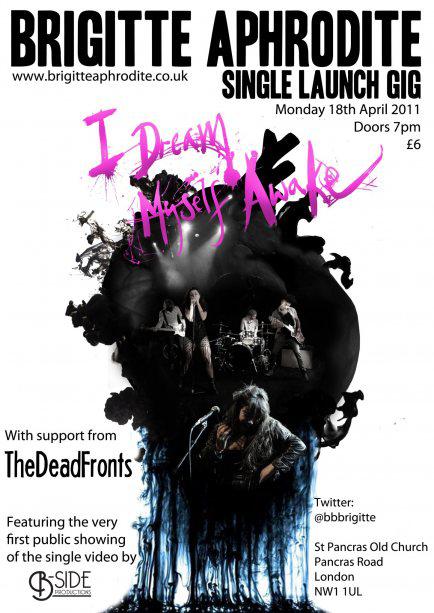 MP3s:
I dream myself awake
Miss hedonistic
Video of I dream myself awake live-
Oh and here's a video of her singing Whigfield's Saturday Night with Kate Nash at karaoke (: