Do you remember when my husband and I shared a post on our 3 year wedding anniversary?  I didn't mention at the time that this year is also another huge anniversary for us.  On 21st November, 2011, my husband and I will have been with each other for an entire decade.  It's quite a milestone for us both!!
Ten years ago, I went on a blind first date with someone who I met on ICQ (wait…did I just age myself?  What happened to ICQ anyways?), and let him back into my apartment at 3 am in the morning when he was coming back from the hospital.  When he was on his way home from dropping me to my place, an armored truck ran into his car on the highway ramp.  He was taken to the hospital, his car was totaled and he had walked from the hospital to my place so that he could call his father to pick him up.
Romantic eh?  Not really.
But, because of that accident, the date of our first date was memorialized on his insurance history.  So we know when we met.  And then, approximately seven years later, I was planning a Trinidadian wedding from Toronto.
That's right.  I got married in Trinidad.  I put the wedding together while I was in Toronto…in school…yes………not advisable in the least.  And yes, because of the logistics of my family, I did it mostly by myself (ahem thank you thank you.)
In the end the wedding was the most spectacular wedding ever (if I don't say so myself).  How'd I pull it off?  I depended on references from friends and acquaintances that I trusted who had gotten married the year before, or the year before that.  I also spent a lot of nights up all night researching wedding vendors in Toronto because, even though the wedding was in Trinidad, a lot of the materials and accessories were purchased and discovered in Toronto.
For example, my dress was bought at Vogue Sposa on the Danforth (after trying on a million dresses in Chinatown).  I bought pounds and pounds of white chocolate covered sunflower seeds at A1 at Yonge & Summerhill (which retrospectively is actually an Interior Design store but I digress).  I bought small nests for my tables at Bridal and Beyond in Mississauga.  I bought my wedding jewelry from Only One Jewellery from (at the time) North York.  My two pairs of shoes were bought in Vaughan.  I hired a personal trainer at the Extreme Fitness at Yonge & Sheppard and I did my microdermabrasion and facials at Clear Day Spa and Rain Day Spa.
I have to say it took me FOREVER to find these things because there were not that many reviews available that I knew I could trust 100%.  I had to go to each of these places and physically check them out after finding them and searching for reviews to make sure that they were worth my time.  I was after all, in the middle of my final projects at school so needed to designate time REALLY WELL.
The Trinidadian vendors were easy to find – not only were my friends very willing to help out by suggesting people that they had good experiences with, but I also met with a really intelligent woman who had a website that connected brides to vendors.  That was amazingly helpful.
And now?  Now I've discovered the Canadian version of that website (3 years too late for me!) – Bridetastic.ca (an FYI there is also a Bridetastic Phillipines)
This is THE place to go for real world advice on wedding vendors in the Greater Toronto Area (GTA).
I love the open, casual feel of the site and the friendliness of the proprietors and the subscribers.  The service is free and you can find referrals to vendors or ask about your potential vendors on the group forums.  It is still quite a new service, so bridetastic is currently concentrating on the GTA only, however, as the site grows, they will be expanding to include the rest of Ontario, and eventually the rest of Canada!
I do everything in my life by referrals, so having real world, accurate advice from former brides and brides-to-be is so valuable to me that I had to share it with you.
I actually spent a bit of time on the site going through the forums, checking out the reactions of members, seeing who was joining and even reading their fantastic blog that had me so reminiscent of weddings that I think I'm about to call my  hubby and remind him that we said we'd re-do another wedding at 5 years….(hint hint hubby).  I loved that the site was welcoming to EVERYONE, not just to brides.  A lot of bridal sites that I have been to "forget" you once the wedding is over.  This one, however, has the makings of a strong, supportive community for everyone, no matter what stage of "bride" you are in.  I love that.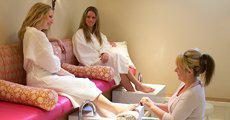 As I said above, the site is pretty new… so to celebrate its launch, Bridetastic Canada is working with Rachhloves and Sweetgrass Spa to bring you an amazing contest.
In this contest you can win a Spa Lunch Package for you and 3 girlfriends worth approx. $250 from Sweetgrass Spa!!!
(yes seriously!!!)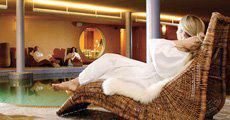 Now, if you're getting married (and I know some of you are), this is an amazing relaxing day to spend with your best girls.
If you're already married, or are not quite at that stage of life yet, this is STILL AN AMAZING DAY TO SPEND WITH YOUR BEST GIRLS!
The giveaway is open to anyone.  That means YOU DO NOT HAVE TO BE A CURRENT BRIDE OR A BRIDE-TO-BE to enter!  All you need to be able to do is to write a decent review of any bridal service or vendor in the GTA….and we all have friends, cousins, sisters etc. who have gotten married, even if we haven't.  Go rack their brains if you weren't involved.  Offer them one of the spa spots ;P
Isn't it awesome that anyone can enter?!
That means that even I have a decent chance even though I'm an old smug-married!
Just an FYI, this is what the Spa Lunch Package for 4 at the Sweet Grass Spa (which was awarded the Best City Spa in 2010 by Chatelaine) in downtown Toronto entails:
A Lunch Special from George Restaurant

Daily Special with a Side Salad

Sweetgrass Manicure

Includes Nail Detailing, Hand Massage, Polish Application

Sweetgrass SWAG Bags Plus an OPI Nail Polish

Swag bag with spa treats (nail file, lotion, etc.) and a choice of Nail Polish

Unlimited Access to water amenities

Ozonated pool with an underwater treadmill, infrared sauna and whirlpool

Refreshments and Fruits

Flavoured water, herbal teas, coffee and fresh fruits during your visit

 Here's How To Enter the Contest:
Pay attention – these are different from the normal requirements on this blog.

STEP 1
: Join 
www.Bridetastic.ca
 and write
THREE good/quality reviews
on 
THREE
different wedding companies you've had some interaction with
STEP 2:
Do one of the following (or both for better chances of winning!) a) Follow
Bridetastic Canada
,
Rachhloves
and
Sweetgrass Spa
on
FACEBOOK
and write the following:  
[username] entered @Rachhloves Toronto Spa Day GIVEAWAY at @sweetgrassspa thanks to @Bridetastic Canada !
http://www.youtube.com/watch?v=_TsMUEp6mWA
and/or
b) Follow
Bridetastic_CA
,
Rachhloves
and
Sweetgrass Spa
on
TWITTER
and tweet the following:  
[username] entered @Rachhloves Toronto Spa Day GIVEAWAY at @sweetgrassspa thanks to @Bridetastic_CA!
http://www.youtube.com/watch?v=_TsMUEp6mWA
Please make sure that you link the Bridetastic Canada fb page or the Bridetastic_CA Twitter Account when you write/tweet the above statements.
It is the only way we will be able to track the eligibility of your entry.
STEP 3:
Tell family and friends to tweet/facebook your username + message above for better chances of winning!
The contest started on the 28th October, 2011 and runs until the 13th December, 2011 – so get cracking gals – hop on over and enter!
Winners will be chosen randomly via random.org from the 20 top reviews chosen by the Bridetastic team.
For more information, please see the contest page here, say hello to Bridetastic Canada on Twitter or contact the Bridetastic team via email at  [email protected]