When we moved into our house ten years ago, one of the draws was the privacy afforded by the wild growth and woods at the back of our property. Neighbors are great and all, but hanging in your backyard without any eyes on you (deer being the exception) is pretty damn cool. Not to mention the enjoyment of seeing nothing but nature's gift while enjoying an after dinner cocktail or two on the deck.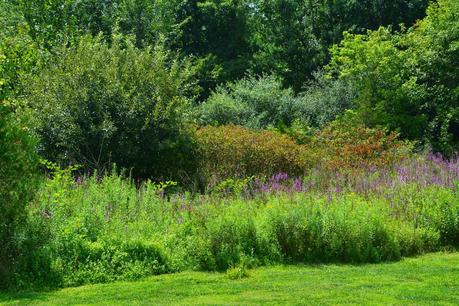 In ten years, I've only walked through this wildness twice. The first time was with my son who was three at the time and was
dumb
naive enough to believe we were actually in the rain forest. We had a great time until we stepped out and realized we were covered in ticks. Not good.
The second time was to chase down the dog who escaped into the unknown one winter. It took me close to 45 minutes to locate her as she managed to get inside an area fenced off with barbed wire. I nearly took my leg off trying to hop inside so I could carry my 75 pound Labrador Retriever to safety. I'm convinced this is where the deer hang at night and sit around the fire planning their assault on my garden. I'm OK with it as I'd rather they hang here safely than venture out and encounter one of the thousand hunters in the area.
This wild area is rather nondescript the majority of the year until the beginning of August. That is when the super aggressive Purple Loosestrife appears. And it appears every-friggin-where: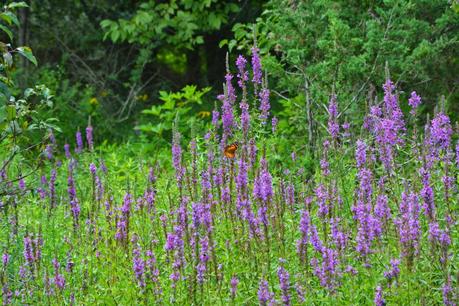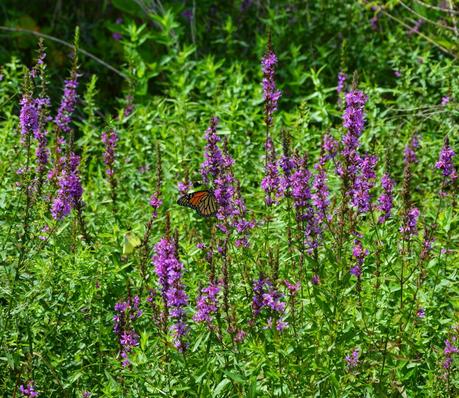 It looks great from a distance with the waves of purple weaving in and out and then in and out again. Of course I also realize what a thug this non-native perennial is and just how invasive it can be. Read this piece on the invasiveness of Purple Loosestrife.
I've accepted there is nothing I can do about it other than pulling it when it comes to visit my garden from time to time. It is just too pervasive and it would be an overwhelming task to try and eradicate it.
I will admit though, it does bring in massive amounts of creatures and my daughter and I like to check out who comes to visit (some, more welcome than others):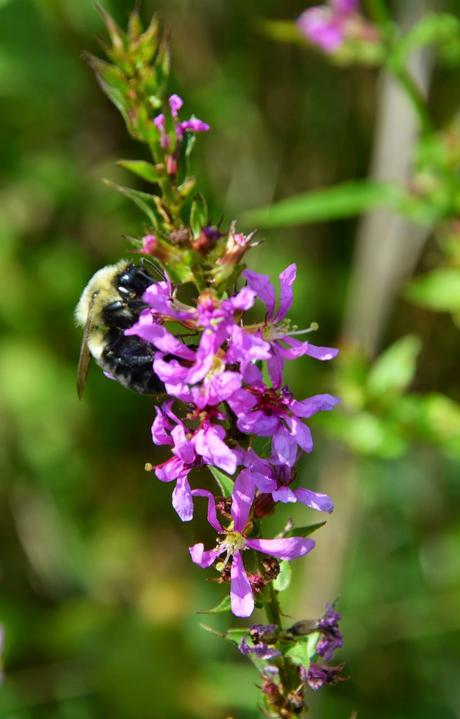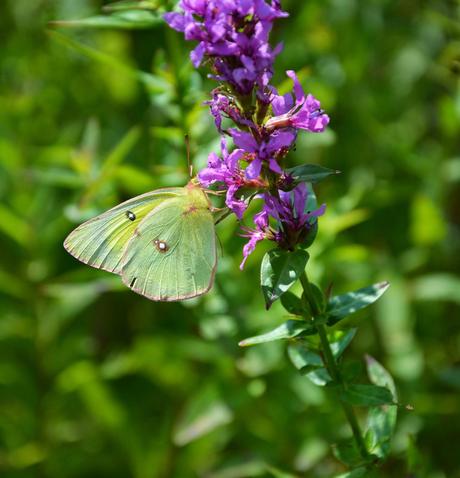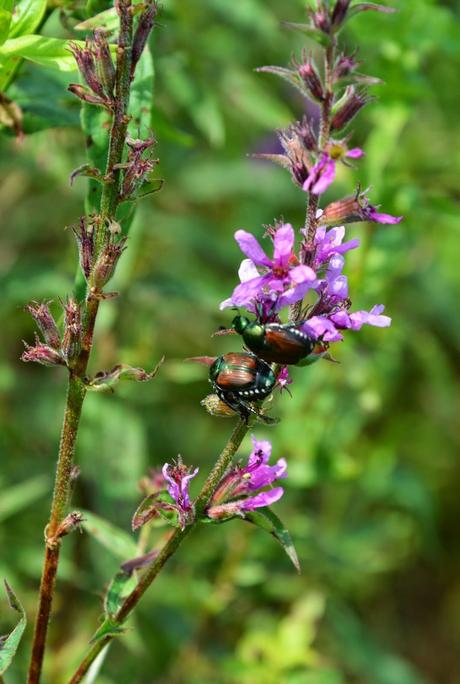 Phase 2 of the backyard wild growth display is when the Goldenrod blooms. My wife is a severe allergy sufferer and when we first moved into this house, I thought for sure we were inundated with the dreaded ragweed. I was in a complete panic until I investigated closer and realized it was truly Solidago. Thank the good lord. If you ever wanted to know the difference between the two, read
here
. Goldenrod is also a thug, but it does not contribute to allergies.
The Goldenrod literally started blooming this weekend and the activity on the blooms is intense: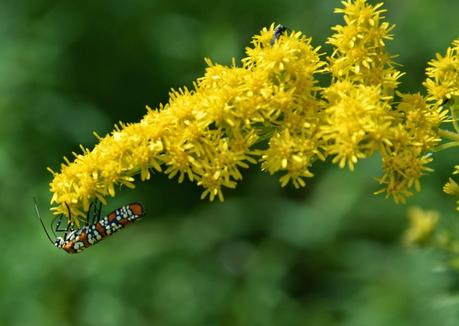 Ailanthus Webworm Moth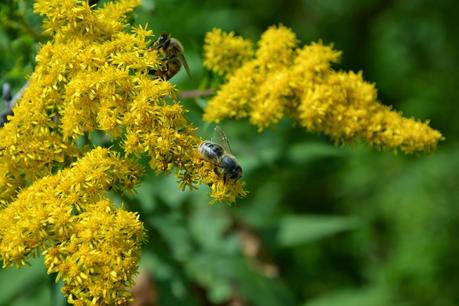 Within a few weeks, it will be the annual purple/yellow explosion of two aggressive bastards.
But we also had a third entrant into the display earlier this summer and this one was more than wanted. Out of the blue, we had at least 25 Milkweed plants appear: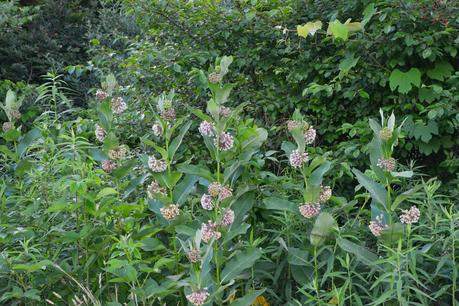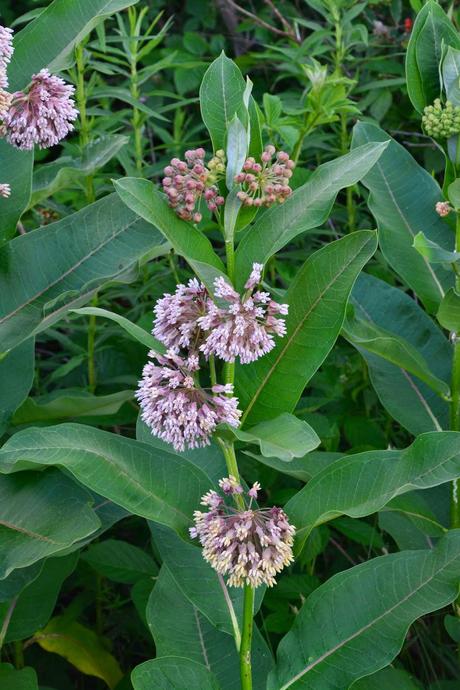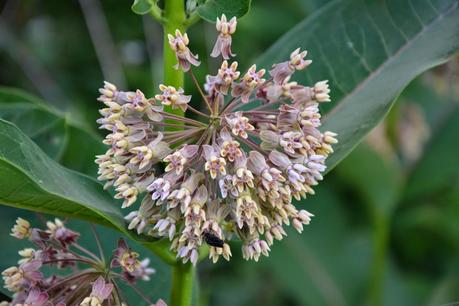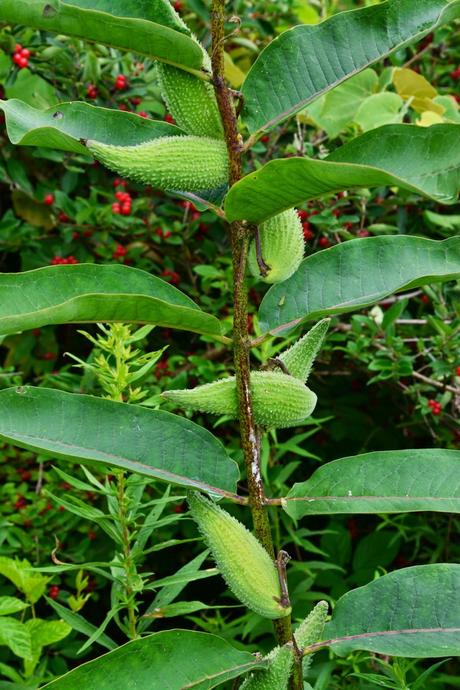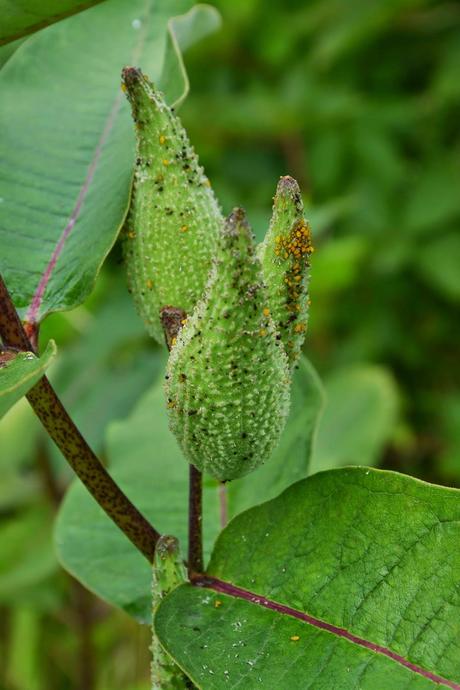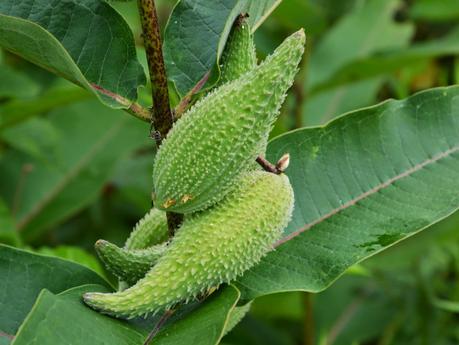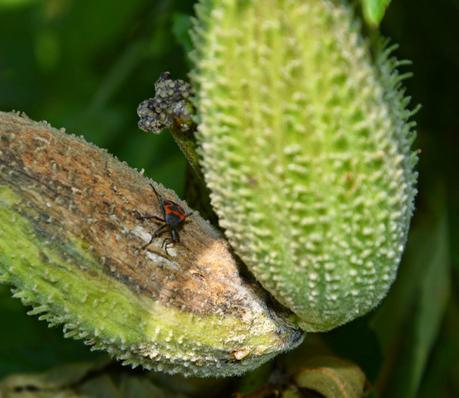 Super cool and a chance to educate the children on the plight of the Monarch butterfly. We have seen little action on these plants to date, but will remain patient.
I've also just started to see Swamp Milkweed popping up in a few places along the back of my property so the few plants I added myself last year are apparently spreading the wealth: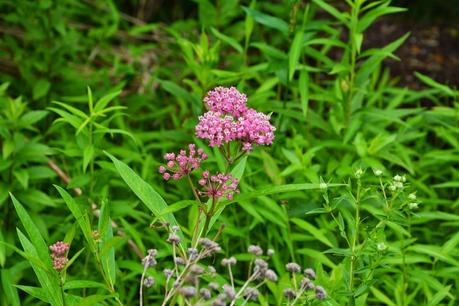 As always, nature is way more interesting than the man-made garden.