This wedding was an intimate celebration of the couple's love! Claire and Paul picked Cyprus for their wedding because of the sunny weather, the natural beauty and the stunning locations. Their wedding took place at "Nikoklia", Paphos, a traditional village with fairytale, greenery landscapes. The Vasilias Nikoklin Inn was the ideal venue for a friendly, intimate wedding just like the couple dreamed. The courtyard of the hotel was decorated with wooden tables with lace table runners, candles, white flowers, lots of greenery and other flower arrangements hanging around. Enjoy the prettiness of this romantic wedding through the following photos!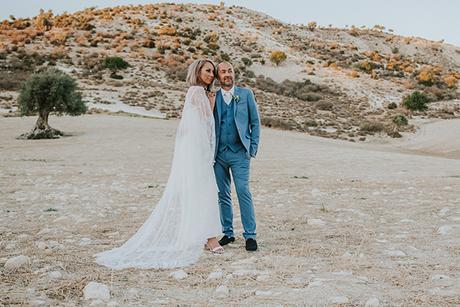 Photography : Christodoulou Photography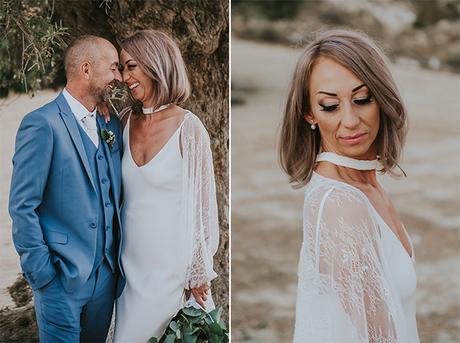 Photography : Christodoulou Photography
"We met at the Grand National Race Day at Ayr… we hit it off straight away but didn't see each other again for a while! Then we met again months later and we knew we were definitely interested in each other… Paul and I started having a few secret dates and quickly fell for each other. He totally won me over, he was so funny and entertaining! He was also very romantic (although wouldn't admit it to most). It wasn't long until we were totally loved up and having babies together! We finally got married after 11 strong years together", the bride shared with us.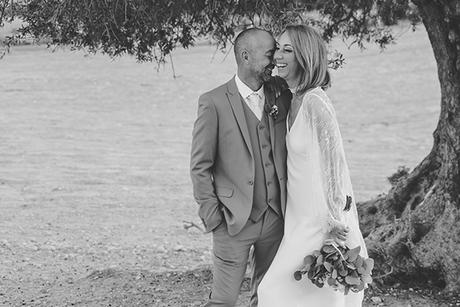 Photography : Christodoulou Photography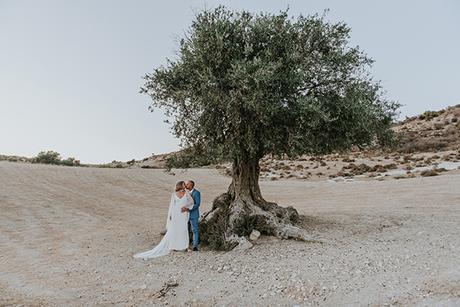 Photography : Christodoulou Photography
"Paul arranged a romantic weekend away to Edinburgh, where we were staying in a beautiful boutique hotel. We were at the hotel about to head out for a nice dinner, when Paul started playing "our song"… and proceeded to swing down onto one knee and pop the question! I was completely taken aback as I had no idea! Of course, I said yes! After that we had lots of champagne to celebrate but didn't manage dinner."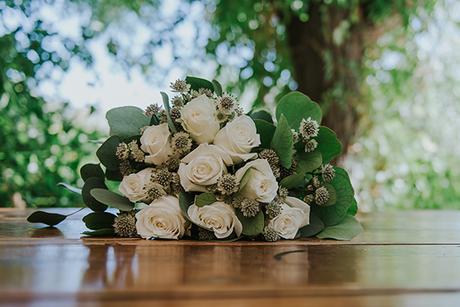 Photography : Christodoulou Photography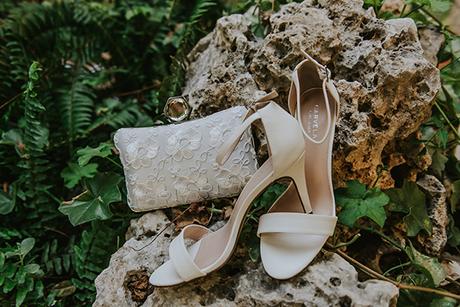 Photography : Christodoulou Photography
"Paul and I were engaged for about five years or so, so I had a long time to look at dresses! I knew straight away though I didn't want a traditional wedding dress, it's just not me. I was looking for something different, something modern, but quite simple, and a little bit sexy! I came across Grace Loves Lace through Instagram and wow I fell for these bridal gowns. They are all amazing! I loved all of the beautiful lace dresses, but when I saw the Arlo gown, soft and delicate silk, with a silk choker, and a lace cape… I was mega excited about this! I managed to get an appointment at their trunk show in London when they came over from Australia (this was before they opened the London flagship store) and I was over the moon I could try on these dresses. They were all stunning, but when I tried on the Arlo gown with choker and cape it just felt amazing. It was the one! The silk material flowed beautifully, so soft and felt like butter. Even though it's a very simple gown it totally stands out. Then after it had been ordered I had the big wait for it to come from Australia. When I finally got it home it was like a dream."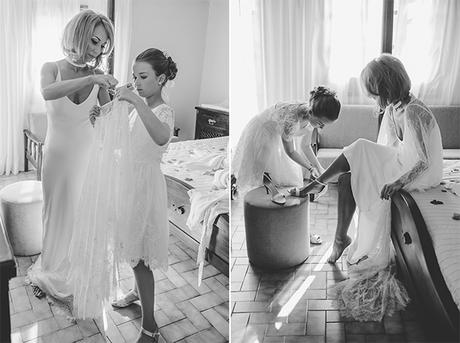 Photography : Christodoulou Photography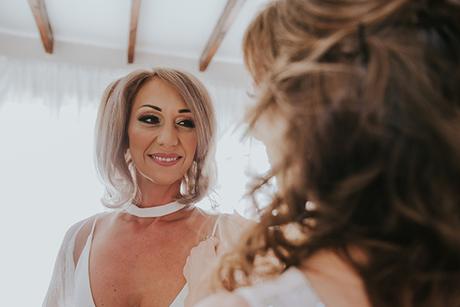 Photography : Christodoulou Photography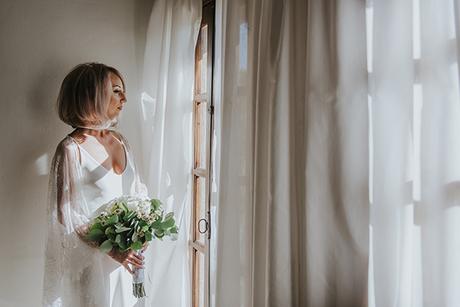 Photography : Christodoulou Photography
"The ceremony took place at the Vasilias Nikoklis Inn, Nikoklia, Paphos. Our ceremony took place in the courtyard, surrounded by beautiful flowers and lots of greenery hanging all around. It was the perfect place to marry, so idyllic and it had such an intimate feeling. The guests all loved it too."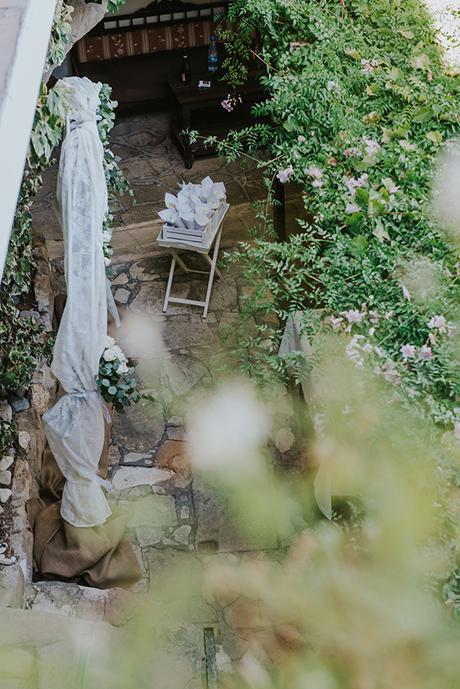 Photography : Christodoulou Photography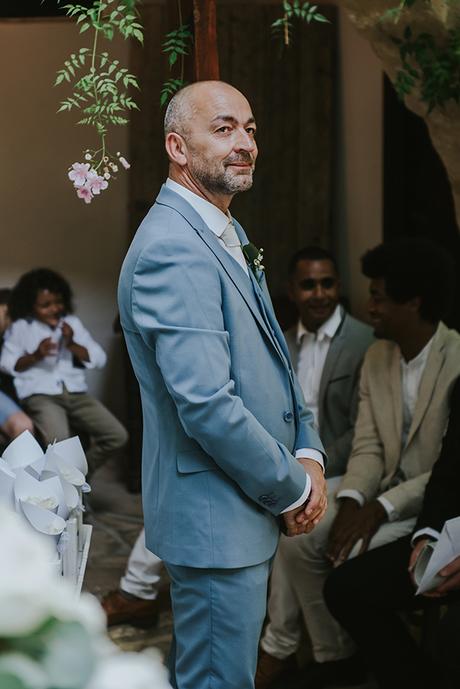 Photography : Christodoulou Photography
"We looked at lots of different destinations abroad and decided on Cyprus for the beautiful weather, lots of stunning locations and towns. Initially I was looking at hotel weddings but after looking into it I realized it wasn't what I wanted at all. I wanted something more private and intimate. I searched many websites and as soon as I came across the Vasilias Nikoklis Inn I knew it was just perfect. As soon as we checked available dates to suit we had it booked! I had read so many fabulous reviews and seen so many beautiful wedding pictures from the venue. The venue is run by Christina and her family, who all work so hard to ensure that everything runs smoothly and that every detail is perfect."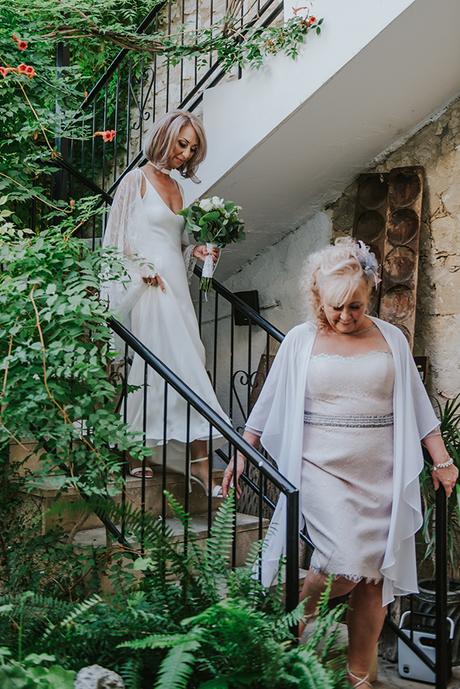 Photography : Christodoulou Photography
"The best moment of my wedding was definitely the wedding ceremony! I had been a nervous wreck for such a long time before the wedding, I thought I would trip and fall down the stairs, thought I would be a blubbering mess and was just generally very shaky about it. But when it came to the exact moment when I got to the alter to see my hubby to be, it just felt like everything fell into place. I couldn't have been happier when I saw him, and I felt a huge burst of happiness and love. At that moment he was crying, a lot! which was totally unexpected, and it threw me a bit, in a nice way. After that, the ceremony just ran so smoothly and felt so easy. It all felt so intimate and the atmosphere in the courtyard felt amazing. There were lots tears from the guests too!"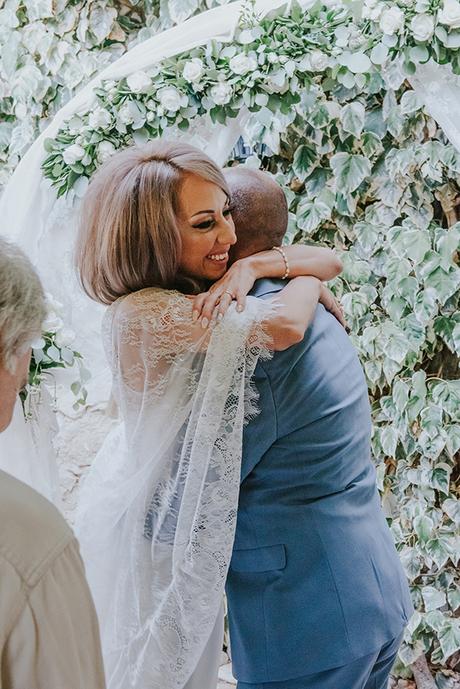 Photography : Christodoulou Photography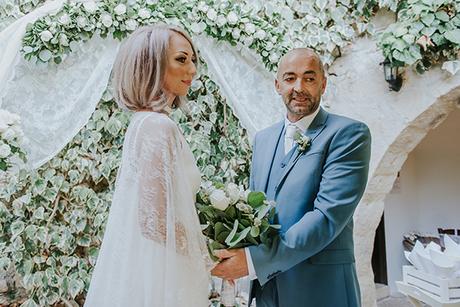 Photography : Christodoulou Photography
"I was looking for a wedding with a romantic and rustic feel to it with lots of neutral colours. I wanted it all to have a natural feel to it, not to clean cut and formal. And with a vintage feel to it also. I decided on nude/neutral colours for the bridesmaids and let them all choose their own style of dress. Which let them all feel comfortable and each have their own individual look and style. I wanted to keep in with neutral colours and a natural look. I asked for an unstructured bouquet with white flowers and lots of foliage. For the bridesmaids we kept it nice and pretty with gypsofilia. They were beautiful!"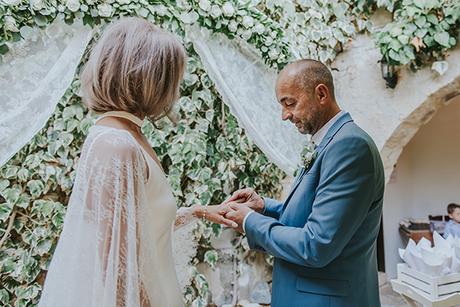 Photography : Christodoulou Photography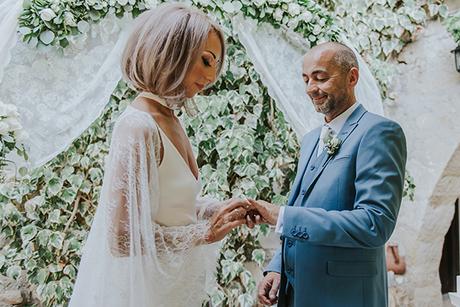 Photography : Christodoulou Photography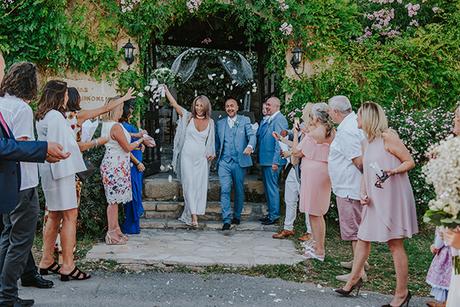 Photography : Christodoulou Photography
"Christina at the venue was an amazing help when it came to the decorating! She just asked how I wanted it to look and she did all the work! Along with the florist Maria (Aliki flowers) who set up the most beautiful flower arrangements, from draping flowers and foliage over our alter, and hanging flowers above our tables. I asked for wooden tables with lace table runners, jars with the flower arrangements, lots of candles, and hanging decorations… lots of hanging hearts, bunting and sparkling lights above. We wanted to make something personal for all the guests and had Polaroid pictures made of each guest for their place settings. It was all really amazing, and all came together beautifully."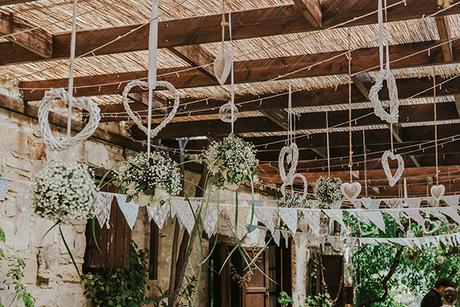 Photography : Christodoulou Photography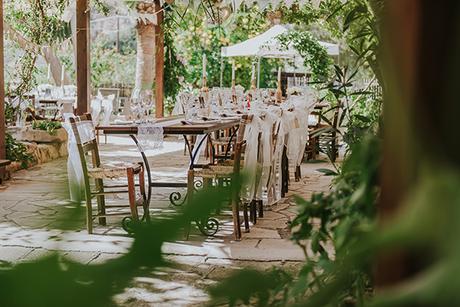 Photography : Christodoulou Photography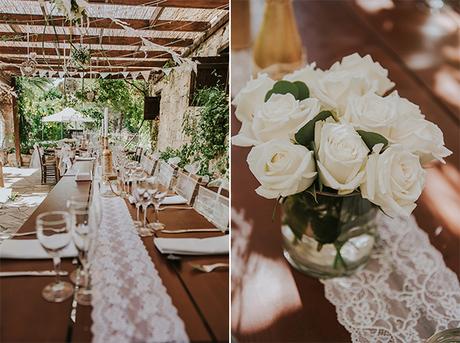 Photography : Christodoulou Photography
"Everything was mostly from Pinterest and Instagram. There is so much inspo on these websites! I also found Etsy and Ebay fantastic for buying all of the little bits and pieces. And I found a fantastic lady on Etsy who made me my biker jacket with Mrs Ingram on the back! I just wanted something with a bit of edge for later at night, and it was a surprise for my hubby. Everyone absolutely loved it!"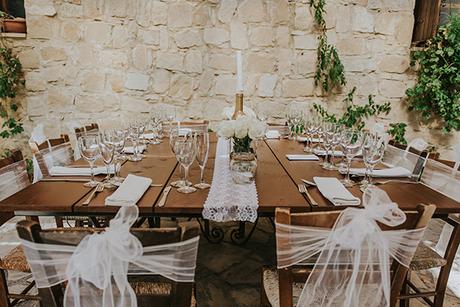 Photography : Christodoulou Photography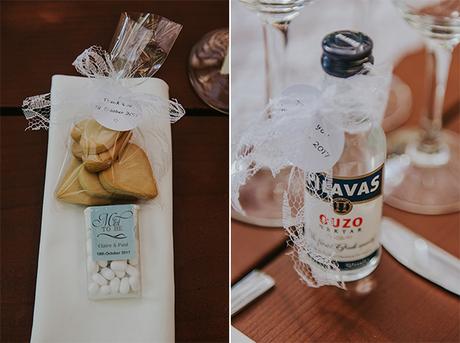 Photography : Christodoulou Photography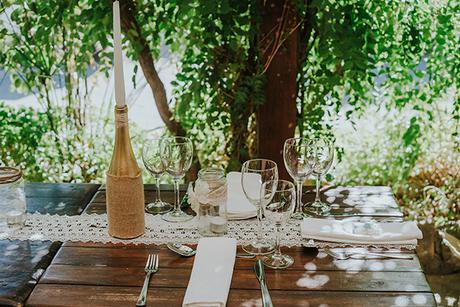 Photography : Christodoulou Photography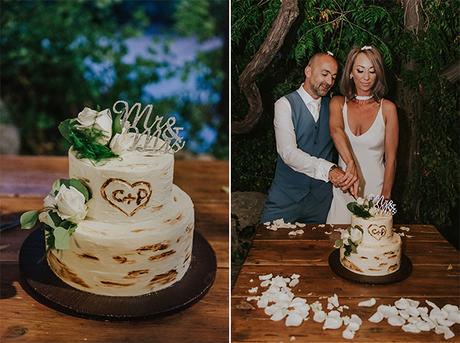 Photography : Christodoulou Photography
Advice to a bride that is planning her wedding now: "Do it your way. Don't let anyone tell you otherwise. Go with what your heart tells you. It's your special day you have been waiting on for such a long time, so it has to be right for you. I had comments like, you can't do your hair like that, can't wear that kind of dress etc. It made me doubt my choices but, in the end, I did everything exactly how I wanted and couldn't have been happier. And when it's the big day, remember to breath and take in every minute of what's happening, it goes by so quickly!"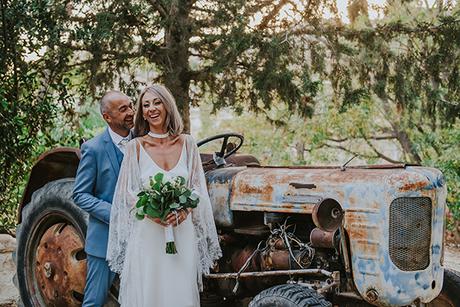 Photography : Christodoulou Photography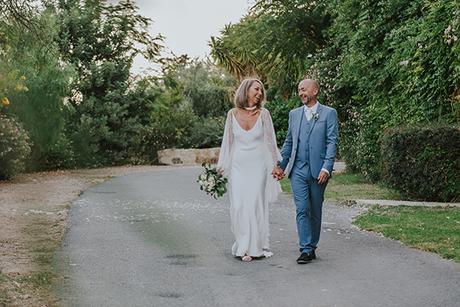 Photography : Christodoulou Photography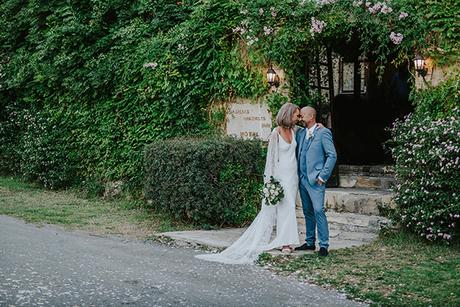 Photography : Christodoulou Photography