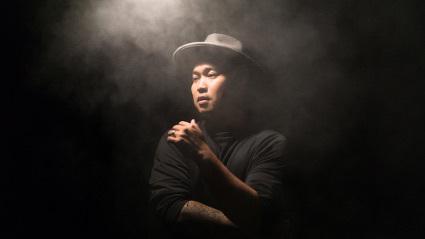 Born in Manilla, the vibrant gem of the Philippines, Wilder Lee has brought with him a very diverse set of musical influences and life experiences to Australia, which certainly added more flavour to the mix. He has just released his debut single 'Into the wild' with a string of shows to follow.
Tomatrax caught up with Wilder Lee to ask a few questions.
What inspired you to become a musician?
My mother was a professional DJ back in the day and my father was in the US Navy so we'd travel frequently and mum gigged regularly. There were also days where my grandmother would take care of us and she was an avid fan of gospel hymns. I think that sort of set up my foundation for music and aspiration to write and tour.
When did you write your first song?
Would've probably been sometime in highschool - a half-arsed love song to try and land a date to the year 10 formal. Funny enough, I don't think I had a date that year. But I did have a few lyrics, so that worked out. Ha!
You've just released your first single, what's it like to have it out?
Quite satisfying actually. We partnered with the good people at The A&R Department and got them to do all the tricky stuff. The reviews are now coming in and it's great to see something you've invested in get some quality feedback and recognition.
What made you pick 'Into the wild' as your debut release?
The song itself was actually written two years ago and came from a juncture in my life which was pretty dark. Aside from the raw edgy vibe and clever production, I think it's more so the emotional connection I have with the song that determined that this was gonna be the 'one'. In many ways the song will always remind me that we made it through, we overcame, we went 'into the wild' and lived to tell the tale.
You've said the song is was birthed out of tough crap in your life, is it hard to have something that personal out for everyone to hear?
To be honest no. I think the beauty of songwriting is that you can mask the personal stuff with metaphors and imagery and witty lyrics. What symbolised pain and tragedy in your life may be translated differently with the listening audience, so in short no definitely not hard at all.
You've have an EP coming out, how will the rest of the EP compare with 'Into the wild'?
That I do! The EP will have a rawness to it similar to 'Into the wild' definitely will be experimenting with a few different instrumentations and nuances. Dark, raw and haunting are words I would be inclined to use to describe it.
Do you know what the EP will be titled?
I'm sort of still tossing up the title but possibly a title in another language, most probably latin being a dead language. To symbolise that beautiful things can come out of things that have died.
When is the EP planned for release?
I'd like to say end of year but hey, there's no real deadline. I don't wanna rush it, but I believe this year or early next year might be safe to say.
Do you ever listen to your own music?
Absolutely. I think only by listening to the music I create can I learn myself as an artist and learn where changes need to happen.
What other music do you listen to?
Love me some Bon Iver, Volcano Choir, Mumford & Sons - the list goes on.
What do you have planned once the EP is out?
Do a few shows, meet great people, travel and conquer the world.
Upcoming Shows:
Thurs Night Residency April - Eveleigh Hotel, Redfern, Sydney
May 19th - Newtown Social Club Syd, supporting Sahara Beck
May 24th - The Bald Faced Stag, Sydney
June 11th - The Record Crate, Glebe
July 3rd - The Soda Factory, Surry Hills
Check out Wilder Lee's Facebook page to find out more!