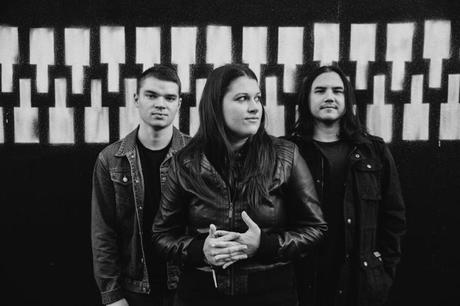 Evolving from one person's bedroom-written songs, Fragile Animals consists of Victoria Jenkins (vocals/bass), Daniel Parkinson (guitar) and Kyle Shipton (drums); an ensemble capable of creating an incredibly detailed sound using just a few core elements.
Tomatrax caught up with Victoria to talk about the band's music.
How did the band form?
Daniel and I (Victoria) have known each other for a while. Dan came to me with some initial ideas and I started working on them. We met Kyle around that time and asked him to work on the material with us. That was about twelve months ago and it all sort of fell into place from there.
Where did the name Fragile Animals come from?
Haha...honestly I'm not one hundred percent sure. I have the feeling it was Dan who said it first. We're really great at coming up with terrible band names. We had about a thousand of them floating around...Fragile Animals was pretty decent...that's probably why it stuck.
You released your debut EP recently, how does it feel to have it out?
When we wrote the tracks for the EP we had no idea how people would receive them. We were just writing music we liked and we were hoping it would find it's way to people who might like it too. The few months since we released the EP have been a bit of a head spin. We've been blown away by the reception to be honest. Our first single 'Signals' was listed as a finalist in the APRA AMCOS Vanda & Young Songwriting Competition and our second single 'Home' has so far received 48,000 streams on Spotify and airplay on Triple J. We've had people from all around theworld following us on social media or ordering copies of the EP online. It was quite unexpected really and it's been a huge buzz.
What made you pick 'Light That Fades' as the title track?
Back in the beginning when we were first writing together 'Light That Fades' and 'Home' were finished quite soon after one another. They were a bit better than the other tracks we wrote around that time. Which meant that those two sort of formed the basis of the EP without us really thinking about it. When we came to naming the EP we were deciding between those two as title track and in the end 'Light That Fades' won out.
Where was the video for 'Home' filmed?
Parts of the clip were filmed in a studio in Archerfield and rest was filmed at Mt Glorious. The two days we spent filming were incredible. Creative Clones put together an amazing team and we're really happy with how it turned out. We were new to the whole process and somehow they made three awkward, camera shy, people look pretty cool...haha!
You'll be headlining the Sol Bar January 13th , what can fans expect from your show?
A few little surprises hopefully...haha! There will be tracks from the EP but we've also got a few new ones in there that we're excited to test out live. We can't wait to play our first show of the new year...we'll be heading back into the studio soon so it might be our last home town show for a little bit.
When writing, what comes first, the words or the music?
The music typically comes first. Usually Dan will come up with the initial idea and then we'll all pull it apart and put it back together. Sometimes during that stage I'll start working on vocal melodies. Usually the last thing to fall into place is the lyrics.
Check out Fragile Animals' Facebook page to find out more!