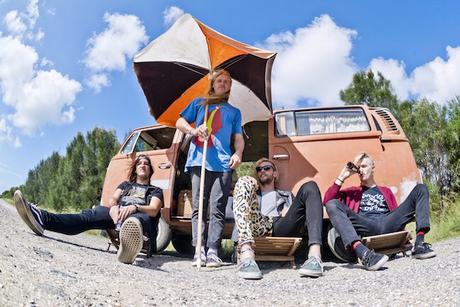 Melbourne based Alternative Rockers Kill Dirty Youth have just completed their 'No Sleep Til Bulah' tour. This followed the release of their latest single 'Lunatic' from their debut album Music Is For Losers. Tomatrax caught up with Tony Clay, the band's lead singer, to ask a few questions.
How did the band form?
KDY started back in 2010 when Cobra (Guitar/Vocals) & J Rock (Bass) dropped out of high school to play music. We recruited Louieville Slugger (drummer) & played around Newcastle & Sydney for a couple of years as a 3 piece. We then picked up 420 Benny (Guitar/Vocals) to complete the line in 2012.
Where did the name Kill Dirty Youth come from?
The name originally was "Dirty Youth" but we found out there was another band from Europe with the same name. We couldn't trademark the name as they'd done so already so we just decided to put kill in front of ours.
Where did the title Music is for losers come from?
Growing up were we're from, if you played music you were NOT a cool kid! (Or maybe it was just us? Hahaha)
We'd get called all the classic shit names & get all the threats as you do, but what stuck for us was those people's whole perception on what's "Cool" & who the "Losers" are. We think most of the "Cool" cats are those who play music or who are creative & they don't & probably still don't. So the title is an ode to all those "Losers" out there like us, who said fuck it & stuck to being "Losers".
What made you pick 'Lunatic' as the album's single?
It's a rocking track with a bit of diversity, it takes us away from the sound of our last single "Slowdive" & gives you a little taste of what's really going on. It always goes down well live.
You've just completed your 'No sleep till Bulah' tour, how did that go?
Fantastic!
Half the dates we had planed fell through just before we hit the road so we didn't know how it was gonna go, but it was the best trip we've done so far! Between all the beers, shows & getting banned from a venue the days flew & it was all over before we knew it! Cheers again to Heg for jumping in the wagon & hitting the road with us! To all the bands & Ollie for drinking with & having us.
What made you decide to move from Newcastle to Melbourne?
We weren't getting anywhere or really doing anything except getting wasted. We wanted to give it a serious shot as this is all we have. One day we all quite our jobs, packed up our van & just went for it, we didn't know what was gonna happen or if it was gonna work but it did & we've achieved so much since! We've been lucky enough to find ourselves good friends, rad bands & a new City to call home!
How does making music in Melbourne compare with Newcastle?
Theres a lot more happening down here, a lot more inspiring us. We haven't stopped writing since we got here compared to maybe writing a song here & there when we were up north. You've gotta be switched on to what's happening down here & make noise for yourself but without exploiting yourself. There's a lot of great bands here but a lot of them sound the same.
When writing what comes first, the words or the music?
Music always.
Do you ever listen to your own music?
No not really, but if we do it's always to see how we can improve ourselves or to have a laugh haha
What music do you listen to?
Strictly Rick James
Now that you've finished your tour what do you have planned next?
We're hitting the studio at the end of May to record our new E.P. which will be released & followed by another East Coast tour in September. Besides that we're gigging locally & drinking beers!
Check out Kill Dirty Youth's Facebook page to find out more!