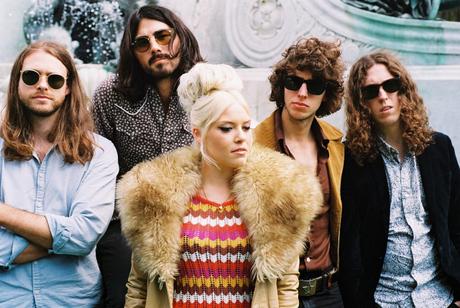 BURN ANTARES is a five piece rock 'n' roll band from Sydney. Schooled on the blues rock of The Rolling Stones and Jefferson Airplane, to the soul and funk of Curtis Mayfield and Marvin Gaye; the band are set to release their new EP 'Fur Coat & the Peace Boat' in June 2015. Tomatrax caught up with Tom Hoglund, the band's bass player, for a short, sweet, and irreverant chat!
How did the band form?
We actually all met on an African journey. We initially bonded over safari suits which, miraculously, we all find especially conducive to creativity (we write all our songs in safari garb).
Where the name Burn Antares come from?
It was delivered by a crow during a dream within a dream.
You're about to launch your latest EP, how does it compare with your previous self titled release?
Comparison-wise, I think it's a progression on from the last EP. This time round we focussed especially on our song arrangements and production.
Where did the title Fur coat and the peace boat come from?
It was the alternative to our darker, preferred (though rejected) title of Acid Rain and the Gravy Train.
Was it hard to pick what made it onto the EP?
Not particularly, we went into the studio with a relatively concrete vision of what we wanted for the EP.
What was the inspiration behind the video for 'Vangablonde'?
Late nights and early mornings in a seedy corner of town, the drawing of short straws, Nancy Sinatra.
You put a radio edit of 'Rich Man' in the EP, will there be an unedited version released?
Yeah, of course! The full song is actually the version on the EP itself, whereas the radio edit is what will be placing No.1 on the next Triple J Hottest 100.
You're about to tour the east coast of Australia in support of your EP, what can fans expect from your show?
Rollicking good fun, wailing keytar solos, lions jumping through flaming hoops. Whatever you want, we got it!
There is a strong 60s Rock vibe to your music and look, where did this inspiration come from?
Our collective fathers' albums and moth-eaten wardrobes.
Do you ever listen to your own music?
Occasionally. It's interesting to listen back once in a while and pick things out that you would now do differently.
What other music do you listen to?
Free jazz, Barry Manilow, My Sharona on repeat, and plenty of Charles Mingus.
What do you plan on doing after your upcoming tour?
After we assimilate back into regular society, we'll be writing some more songs to head back into the studio with.
Check out Burn Antares' website to find out more!