Contributor: John Keegan
The following is an excerpt from a conference call interview with the cast of "Spartacus: Vengeance", including Liam McIntyre, Peter Mensah, Lucy Lawless, and Viva Bianca.
Note: There are spoilers!
*****
John Keegan: This question is for Viva Bianca. One of the best parts of the first season was of course Ilithyia and her scheming ways. Can you give us a little bit of a look at what we might see in the second season?
Viva Bianca: I think, you know, obviously what we all saw in season one was that Ilithyia developed into a more and more of a complex woman. So, you know, in terms of season two "Spartacus: Vengeance", Ilithyia has that whole recent history of really a guilty past. And a suitcase of treachery lies in deceit. So, firstly she has a lot to fight for and she's had a lot to fight against. And, you know, as people become aware in episode one, Ilithyia lands right back at the place she so much wants to escape. So it kind of just, you know, ends of playing out as a fight for her life really.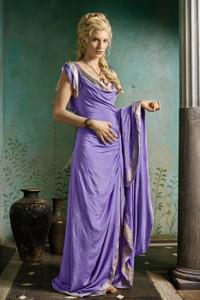 Lucy Lawless: That's right, it is a fight for her life, and her husband's affections.
Viva Bianca: That's right, and I think with regards to Ilithyia and Lucretia, what's so interesting in season two is that, because of the circumstances in which they both landed, they are forced into a situation of becoming a lot closer than they even were in season one. Which means a potential for drama and the unraveling of that revelation is so much more interesting. Really there's a lot in store in too for this female relationship.
Liam McIntyre: Well that's what I like about all the characters. I think it's safe to say that every single character has death right at the corner every time – at every turn, actually. From Spartacus all the way up to you guys.
Lucy Lawless: Yes.
Viva Bianca: It was not a kind or gentle society, that's for sure!
*****
John Keegan: The first season was largely centered on the House of Batiatus and the ludus, and so with the second season, it seems the story is definitely widening in scope. How did that affect how you approached the character or how they approached their situation? And I know that, Liam, you won't be able to answer that quite as much as the other three, so I just wanted to emphasize…well done, sir, what I've seen so far, you've done a wonderful job.
Liam McIntyre: Thank you! Fire away, guys!
Viva Bianca: To me, it was different coming back to the House of Batiatus and actually being the lady of the house, the domina, and kind of being in a subversion of power in roles with Lucretia. So it was just kind of being in the same environment as season one, but with a different relationship to that environment. So it was good because it meant that it was different and as an actor it's always nice to be challenged by new things.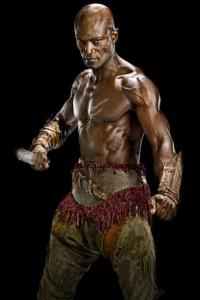 Peter Mensah: I think what was great about it is, with each episode, we kind of have a little bit more information, a little bit more experience playing your character and I definitely feel like playing Oenomaus it was – it's a continuing learning curve always finding out the elements that help at one point, make him who he is and then exploring so the journey as it unfolds, he has to figure out, okay, there's one structure in life that I was attached to, it's all gone, so now what do I do?
So it was sort of the expanding story. It was actually something I really embraced and I felt it was really useful in playing the character because it allowed for, you know, different platforms to react to. Everybody meets Oenomaus in the first season as Doctore. He's pretty impassive. He doesn't' really let on much. And as the story unfolds you see a human person and the reasons why he was the way he was when you first meet him, and I think in this season we really get to explore when all those structures are gone from him he's incredibly vulnerable and for an actor it was just great to go to a higher range from being that dominant person to a person who really had to show every single emotion. So I loved doing it. It was a fantastic fantastic season to work.
Lucy Lawless: Yes, my character goes from having everything and being on the make on the up and up with her husband to losing everything, her husband, her baby, her lover, her house, her status and her marbles. So it's going to be – she's going to have to claw her way back to any kind of safety. And she's in a pit of vipers so she better watch out. No offense, Ilithyia.
Viva Bianca: I'm offended, Lucy! OK, not really.
*****
John Keegan: This is just a quick follow-up for Peter. Earlier you were talking about the fact that Oenomaus had to make that choice at the end of the first season. Of course, part of that wasthat he had been betrayed by Spartacus. So how does that play into the beginning of the second season?
Peter Mensah: Well, actually, that's the interesting thing. Effectively, you know, he recognizes that he has no affiliation. He's been betrayed by everyone he knows and so the problem for Oenomaus as the season begins is, you know, he doesn't identify himself with the rebels and absolutely is no longer attached to the ludus. And remember, he was just about to gain his freedom when all hell broke loose. So he remains a slave, he doesn't have a status, he has no friends, it's a pretty sad beginning to the show. So, you know, as I say, I hope everybody can go along on the journey with him but it's a pretty tough place to start.
Liam McIntyre: That's one of the things I loved working with you on as our characters – when we meet was how we could build that relationship between us after we burnt that bridge. I think Peter is a real great thinking man's actor and it was a real pleasure to be able to kind of develop that kind of relationship with someone like that.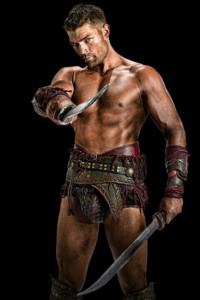 Peter Mensah: Thanks, Liam. I don't remember thinking too much but…(laughs)
Liam McIntyre: Well, it looks like it, so that's how good an actor he is!
Peter Mensah: Oh, that's the acting part!
Liam McIntyre: No, but it was really great for all those reasons and that kind of betrayal, especially from Season One giving – when Andy gives you the poison chalice, as it were, and really just building up because you're a real powerful driving force in the rebellion as it moves forward and then really trying to get a relationship, a way to base that relationship in, was great.
Peter Mensah: Well, I think that's one of the interesting things about this season is that all the journeys that everyone goes through. Spartacus has so many sort of battles to fight, but at the same time, the humanity in him is what I think you tend to identify with, and what Oenomaus sees in him ultimately as being someone to align with.
And I think that's the interesting part. Everyone in this story has to find out who their affiliations are, and what they believe and sort of what to stand up for. And, you know, Liam plays a very strong, very sensitive Spartacus that also sees all the conflict, but somehow or other finds himself the leader of men and has to find a way.
And I think this is the journey – every character in this has to find out who they really are. And then Steve, his writers have actually put in a number of really challenging scenarios in front of everyone and I think that's what helps the audience sort of go along with it.
So, as usual, there is no one clear path, so what you might see in one episode gives you no indication what's going to happen next which is, you know, the brilliant part about doing the show.
Liam McIntyre: It sure kept it interesting for us, didn't it?
Peter Mensah: Oh, yeah!