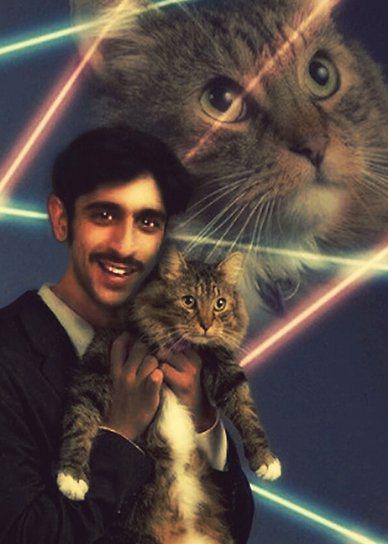 Sina Khani is an Iranian born, German based ex-artist and ex-comedian who decided to take on a musical career producing his own brand of off beat pop music. He has recently released his single 'Shrek' and has a string of other singles planned in the near future. Tomatrax caught up with Sina to ask a few questions and then let his responses go whether the momentum carried him!
What made you decide to give up being an artist and comedian to become a musician?
My love for quitters and my love for quitting things in general. A friend of mine once had a parrot from Jamaica. This parrot once stopped being a parrot. Just stopped. We always said: This parrot stopped parroting. In Persian it sounds even more brilliant, brillianter: In tutie dige tutui nemikone. Fascinating. So I stopped being a comedian and an artist. Her name was Layla. As in Clapton. Not my friend, but the bird. My friend's name is Rüdiger. German name, but he is black. Like really black. I paid him 120 Euros to paint my kitchen and my bedroom last week, yes material costs included. He hasn't called me since and I can't reach him. But that's a different story and doesn't belong here. Unless you want to know more about Rudi. Oh Rudi. If you read this, just call me. It's all fine. Let the 120 Euros not get between you, me and or our friendship. It's not true what Vanessa said. You can keep her stuff. Just cut off the price tag.  And call me. Don't be childish.
You've just put out your first single, 'Shrek', what's it like to have it out?
It's intense. It's lovely. I wake up every morning with a huge smile on my face. And then I cry tears of joy. Haha. A bit like when Germany screwed Brazil in the World Cup. 7:1. Happiest day of my life. But that is football and doesn't belong into a music magazine. I'm sorry. I drifted. But wait, I just heard an interesting joke about that match. A German guy walks into a bar. He has a first date with a pretty Brazilian woman. The lady says: "Hey, listen. Can we please not talk about the 7:1?" The German yuy: "OK. What else shall we talk about? The Brazilian lady: "How about sex?" The German guy: "Ok, sure. We fucked you really hard." Haha. Horrible joke. Yet, it makes me cry. Just like 'Shrek'. The song, not the films.
What was the inspiration behind the video for 'Shrek'? 
My ex-girlfriends. ALL of them. I once threw a party and invited all of my ex-girls that were in town that night. Like four or five of them. It was a social experiment. No hidden cameras, no other guys, no other women. Just me and them. And some drops of liquid ecstasy and LSD in the so called "grapefruit juice bowl". But none of them showed up. So I ended up drinking that stuff on my own and watching Shrek 1 & 2 synchronized into German, because it ran on TV that evening. The rest is history: Shrek walked out of the TV frame with really weird, fast and tiny steps and impersonated my ex's while being embodied as them. In case that's good English you should know what I mean. If not, then just read between the lines of the lyrics. We had a good laugh that night. Oh Shrek. What an ogre.
In making the song, you used an 80s Yamaha synthesizers, and no computers until the mastering stage. What made you decide to make the music this way? 
I didn't make the music. Logosamphia did. That's the Diplo of Dordrecht South. I don't know exactly HOW he did it. I asked him a few times but didn't understand the answer. Way too scientific for me. I think it's a strong piece of sound. Kind of timeless, yet not, yet yes, yet wow. Sorry, can I take this call? Ah fuck it. It's my landlord. Guess what she wants. Haha. Female landlords. Jesus. They're something else, man. Most of my landlords have been female in my life. And I've moved a LOT. Changed apartments like 12 times in Amsterdam. Crazy city. Lived there for 10 years. Good weed. Horrible hard drugs. Fishy dealing system. Run by Dutch-Moroccon mafia. You can quote me on the following: "Never trust a criminal Arab." Great wisdom. As funny as smart if you think about it. I came up with it myself. I don't do drugs anymore. The whole art scene is infected. Incesteral and coke-addicted and greedy. Financially. Not artistically. You can't have a conversation about anything until somebody starts to talk funding after like five minutes. Painful to witness. It was so much fun when I used to live there. Wine, beer, talent and DV cameras. 3 CCD. Stable uppers. Best combination ever. Jesus! So stable. Yes, where was I? Logosamphia. He did a good job with those Yamaha's, also with cutting my vocals, up to 5 layers in there. But he himself hates the song. We have different visions on what good and bad is. It's like Jacopo Frankson da Silva Calonaci once said: "I don't do drugs, I never do drugs. Never. So when I do… They're way more fun!!" That's a justified metaphor for this situation.
When will the follow up song be released?
What are you? A cop? Nah, just joking. I know it's not funny. But it's a joke after all. It's the same thing as with modesty. I think I am the most modest person I know personally. And the most humble one? Why? Because I don't hide behind my name. I'm all the time like Sina Khani Sina Khani me me me. I do that because I am critical towards myself. I put my name out there for you people to step on it. To insult and to hate me. I take the risk of being perceived as a self-loving, ego-centric, narcissistic douche-bag asshole son of a bitch. And that makes me humble. Well. Next song will come soon. Working on "Shrek Solo Unplugged" at the moment. Recorded it at Schenk Studios. Lovely studio in Amsterdam by the Ij River. Good guy running it. Jan Schenk from the Hospital Bombers. But I think they quit as a band. I got the connection through Jewish rapper Meitje with whom I recorded "Basì Guhr" for his album "IT TAKES A LOT" which was produced by Shroom in his parents bedroom in one of these Dutch sea-cities that used to be an island or something. Never understood this Dutch water architecture thing. Shroom. What a guy. He has made beats for Busta Rhymes, Common, Talib Kweli, Ghostface Killa and ASAP Rocky. At least that's what he told me. Anyhow I recorded "Shrek Solo Unplugged" at Ij Studios, working on the back vocals at the moment. I also recorded a song called "When Sina Khani Cries" based on Prince's "When Doves Cry". It's basically the same lyrics exept that I replaced the word "Dove" with "Sina Khani". Yep. That's the type of person I am. And this is my art. Boom. By the way: Fucking Media Markt is illegally selling "Shrek". Can you believe that? Totally gonna sue them. Do you know a good lawyer? Good and cheap. Very cheap. Very, very cheap. But good.
How does being a comedian compare with making music?
Nice question. Next!
What's it like to be an Iranian living in Berlin?
I love being an Iranian. Super nice nationality. Great poetry. Good black tea. Hot climate. Everything you want from a country. And I love Berlin, too. There are the remains of the wall which are amazingly pretty with all the paintings and stuff. Oh my god. Totally not ironic right now. You can buy a falafel in Neukölln for 0,99 Euro. A good one. With 3 types of sauces and salad and free Feta cheese. Plus I live on top of a lesbian bar, which is mostly closed, on the opposite side of the street is a Sunnite mosque next to a Communist Chinese book store. We live in harmony. Peace is in the air. La la la la la la. PACE is in the air. So by putting one and one together: It's like paradise being an Iranian living in Berlin. Heaven! It's like being a Palestinian in India.
What is the music scene in Berlin like?
Bit boring. No, just joking. It's like heaven. Paradise!
Do you ever listen to your own music?
No. That would be selfish. Kidding. Hey. I'm Sina Khani. Of course I listen to my own music. Duuuuhhhhh.
What other music do you listen to?
James Brown, Michael Jackson, Madonna, Prince, Bos, Lanting, Douche & Khani.
Check out Sina Khani's website to find out more!