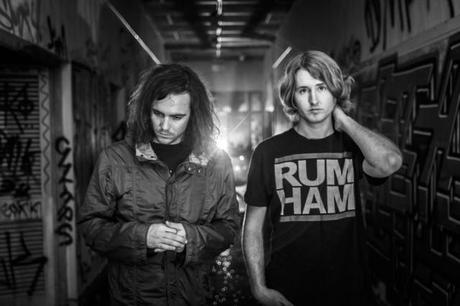 DZ Deathrays have made their mark as a leading dance metal outfit winning ARIA awards for both of their albums and making it into Triple J's hottest 100. They are about to kick off their Get Rich or Drunk Tryin' tour with Bass Drum Of Death and Hockey Dad. Tomatrax caught up with Simon from the band to ask a few questions.
You'll be touring round Australia at the end of the month, what can fans expect from your show?
Booze, sweat, strobing lights, and some guys playing DZ DEATHRAYS tunes with some crowd surfing thrown in for good measure.
Is the tour name "Get rich or drunk tryin'" descriptive of your mission while on tour?
Correct. We don't expect to get rich but we are going to get drunk with friends.
A number of your shows have already been sold out, did you think you would get this strong a response?
The idea behind the tour was to invite our good friends BASS DRUM OF DEATH over and instead of doing 5 large shows which might not have sold out we'd do a lot of little ones and hope they'd sell out. Luckily this has been the case so it means we get to hang out in the same cities for a few days let them see the sights and make it a really relaxed fun tour that lasts a few weeks instead of a very hectic week long tour.
What was the inspiration behind the haircut video for Gina works at hearts?
A band called PUP from Canada did a clip which we loved and when we heard that the same directors wanted to work with us we were really excited. They suggested the idea and totally nailed it in the 1 day we had off on tour in the UK.
You said that if Gina works at hearts made Triple J's hottest 100 you would spray beer all over the place. Has that happened?
Yes. Still is.
According to Wikipedia your show at SXSW was shortened due to the extreme volume of your music. Is there any truth to this story?
That is 100% true. They turned off the pa mid set and kindly asked us to stop or they would call the police. So we did and that was pretty much it. I think it gets played up a lot more than what it was. We had like 2 or 3 other shows to get to that day so we didn't really mind anyway.
You said that your ARIA award only means something as it was done by a group of friends rather than business partners, is it important to continue the music as friends rather than running the band as a business?
Yes definitely. We pick the loyalty of our friends over making extra cash. What's the point of getting to the top if you've got no one to share it with?
As a two piece is it hard to get the sound you are after?
We spent a lot of time thinking of ways to layer songs so that it would sound a lot bigger than just the two of us playing live on the first record. Then when we got to the second record we were tired of being restricted so we just decided that if the songs needed more then we would just do it and figure out a way how to do it live later. So that's why we've added an extra guitarist for the shows now. We don't ever want to use backing tracks and it's a lot more fun live having an extra friend on the road with us.
What inspired you to cover Darude's Sandstorm while playing at the Fall's festival?
We love a lot of dance music and when we saw our friends Peking duck do it we thought they'd find it funny if we jumped on the band wagon.
Do you listen to your own music?
By the time you've finished an album the last thing you want to hear are those songs again. We do well over 100 shows a year on an album release year so while they're still fun to play I don't want to hear them when I don't have to.
What music do you listen to?
Everything we can. I've been on a Beck frenzy the last few weeks. Also I always come back to Neil young, Air, the Bronx. I guess lately some great albums have been put out from the Orwells, together Pangea and Portugal the man.
What do you plan on doing after the tour?
Touring overseas and working on the next record. Keep going I guess.
Check out DZ Deathrays' website to find out more!