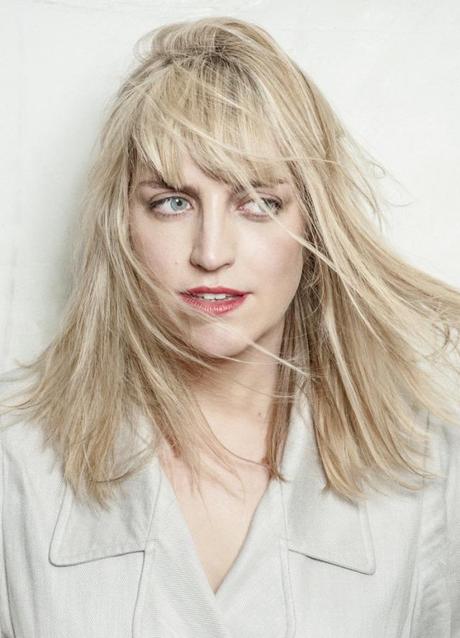 Sally Seltmann has put her mark on the music scene performing as New Buffalo, being one third of Seeker Lover Keeper, and writing Feist's hit single 1234. Sally has just started her own record label and released the first single on the label. Tomatrax caught up with Sally to talk about her music!
You released your single on your own label, what made you decide to release your music on your own independent label?
I wanted to re-issue my back catalogue, so I started up a new label.
What made you pick We are the music as the first release on the label?
I was working on We Are The Music around the time I decided to start up Three Of Hearts. I was unsure I would even release 'We Are The Music' under my one name, and then I thought it would be perfect to launch the label with a new single, instead of having the first release be something from a few years back.
Do you plan on releasing other artists on your label?
I'm unsure at this point. I might!
We are the music was built upon an instrumental from Jon Lawless, how does working with written music compare to writing your own song from scratch?
Writing over someone else's musical ideas is really different to writing all the music and lyrics myself. I like doing both. I get a little lost in my own world when I write everything from scratch. The good thing about writing over someone else's chords is that it's different to what I would usually do myself, so that can spark new ideas and lyrics and melodies that I may not have come up with over my own chords.
Last year you moved from Sydney to Los Angles, what inspired this move?
I have a lot of good friends who live in LA, and I really love it as a city. I write a lot of songs for other singers now, as well as still writing and recording my own songs. LA is the perfect city for me right now, as singers from all around the world come here to write with other songwriters. There are so many musicians and film makers and screen writers and artists living in LA. It's incredibly inspiring.
How does making music in the USA compare to being in Australia?
There is a beautiful innocence to Australia that I love, and I know I'll return there one day and continue to write and make music. With making music in the USA I am constantly reminded that there are thousands of other musicians making music, and it's fiercely competitive! I think there are really good things about both countries for musicians. USA has a lot of opportunities, but Australia is such a special place. So much great music comes out of Australia.
You were quoted as saying "I just want to make music that makes people happy" will that be the brief for your upcoming album?
Ha ha! No! Maybe! I'm still trying to work that out. I love sad songs and happy songs with equal measure, and it can be nice having a bit of both on an album.
I was really in the mood for making a super happy uplifting song when we made We Are The Music.
You play a large number of instruments, do you have a favorite instrument to play?
Piano is my favorite. You sit and turn your back on the world, and it's an intimate space created between you and the keys. Also, I taught myself how to play guitar, so I've never been that great a guitar player. I did classical piano lessons for many years, so I have a much greater understanding of the piano.
Is there any instrument you have always wanted to play but are yet to?
Interesting question. I've never really had a proper turn at playing cello. That could be fun.
You will be releasing your back catalog on your Three of hearts label, will there be any bonus material to accompany these re-releases?
Yes! I'll be announcing more about this soon.
You performed as part of Seeker Lover Keeper, how does being part of a band compare with performing solo?
Singing harmonies on stage with Sarah and Holly was so great! I don't always have backing vocalists when I play shows myself. Also, backstage was hilarious and heaps of fun. For our Seeker Lover Keeper shows it felt like we were all in it together, which took the pressure off a bit.
Do you ever listen to your own music?
Only really when I'm writing and recording it. It feels weird listening back to my old recordings.
What music do you listen to?
I listen to a lot of different styles of music. I've recently been listening to FKA Twigs, Joni Mitchell, Bjork's new album Vulnicura, Robyn, Wings, and my husbands mixes for his show on Dublab called Deep Breakfast.
What else do you have planned in 2015?
Lots of writing, lots of recording, maybe some shows?? exploring more around California!
Check out Sally Seltman's website to find out more!