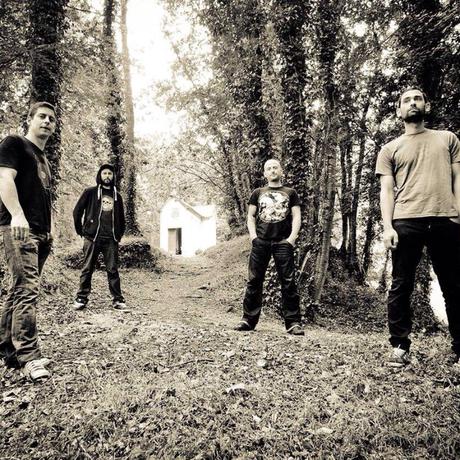 Cean based four piece instumental post-rockers Red Forest have just put out their latest EP. Tomatrax caught up with Rudy, drummer from the band, to ask a few questions!
How did the band form?
We've known each other for years. Tony (guitar) and Alan (guitar) used to play in a band called R2JEUX. It was a mix of electro and dub. Tony was playing the machines and Alan was on the bass. It was pretty much more electro than the music we play today. Step by step, Tony and Alan were both playing guitar and were writing songs that were darker, with a totally different mood. They finally decided to add a drummer in order to give a new direction to their music. I joined the band on the drums and the bass was programmed on the machines. Then, we decided to play like a real band with someone on the bass, Oliver was our guy! We're all friends for years so it made things easier.
Where did the name Red Forest come from?
We are great fans of a band called "IF THESE TREES COULD TALK". Their album called Red Forest is just perfect.
What is the significance of the numbers 13.10.16?
Last winter, Alan suffered from a cerebrovascular accident. Currently he's fine but we just freaked out learning this. He had to go to the hospital for several weeks. 13 is the number of the building, 10 is the number of the wing and 16 the number of his room. We really wanted to dedicate this EP to what happened to him.
Where was the front cover of your EP taken from ?
We wanted the visuals to be in line with the title 13.10.16 and all that it meant. The picture is pretty dark because it reflects what we felt when we learned what happened to Alan. So we decided to create our own picture and to make it very dark.
Was it hard to pick what songs made it onto the EP?
It wasn't so hard because we hadn't more songs. In general we try to give to each of our songs the best we can.
The music has a feeling of improvisation and spontaneity to it, are you trying to be spontaneous when writing and recording your music?
I totally understand what you mean here. We really try to make songs that allow you to escape. But I wouldn't say improvisation because every title we play live was recorded the same way in the studio. When we play live, I can hear the pulse so that the speed could be the same, we want the songs played live to be exactly the same way they were recorded in studio. The only part of improvisation could come from our drummer I guess but nothing more.
Given your music is instrumental how do you pick the song titles?
It's always a hard decision to make. Generally we try to put a title that matches with the general mood of the song. For example, we chose to give the title "DERNIER SOUFFLE" because it's a song that seems to never ends, something always happening that never allows you to breath. Do you think you will ever add vocals to any of your songs? Honestly, we don't think so. We consider that the music is quite sufficient. Adding vocals wouldn't be the best choice.
What's the music scene like in Caen?
It's very eclectic and dynamic. You can find a lot of different styles (rock, electro, punk, metal, hardcore, screamo...). Caen is a city where music always had an important place.
Do you ever listen to your own music?
Yeah, of course but not so much. Above all, we all try to listen many bands, many different styles in order to develop as much as possible our ideas and composition. By the way, many people have noticed that our songs and our style in general is constantly evolving.
What other music do you listen to?
We all come from different musical horizons. Tony is listening to a lot of different styles, electro, dub, hip hop, rock, post rock... Alan is a great fan of bands like Radiohead, God Speed you Black Emperor. Olivier has always been more interested in electro music. Our drummer comes from the metal scene. He actually plays in three others bands including two metal and a rock one. Generally people say that he's giving the "metal touch" to our music.
Now that your EP is out what do you plan on doing next?
We're already writing new songs for our next stuff. We don't know if it will be an EP one more time or if we're gonna try to record a LP... We'll see if we manage to write enough songs. And of course, like any other bands, we want to play as often as possible, in France but also abroad. Our facebook page allows to see that our music can touch the entire world so we hope that one day we'll play at the other end of the world...
Check out Red Forest's Facebook page to find out more!