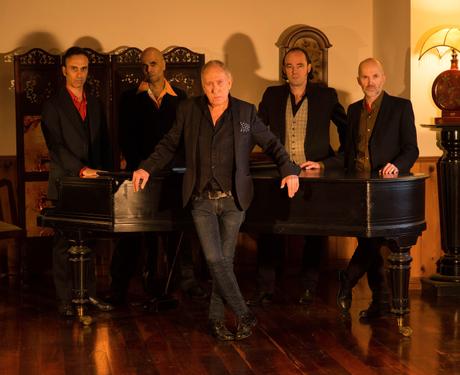 Died Pretty' frontman Ron S Peno has returned with his band the Superstitions releasing album number three. Tomatrax caught up with Ron to ask a few questions.
You've just released the latest album with your band the Superstitions, how does it feel to have it out?
We're all very happy and relieved that our wonderful third album, that we have christened "Guiding Light", has finally been released to the seething hordes.
Where did the album title Guiding Light come from?
From my Spirit Guide who happens to be called "Guiding Light"!
Some of the songs were played live over the past few years before being recorded on the record, did these songs evolve much between live performances to the final studio recording?
Yes you're right, we have been playing some of these songs live quite a while before recording them. No, they haven't changed a great deal but inevitably in a live atmosphere the songs change yet again.
The album has been described as a record that hits the heart as hard as it hits the hips. Was it hard to make music that achieved these two extremes?
I have been pursuing this combination of creating physically and emotionally charged music for over 20 years with Died Pretty so after forming The Superstitons it has been a natural progression from me to continue writing in this same style. It's far more difficult to move people emotionally than move people physically. If you achieve both I find that incredibly rewarding.
What inspired you to cover Bobby Darin's 'Not for Me'?
I've been a fan of Bobby Darin's for years. A friend gave me a copy of an album by Jack Nitsche - some obscure songs that he had produced. One of these songs was "Not For Me" which I immediately thought would be an ideal song for the band to do cover. I think it was an ideal marriage.
If you could appear on any artist's tribute album, who would you pick?
Probably John Cale or Todd Rundgren.
You received a lot of commercial and critical acclaim with your previous work, does this make you feel any pressure when putting out new music?
No I don't feel any pressure any more. These days I just love writing and performing. Thank you for asking.
You'll be doing a series of shows later this month, what can fans expect from your show?
Expect a emotionally-charged, chaotic, fun-riddled, rock'n'roll extravaganza.
You've been putting out music for over four decades now, what's the secret to your musical longevity?
I have always loved music, I knew that there was nothing else that I wanted to do from a very early age. To this day I still love writing and performing.... And lots of vitamins.
You toured as part of Died Pretty earlier this year, what was it like having the band perform together again?
Warm and fuzzy. It was an utter joy, we're all dear, old friends, and we won't rule out the possibility that it may happen again down the line.
Are there any plans for any more Died Pretty tours?
I love that band. Never say never.
Are there any plans for any new Died Pretty releases?
Not at this point in time. Maybe a second Noises And Other Voices album with Brett. Have you heard the first NAOV album? If not, give it a listen. It's fantastic.
Do you ever listen to your own music?
Yes, I give them a listen now and then, or when I'm in a sentimental mood.
What other music do you listen to?
Many and varied. From B to Z - Black Cab to Townes van Zandt.
What do you have planned after your upcoming shows?
Basically, it's in the lap of the gods, but for the time being we will continue to play more live shows, spreading the sound of our beautiful album Guiding Light.
Check out Ron S Peno's Facebook page to find out more!