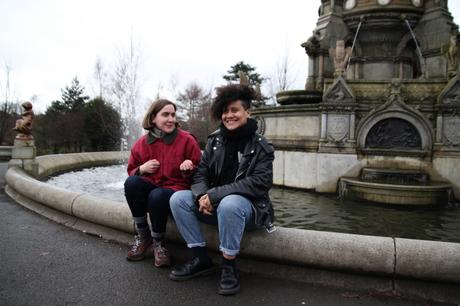 Glasgow duo Sacred Paws today share the infectious 'Almost It', the latest single to be taken from their new album Run Around The Sun.
Tomatrax caught up with Rachel Aggs to ask a few questions.
You're just about to release your latest album, how does it feel to have it ready to go?
Its a little daunting to be waiting to hear what people think about the record but we ' re both really proud of it so we ' re also excited! It feels like the next chapter in our lives can start now that its out.
Where did the title Run Around The Sun come from?
A friend of mine was toasting ' Here ' s to one more run around the sun " on their birthday and I just thought it was a really great phrase. Its a really flippant and light hearted way of describing a year, as if the passage of all that time is ever that effortless!
How does the album compare with your previous work?
We felt a bit more self-assured when it came to our ability to write pop songs on demand - we also felt really comfortable in the studio this time seeing as it was our second record working with the producer Tony Doogan. Hopefully some of that confidence comes across on the record. To me it sounds a lot bolder and bigger than Strike A Match.
What made you pick 'How far' as the latest single?
We really liked that it was a little steadier and calmer than the rest of the record and we wanted to highlight that as a new kind of direction for us. I suppose its nice to show off when you manage to do something a bit different or switch things up! I also love the tone of Lewis ' synth playing on this song, I asked him if he could make it sound like a steel drum and I think he did that so perfectly, its a really gorgeous sound.
What was the inspiration behind the video for 'The conversation ' ?
You might have to ask Jack Barraclough about that as the whole video was really his concept and his vision! We really just wanted to make a fun video and we always trust Jack with that. We ' re not particularly good at taking ourselves seriously when it comes to image so we ' re always really happy to hand over the responsibility to someone like Jack who is always full of ideas that aren ' t too ' dumb ' but are at least light-hearted enough to reflect our uncool selves in a smart way. I think it turned out looking a bit like a 90s sci fi tv show but I think that might have been a happy accident!
The band initially worked long distance between Glasgow and South London, how did you manage to work together while in different cities?
I still don ' t really know to be honest! It seems totally mad that we ever even attempted that let alone maintained it for so long. I think it just kept it really fresh for a long time, we would only write songs when we got together before shows and then we would play live them the same night - it was exciting! But it did mean that we worked quite slowly over all. And we both spent way too much time on trains!
Where did the name Sacred Paws come from?
A lot of bands can probably relate when I say we were pretty desperate for a name and had a gig coming up. We were texting joke names back and forth and I just kind of liked Sacred Paws, it sounded both earnest and stupid at the same time. We did the show and then we were just sort of stuck with the name! I don ' t think either of us are totally in love with it now but names stop really meaning anything after a while, it just becomes its own thing!
Do you ever listen to your own music?
I do! Definitely while we are writing I get really hooked on listening to demos, there ' s often a sweet spot when I ' m obsessed with what we ' ve done and think its the best thing ever - but then further into the recording/ releasing process I find it really hard to listen to stuff because the self doubt kicks in and everything starts sounding awful to me! Im also a very hyperactive musician though so I often loose track of what I ' ve actually done and I worry a lot about whether its any good. Listening to our music later down the line reminds me of what we ' ve achieved and all the cool ideas we ' ve had. It does depend on my mood but sometimes I actually enjoy it!
What other music do you listen to?
Right now I ' m listening to Marshall Munhumumwe the Zimbabwean guitarist from the band The Four Brothers. I don't care what anyone says, I think its the best guitar music in th world.
What do you have planned once the album is out?
We are going on tour in the UK this week then we play Loud and Proud festival in Paris and then on to our first North American tour in July!
Check out the Sacred Paws' website to find out more!