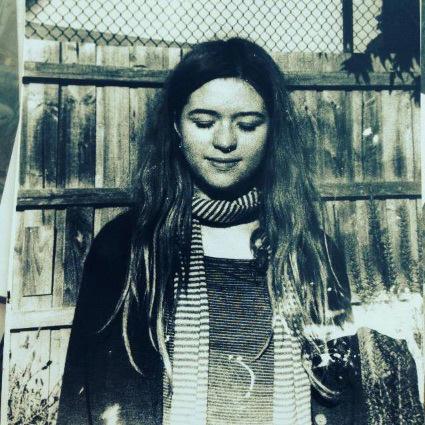 Prickle is 17 year old independent pop rock artist Emily Wilson from Melbourne, Victoria. After spending a few years honing and developing her sound, in search of her 'unique voice', Emily is ready to share her personal perspective. 'Tell Me Why' is the debut single from Prickle. Tomatrax caught up with Prickle to ask a few questions.
What inspired you to become a musician?
From a young age, I was exposed to a lot of music and musical instruments were encouraged.
I began playing the cello and guitar when I was 6, which involved me in both the classical and contemporary streams.
I remember going along with my parents to see Tinpan Orange at local jazz venue Bennett's lane. They were playing Gypsy music at the time and I loved that.
I watched the film 'Once' (featuring Glen Hansard and Markéta Irglová) and I became obsessed with the soundtrack for the film.
My dad brought me some Kate Bush and David Bowie CDs. I couldn't really understand them until I was 14, but they altered my view on music and where you can go creatively.
I think that my inspiration to play music was sourced from exposure and involvement in music from a young age and driven by the other people who played it.
When did you write your first song?
When I was 12 years old.
I was playing as part of a rock program and one of the teachers suggested that I write one.
I sat in the kitchen and my mum helped me write a poem about a blue butterfly accompanied by 'dreamy' 7th chords.
To be honest, I always hated it and still do. It was sweet, airy and innocent and didn't really go anywhere...
I don't think you can really expect much from your first song!
Where did the name Prickle come from?
It just came to me.
I was sitting in a room staring at a wall.
I do this thing where I think of as many words as possible, which rotate through my mind as I formulate ideas.
Two words, thorn and pickle seemed to stick and then I just thought, Prickle!
I like 'Prickle,' because it's punchy and sharp.
I believe the common thread of my music is the indirect/direct 'sharp' message/statement that is present both sonically and lyrically and I think Prickle communicates this.
What made you decide to use an alias rather than your own name?
I love the imagery and façade that an alias creates. The fact that you can create something and have complete control over it...
Also, my name specifically just didn't seem to work for me in this context.
You've just released your first single, what's it like to have it out?
Initially anticipating the response was exciting, but now I think it's more important to focus on what's next.
I think the most satisfying point in the creative process, is when you sketch out the song in a vague sense because you're full of ideas and it is still open for further exploration.
Now that 'Tell Me Why,' has been released, I feel that I can mentally progress past the composition, which is relieving.
I think the 'conclusive' aspect of the release phase is a positive.
What made you pick 'Tell me why' as your first release?
The simplicity of the song, catchy melody and eccentric lyrics all came together.
It was a song that was mostly there after fifteen minutes of writing. It was effortless and easy and flowed naturally, in contrast with some of the other songs I had demoed.
It just seemed to work as a composition, and the 'garage rock' upbeat pop song mood that it carries seemed like a good first step.
Where did the inspiration for the story behind 'Tell me why' come from?
The inspiration for 'Tell me Why,' sparked from my observations of human interaction.
It struck me that louder people often reflect a lack of insight relating to quiet people and how they choose to live their lives.
'Tell me Why,' observes a quiet person from the louder person's perspective, who attempts to make sense of the quiet 'non-event.'
As a result of this observation, I then mapped out some 'conversational' style lyrics and chords/melody to accompany.
The song also describes the two aspects of my personality, the quiet and loud and the internal conflict that arises as I aspire to become something that I am not.
You are showing off your personal perspective with your music, is that a hard thing to do?
No not really.
Lyrics come to me at a time when I was feeling a certain way.
My 'personal perspective' allows self-expression, which is liberating and empowering and encourages me to find strength in my individuality.
I'm an open kind of person so sharing my inner thoughts is not overwhelming. I think the audience should be able to resonate with this perspective in some way.
When writing what comes first, the words or the music?
Always the music.
I generally write a chord progression and groove or come up with a riff and then create the melody.
The lyrics then come to me after, as I will identify words and phrases which relate to the sound or an overall philosophical statement, that I would like to discuss.
Do you ever listen to your own music?
Yes.
I like to listen back because I thinking critiquing and having self-awareness (particularly as a performer) is highly important.
It's very interesting to listen back to demos that are older than 2+ years and to reflect on how it sounds. I think listening to yourself assists, to provide clarity and direction.
What other music do you listen to?
At the moment I'm listening to Jazz singers like Sarah Vaughan and Billie Holiday.
I'm also interested in the new sounds of Kevin Parker, Methyl Ethyl, Sarah Blasko and Ainslie Wills.
I'm loving music with groove, textural vocal lines and raw content.
What do you have planned for 2016?
Lots of new music to come...
Check out Prickle's Facebook page to find out more!