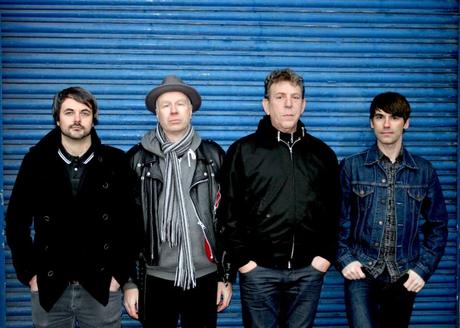 Hailing from Leeds, Klammer draws from the members' shared love for all things angular, dark, loud and melodic. Previously described as the love child of XTC and Gang Of Four, Klammer offer an enticing twist on the post-punk attitude, blending in elements of goth rock, punk rock and dark wave, all with dark pop sensibilities. Here you'll find plenty of hooks and a dark and edgy broodiness coursing through their sound.
Tomatrax caught up with Steve and Poss from the band to ask a few questions.
Where did the title You Have Been Processed come from?
It was something throw away that Poss said on the tour bus and it stuck in my mind and I kept coming back to it. So much in modern life is soheavily processed, our personal data, our food and water, music, our whole life from cradle to grave. It seemed to fit with the songs we'd written.
You previously produced a number of artist's albums, how does producing someone's work compare with making your own?
On one hand it's easier to produce someone else because you're a bit more detached from the songs, but at the same time it's harder as you're having toscoop out of the bands heads what they want/don't want. Whereas I'm just having an internal dialogue with myself as too what I want it to sound like.
What was it like producing The Cure's work?
Brilliant! Most of the studio stuff I did with them was on the engineering side but I did get to produce a few songs with Robert. I was a big fan of their work before I got to meet them, so I was a little nervous in case they weren't good people, but they are lovely people to work with and be around. It was fantastic to live in their bubble with them for a number of years. As well as writing fantastic songs, Robert's ear and eye for detail is amazing. I learnt a lot from him.
What was the inspiration behind the video for 'Spiral girl'?
We all liked the idea of a ghostly dancing girl and were inspired by the opening sequence of the late '70s UK TV show "Tales of The Unexpected".
You've previously been described as the love child of XTC and Gang Of Four, do you think that's a fair call?
Haha, that was Alex Kane from the Richie Ramone band who said that about us! I think some of our earlier songs had the angular guitars similar to those bands but I think our sound has changed quite a lot now.
We've had so many different comparisons, some of them are bands I've never really listened too. I remember one guy saying we had a bit of New York Dolls in our sound which is so far wide of the mark, I like the Dolls but I don't think any of their influence makes it through to Klammer at all.
We're not quite Punk, not quite Rock and not quite Goth but somewhere in the middle of all of those.
When writing what comes first, the words or the music?
It varies but I's say it's generally the music. Sometimes I will have a full set of words or a few ideas in my "scratchpad" and I put those to the music Steve has sent me. There are a couple of songs on the latest album where the feel of the music inspired me to write "on-the-fly" ('Human Clay' and ''Twas But a Magpie'). I'm lucky to have a studio at home, so the demos I send to Poss are pretty complete. Once he's written the words he comes to mine and we have to alter the arrangement of the song to fit the lyrics, which is all very easy to do on Pro Tools. Sometimes we have to swap what I thought would be the verse and chorus around, as Poss has has written the lyrics the other way!
Where did the name Klammer come from?
Steve and I met in a bar to discuss the band name. Steve had written down a shortlist, I remember "Cousteau" being on there but it sounded more suitable for an electronic or ambient type of band. We liked "Klammer" because it's quite an angular word and very European. The bonus is that also sounds like the word "clamour" which means 'a loud and confused noise'!!!
Do you ever listen to your own music?
I've spent so much time writing, recording/mixing and playing theses ongs, it's not something I do very often for pleasure. It's the same with the bands I have engineered and produced. If I've listened to a song 1000 times at the studio, it's time to find something new to listen to at home.
What (other) music do you listen to?
Bowie, Roxy Music. Nadine Shah and lots of 70s classic Punk and New Wave
Other than all the obvious influences (lots of post-punk bands, Bowie, early Roxy, Iggy), I also really like a lot of electronic stuff like Boards Of Canada and LCD Soundsystem. Nadine Shah is someone I'm just getting into but really liking. I think we are both into quality pop music but that seems to happen less and less nowadays.
What do you have planned in 2019?
I'm hoping we can build on the success of last year. I'd love to do another tour too.
Hopefully lots of gigs and our first trip to Europe. We have fans in Austrailia and South America but there's no way a band of our size could make it to those parts of the world, but we can dream!
I've already written the music for 18 new songs, so fine tuning those and getting Poss to fit the lyrics onto them!
Check out Klammer's website to find out more!