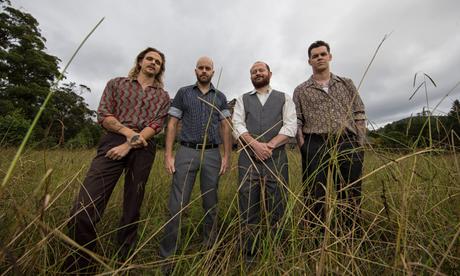 The Snowdroppers are about to start their Gluttons for punishment tour around Australia. Tomatrax caught up with Pauly K from the band to ask a few questions.
You're about to go on your Gluttons for punishment tour, what can fans expect from your shows?
Well as a kind of counter balance to playing a lot of new songs from our latest album Business, we're dusting off a few songs that we literally haven't played in years, just for fun. We're also filming the shows for a live doco type film. To be honest we'll probably just get out and react to what happens at each show, try and have some fun with the crowds as usual!
Your latest album covers everything from soul to stoner rock, was it your intention to have such a varied album?
Not really, I guess it just kind of happened like that which is business as usual for us, pardon the pun. We've never stuck to one particular sound for very long, but there was an overall intention writing this album to make it more upbeat musically (though not lyrically).
What made you pick 'Business' as the title track?
Well we actually decided on the album title before that song was written, so it was a bit backwards. We joked about calling the album Shit Business at first, and then decided just Business had a good ring to it.
What was the inspiration behind the front cover of the album?
That was from the mind of our drummer Cougar Jones, so I can't speak with authority but I think the intention was to try and encapsulate the lyrical feel of the album.
What made you pick Love letter's as the album's single?
It felt like the most energetic, immediate song I think- a good introduction to the vibe of the album. Still really happy with how that one turned out.
Your bio talks about a new visual show, what sort of visuals will there be?
I knew we'd regret writing that bio half cocked! I had great plans to make a giant inflatable London (bass player) out of a repurposed Bunnings Santa. He would be lowered down onto the stage during the bass solo segment of the night.
You "hand picked" the Hard Aches and the Strums to support your shows, how did you discover these two bands?
The Strums are a band we've played with a couple times in qld over the years, great guys so we were definitely keen to play with them on the tour, can't remember how we first met.
The Hard Aches I think some one heard on fbi or YouTube? And we all dug it.
You'll be filming the shows to make a documentary, what inspired you to make a film around this tour?
Maybe we thought it would be the last one for quite some time and wanted to catch it on film! I think it could work as a cautionary tale to play in schools.. "Kids get a real job or you'll end up like these morons."
What do you have planned after the tour is finished?
Sweet f.a to be honed in the immediate future! We're looking into maybe taking a trip overseas later in the year and just some more writing, playing.
Select Music, Happy & Push.Pull Presents
THE SNOWDROPPERS
GLUTTONS FOR PUNISHMENT: THE TOUR
With very Special Guests The Hard Aches, The Strums, Twin Fires
DJ's Black Amex (Bris), Nick La Rosa (Syd), Gark Mibbons (Melb)
Saturday, 20th February 2016
The Foundry, Brisbane QLD
Friday, 26th February 2016
Oxford Art Factory, Sydney NSW
Friday, 4th March 2016
Howler, Melbourne VIC
STANDARD TICKET - $20+booking fee
(includes free download of live tracks from SOLD OUT dates on BUSINESS TOUR)
GOLDEN TICKET - $25+booking fee
(includes free live tracks download + GLUTTONS FOR PUNISHMENT TOUR DOCO downloadable after the tour! Relive the stupidity!)
Check out The Snowdroppers' website to find out more!