Author: Elena Cué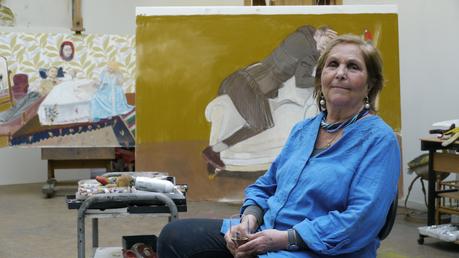 Literary sources, poetry, music, folk stories, Salazar's repressive regime and the vulnerability of women in a hostile world are just some of the influences that shape the work of Paula Rego (Lisbon, 1935), one of the most important Portuguese artists of our time. Based in London since 1976, Rego has received numerous acknowledgments in the course of her career. Indeed, she has been made a Dame Commander of the Most Excellent Order of the British Empire. The presence of the English artist Victor Willing, her husband, in her life left an important mark on her art.
Willing died in 1988 from multiple sclerosis. Her works, which give us an insight into the peculiarities of Portuguese society, are rendered universal stories by the touch of the artist's hand. Life experience and a fertile imagination operate as the driving forces behind the mysterious narratives of her paintings. The essence of her work reveals itself in the interpretative ability and search for meaning of the signs that are inherent to the same.
Could you begin by talking about your childhood memories that have subsequently been key in your work?
I remember being very small and frightened of everything and my mother had an old maid who would still visit and she'd be allowed to put me to bed and tell me stories and the stories would block my fear and help me go to sleep.
I had an aunt called tia Ludjera, she used to come and stay with us in Ericeira and after lunch we would sit on a bench by the eucalyptus trees and she'd say "what type of story would you like to hear?" and I'd say: "a story about a princess whose father was a king and she meets a prince", you know, the standard answer and then she'd start: "Once upon a time, there was a lovely princess", which was me of course, and then she'd continue. She'd continue from one day to the next, the same story and she could go on for weeks with exactly the same story, developing it, adding things, she was fantastic.
Did you use these stories later?
It was just the feeling of stories that I liked so much. I still like them now.
Did you use those stories or the feelings you obtained from them in your paintings?
I used the feelings they provoked. Specifically the feeling of comfort, it brushes away fear. There was an immersion into another world, a much better world than the one I was in even though I had a very good world. My grandfather was immensely kind and spoilt me with presents. Stories were very important, in fact, they still are.
Where does that feeling of fear come from? Fear of what?
I think from being left when I was very little. My parents left me with my grandparents when I was one and didn't come back until I was two and a half and of course when they came back I didn't even know who they were. Maybe it was that, or so they tell me.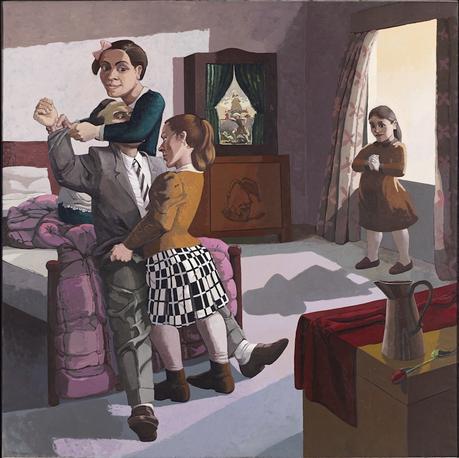 The Family. 1988. Copyright Paula Rego, Courtesy Marlborough Fine Art.
How did growing up during the authoritarian rule of a dictator like António de Oliveira Salazar mark you?
During the war Portugal was neutral which meant all sorts of people traveled through Lisbon to get on boats to go to America but there were Germans too who raised their arms and said "heil Hitler".
Salazar remained after the war. They said he wasn't a dictator like Franco but he was just as bad. We had secret police who tortured people and killed them. Bribery and corruption were normal. Poverty was rife but he said it was a lovely country with happy rural families but it was not lovely at all. Women were beaten and there was censorship. You had to be careful what you said. The catalog for my first show had to go to the PIDE, the secret police to be censored in order to check it was allowed, everything had to be checked. It was a terrible country.
In what way are these circumstances evident in your most socially committed works?
I used the circumstances in my pictures, for example 'Salazar vomiting the motherland'. It was strange, when I was doing that picture I suddenly started to feel sorry for Salazar, which is not very good as he was a monster. Another picture was called: 'When we had a house in the country we'd have lunch and then we'd go out and kill the black people'. That came after my husband overheard men at a Lisbon club boasting how they had cut off the heads of the Angolan fighters and played football with them. He was horrified.
From this it is evident Goya has been a fundamental reference for you. What emotional significance does his work have for you?
Not just for me, but for everybody he was so amazing. Goya drew all the terrible things that people do to each other and the black paintings are wonderful. The best place to see them is in the Prado, well it's the only place to see them.
Did his paintings influence your work?
Well, he was present all the time in my mind. I was taken to the Prado when I was quite young you see.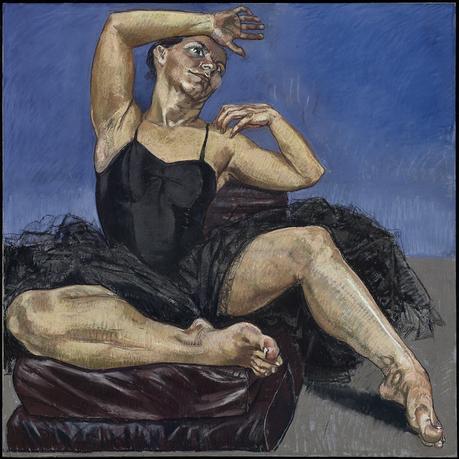 Dancing Ostriches. 1995. Pastel on paper on aluminum. Copyright Paula Rego, Courtesy Marlborough Fine Art.
During the period when you painted by observation, what inspired you to make masks and sculptural figures and then include them in your paintings with the help of your son-in-law, artist Ron Mueck?
Ron made a Pinocchio and that was very useful. I posed him as Geppetto washing his Pinocchio but normally I make the figures, or Lila does them. I use them as if they were people or characters of some sort. My Granddaughter Carmen made a skeleton for school, a skeleton in high heels and it is very popular, in fact, people who visit the studio like that one best. She also made mermaids. Mermaids with ugly faces, which I used in a painting. I buy old dolls too and sometimes friends give me things they think I can use.
Speaking of masks, how is your work influenced by your admiration for artists like James Ensor or José Gutierrez-Solana?
José Gutierrez-Solana is a Spanish artist who I like very much but Ensor I simply adore. I went to the place where he lived. His house was full of masks. I liked him most of all because of his expressionism and his fierce, grotesque things.
A few years ago you created three-dimensional objects. You made a papier-mâché man called Mario and burned him at the end of the summer…
Yes and I did an exhibition of dolls based on the fairy tales I had been researching. There was an ugly fairy, a puss in boots and so on. I always loved embroidery and tapestry.
Plastic art and music merge in your personal representations of operas such as Carmen, Aida or Rigoletto. What role does music play in your art?
Well, my father had a box at the opera in Sao Carlos in Lisbon and the first time he took me was to see Carmen. It was my favorite opera and I knew it because my father would play opera on the record player and he had a book with the stories of the operas which he showed me. One day I came home from school and my mother encouraged me to go up and have a look, there was the most marvelous dress with a pink taffeta skirt and a broidery Anglaise top. I put it on and we went to the opera, I loved it.
And you listen to music in the studio when you work…
Oh yes, in the morning I have opera and in the afternoon I have fado and Frank Sinatra or Bing Crosby. It is something in background I like.
Do you use the music or the story from the operas?
It's the stories. When I did my operas I painted them on the floor on a very large piece of paper. I would start at the top left hand corner and draw the story, pieces of the opera, across and then down like a comic book.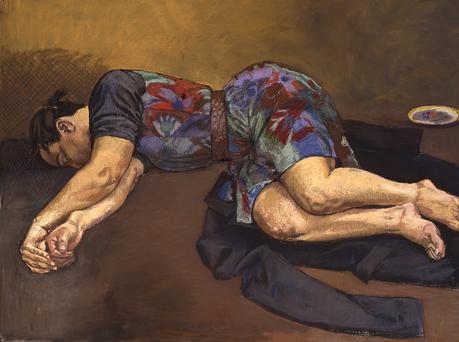 Sleeper (Dog Woman). 1994. Pastel on canvas. Copyright Paula Rego, Courtesy Marlborough Fine Art.
In 1959, you discovered the author Henry Miller through his book "Tropic of Cancer". What fascinated you so much about this piece of literature?
I was working in the studio in Charlotte street in Soho when I was expecting my second daughter Vicky. I was working like mad. In that studio, I noticed there was a book and it was by Henry Miller. I read it and I thought, my God, this is naughty, and I loved it so much. It was published by the Olympia press in Paris so Vic and I ordered all the new publications. Most of them were pornography but they also published the books that were banned like 'Lady Chatterly's lover'. It was very useful. I thought eroticism was very important for art, for making pictures for some reason. At least it was for me.
What is the relationship between your paintings and literature?
It is very important because I use stories. I don't illustrate them but maybe I become one of the figures, I identify with them and am able to tell my own story. In fact, after a while it does become my own story, the story completely changes and becomes something else so in the end it's the picture that tells the story and not the book.
When you convey the duality of the human condition between good and evil in a stark way, what are you searching for: empathy, redemption...?
Neither of those things. I'm just making a story, painting a picture. I'm not trying to say I'm sorry about anything because I never am. Though some picture are there to take revenge. My picture of the angel does this. She's an avenging and savior angel. The inspiration came from "The Crime of father Amaro" by Eca, when the poor girl has a baby and father Amaro sends the baby to be destroyed by 'the maker of angels', which is what he calls the woman in the book, and this angel was going to save the baby, or rather, it was going to kill the priest.
You have also stated that the symbolic representation of animals as people is to transmit more drama and at times, more tenderness to the scene, can you explain this?
No, it just happens. Sometimes animals are better characters to play the roles. They are less sentimental.
What do you think when you see the result of this fusion of fantasy and personal experiences?
There doesn't seem to be any difference between one and the other. It's the picture that counts and the picture that tells the story in the end.
Why have you focused your discourse on women?
Because I am one and because they had a hard time. They had a hard time in Portugal and in England. They had a hard time everywhere. Men were paid more and women got pregnant.
Are you a feminist?
Yes, unknowingly.
What do you want to portray to the world about women through your art?
I just want to defend them and to tell it how it is.