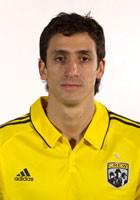 Columbus playmaker Milovan Mirosevic (The Crew.com)
He's been one of the most influential players in Chilean football in the past decade. Now Milovan decided to go on an adventure with his family and "experience other things" abroad.
Although one might think that his move to Columbus was a culture clash for him and his his family, it was a very educated move where he had several players tell him what he could do.
Milovan, tell me about how you are doing here in the United States and how you feel playing for the Columbus Crew?
Right now I am very happy and I have adapted very well to life here in the United States.  It is very calm and
What do you see different in this league compared to other leagues you have played in?
Well, it is a league where you see more direct play.   It's a league that you definitely see that is growing and there is a very competitive level of play.  The speed is a little bit more and there is a great deal of competition here.  There are two good teams and then the others are extremely competitive as well.  Here you also see a great deal of organization at the league and club level.  For a player to see that it shows you that there is a great deal of potential as far as further growth is concerned.   The clubs are very organized and the players have a great deal of commodities at their disposal.
You mention resources, the stadium that your team has , although it is amongst one of the "older" stadiums in the league,  it is a stadium that has a great deal of luxuries and resources
Without a doubt.   (Crew Stadium) is an older stadium compared to some of the newer venues in the league, but it is still amazing.   It has all the comforts that you can ask for and it is also a great place to play.
Milo, you suffered an injury a few weeks ago.  How are you coming along?
I suffered a muscle strain and I will start playing again with the reserves hopefully this coming weekend.
What's the biggest change you had to make coming from Chile to MLS outside of the pitch.
To be honest, I 've adapted quite well.   My wife and my daughter have been able to adapt since they arrived and it is a very calm live here (in the United States).   It's been great for us and we've also been welcomed here.   To be honest, we've really enjoyed our time living here.
Let's talk a little about our career and as people familiarize themselves with you, they start to learn about you as a player.  You started out as a kid playing at an British school?  Tell me a bout about that time.
An English school.  Yes I began there and as I grew up I started to get looked at and had a chance to play at U Católica's youth system.   In that school it was strictly English education.
Did that part of your live also help you to better adapt to life here?
That was very important to helping me be able to better learn the language and to be able to adapt better and understand what the coach was telling me.  That experience as well as my time in Israel helped out a great deal.  There I went through a similar situation where I had to hear my coach speaking in English and I had to understand what was going on in order to do my job much better.
Tell me about the first time that you were called up to the senior side at U Católica  What was going through your mind at that moment?
I was really nervous.  I was really excited as well.   I was only 17 years old when I got the call and that was a big move for me.  From that moment on it was a learning experience for me because I saw and realize how different the game was.  It was tough and it was a difficult learning process for me.
Was there a player that took you under their wing and gave you advice to help you overcome that time? 
Yes.  There was one.  It was Néstor Gorosito.  He is one of the club's biggest idols and he really helped me get through that difficult time.  So to have him there and learn from him was valuable to me and for many others.
He was able to teach me certain things that made a difference in my game.  For young players it is very important to have those types of players and be able to learn from them.
What was even better was the fact that I would then have him as a coach when I played in Argentina
So after your first stint at U Católica you head to Argentina, when do you meet up with Gorosito again?
I went to Racing first and then afterwards I was at Argentinos Juniors where I met up with him again.  It was a very brief time.  Argentina was a very tough league to play in.  It was a league where there was lots of competition in order to get a chance to play and it was not amongst one of the moments I remember best.  Yet there was one thing I did take away from that experience and it was the fact that it toughened me up.   In the long term that helped me out a great deal.
What I found most intriguing about your career was your time at Beitar Jerusalem.   You won a title there, correct?
Yes.  I left before the end of the season, but I was part of the team for the majority of time.  Again, it was a great adventure and I had a great time there.   It was a beautiful place to live in and the people were just so accommodating.  It was a really brief experience, but it was a very rewarding one as well.
Did you by any chance play alongside "Loco" Abreu?
I barely missed him.  I left and then a few months later, like six months he arrived.
So after you left Israel, you were briefly at Argentinos and then you headed back to the U Católica.  The club had gone through a great run the seasons prior to your arrival, but you still did endure some success nonetheless. So when you arrive you are able to reassert yourself as an idol a player that is a symbol of the club.
Yes.  It was a great feeling to be able to return home and play at the club where you emerged.   There were some great moments there and I was also able to win titles with the club.  That was what made that time so special there.  I was also with many people that saw me since I was a kid playing there.  It was a very special time to be playing at that time.  There were still a great deal of changes that the club was undergoing and there were some teams that were becoming major protagonists as well but we were able to remain competitive during that time and I truly enjoyed all the moments I experienced when I was there.
Would you go back?
Oh, of course.  I enjoy living here.  Life here is very calm, but you do miss many things from back home.  You have certain things you are tied to back home.  Also, as I mentioned before, for me Universidad Católica is very special to me.   MLS has been a great adventure and as I get older I know that I don't have many years left to play.  I also want to have a chance to experience different things that the world has to offer.  But if I have a chance I would return to Chile.
Tell me about your arrival to Columbus.  How did the possibility of playing in MLS from Chile come to be?
Again, I know I don't have very many years left in my career and I also wanted to experience what there was out there.   It was a good proposition for me to go elsewhere and the offer was good so I decided to come over to play here.  Once the season was over in Chile, I wanted to give it a shot elsewhere and I knew about MLS from others and I was given very good references from other players. Once things started to fall into place I came here and then my wife and daughter arrived a couple of months later and we have really enjoyed being here.
What I wanted to do here was be able to contribute and give my team all I can possibility give.  To me that is the most important thing to offer this club this season.
Now you see yourself as a team leader.  Compared to when you were younger, how do you see the game differently compared to your early years?
Well the game hasn't changed.  I have.  I see the game a little clearer now.  That's because I am more mature now and understand what I was being told all the time.   It's what helped me become a better player.
How do you see the Chilean national team right now?
It is always difficult for a player to look at the national team from the outside.  It is very difficult to be able to  able to see the team yet you can see that this team is taking shape.  They  are a solid team and you see them slowly making things happen.  With Claudio Borghi they have a coach that supports them.  They are a team that looks like they are already set.  About a year or so ago I was on the team, albeit with a different coach, but you see the team taking shape and certain players already establishing their respective roles.
They were able to get the win against Bolivia, but they have a very tough Venezuela side.  CONMEBOL qualifiers are very tough and you cannot rest on our laurels.  I went through them a few times and they are extremely demanding for all the teams that are involved.  They have to look to be consistent in order to be able to qualify for Brazil, but there are players that can make that happen.
Do you have your boots ready to go in case you get a call up?
Of course, but playing here it is very tough to be able to be looked at here.   The league is not within the radar of the coaches in Chile.
Why is that?
Because people in South America know very little about Major League Soccer.  I came here because there is still a notion that the league is not good.  I came here because I was able to speak for Guillermo Barros Schelotto on several occasions as well as Sebastián Rosenthal , who played here in MLS and they only said great things about the league.  They helped me a great deal on making my decision to play here.
I was not going into this blind at all.  I thought about it a great deal and it ended up being a great decision for me.
There is one thing that I did see as strange when I came here and it was the amount of 22-year-old players that had very little to no experience at the professional level.  The level of development of players here in the United States seems to be a bit slower compared to other places.  For example, I made my debut in the first division at age 17.  I am here and I have very talented young players at Columbus and there are many that do not have a great deal of experience in the league.
Still the league is still young and it has a great deal of potential.
Tell me how you spend you time away from the pitch in Columbus?
Well, not much has changed really.  Actually, one thing ha changed.  I have more time for my family.  Before that was not the case as I was always at practice and traveling and sequestered prior to matches in a hotel.
Here I go to practice and have time for my family.  It is one of the things I truly appreciate.  It has meant a great deal to me.