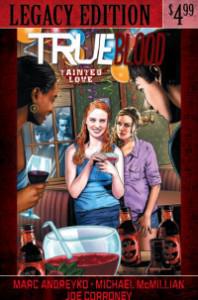 Over at the Inside True Blood Blog they got an interview with Michael McMillian about the new issue of the comic book that is about to be released.  Yea, and this issue actually includes Michael's alter ego, the one and only Rev. Newlin from True Blood.  Below is part of Gianna Sobel's interview with Michael:
Comic-Con is hitting San Diego this week, and the festivities are dripping in 'True Blood.' Over the next few days, we'll be bringing you an all-new trailer, cast Q&As, and much more. But to kick things off in the proper frame, we talked to Michael McMillian (who in addition to playing The Rev. Steve Newlin on the show, writes the official 'True Blood' comic book) and our own InsideTrueBlood blogger Gianna Sobol (who works as story editor on the books) about 'Tainted Love' – the issue of the comic that is about to be released as an extras-packed Legacy Edition at Comic-Con.
Gianna, you've been wearing a lot of hats lately – can you describe what you do as story editor for the comics?
Gianna Sobol: I get outlines and then scripts, and I give notes, trying to help to keep in line with the show.
Michael McMillian: She tells us what sucks.
GS: I tell him what's terrible about all of his work, and then I rewrite the whole thing. And then we just put his name on it. No – I think I'm kind of the 'True Blood' consultant, to keep the characters and world on track.
Was there anything you've had to cut out because it ran up against the show?
MM: Without spoiling anything from Season 4, there were actually a couple things that Marc [Andreyko] and I had put in there that Gianna told us might actually be happening in the show. So there were a few ideas we had to rewrite so we wouldn't step on the tail of the show.
GS: Then there would just be little things, like one scene where Jessica's mom was yelling at her, and I stepped in to say, "You know, Jessica's dad is really the yeller, and her mom's kind of the silent type …" Little changes like that. I think the show is so big – and there's so much lore and detail – what makes the comic book so cool is that it builds that world even more.
Read the rest of this interview by going to: inside-true-blood-blog.com