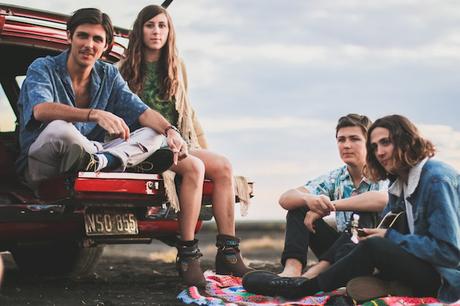 Megan & The Achilles have just released their new single 'Empty Little Heart', and have announced they will be playing The Big Pineapple Festival in May. Tomatrax caught up with Megan Achilles, the lead singer of the band of siblings, to ask a few questions.
What's it like to be in a band with your siblings?
It's great... We do argue a bit. But at the same time we tend to really 'get each other' which is a bonus when trying to create a certain sound or vibe in a song.
When did you first all play together as a band?
Because we grew up together we've always mucked around playing at home. But in 2013 I was playing a solo gig at Easterfest in Toowoomba and thought it'd sound cool if the boys played back up. We got so much great feedback after that and decided that maybe it was something we should go after full time.
How did you determine who played which instrument?
Well I've been playing guitar since I was about 13. My brother Tom, who plays ukulele and drums has also done both those things since he was about 13 and Dan, who plays trumpet, learned that all throughout high school. So 3 of us were already confident on our instruments. Joel, who plays mandolin, had learned bass for about 6 years, but we thought mando seemed like a cool instrument so he gave it a try and picked it up really quickly.
You've just released your debut EP, what's it like to have it out?
It's great. For so long we didn't have any recorded music to share with people, so it's exciting that there is another way for people to hear our music apart from just at a live show.
What made you decide to make the EP self titled?
Because this is our first recording, our main objective for the sound of the EP was for it just to be a total representation of who we are as a band. So it seemed fitting to self title the EP.
What made you pick 'Empty little heart' as your latest single?
It's a bit groovy and we like the vibe of the song.
You'll be playing at the Big Pineapple festival, what can fans expect from your show?
Hopefully lots of energy, we're getting another guy to play full drum kit so that Tom can concentrate on ukulele, so it'll probably sound a lot more powerful with a full kit.
Is there anyone you'll be wanting to see at the Festival?
Yeah everyone!!
What's the music scene like in Oakey?
It's a little bit non-existent actually! Oakey is only a tiny town of about 4000. But Toowoomba is about half an hour away and we've scored a few good live gigs in there - the local music scene in Toowoomba is actually picking up a bit at the moment.
Do you ever listen to your own music?
Yes, but it's hard not to be super picky and just enjoy it!
What other music do you listen to?
Oh lots - The Lumineers, The Jezabels, The Wombats, Little May, Boy & Bear, The Rubens, Florence + The Machine, Mumford & Sons, I love Paul Kelly..... The list goes on!
What do you have planned after the Big Pineapple festival show?
We're hoping to pick up a few more live shows and maybe even plan a bit of an East Coast tour...
Check out Megan & The Achilles Facebook page to find out more!