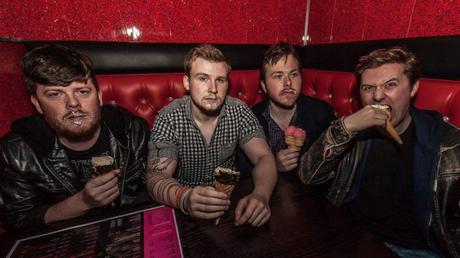 Scottish heavy metal four piece Maybe we're dead already released their latest EP; "On The Way Down" last November. It has been played on about 80 radio stations across Scotland and the USA. Tomatrax caught up with the band to talk about their music.
How did the band form?
Matthew: The band formed after Steven and I had left our previous band. Not wanting to stop playing shows we quickly looked for additional members, and started auditions. Paul was the first and last audition for vocals, as things just clicked with him. Then there was a drummer needed, and after a couple of auditions we found Cree, who completely baffled us with his application, so we HAD to get him in. Thankfully his drumming ability was as ridiculous as his initial message had foretold.
Cree: I want to know what my original message was!
Where did the name "Maybe We're Dead Already" come from?
Paul: We realise on the surface it looks quite pessimistic but the actual meaning behind the name is optimistic. It's about the recognition that life is short; if you were to know how much time you had left you would spend every second doing what makes you happy. We don't know whether or not our cards are marked and we don't know what the future holds. If you are able to do so, live for yourself, be the best version of you that you can be and do what makes you happy because "Maybe We're Dead Already".
What made you decide to offer all your music online for free?
Cree: It's really to help get our name and our music out there. We don't want barriers between ourselves and any potential person who might be into our stuff. The focus at the moment is getting our music to people. I mean, you can buy all of our stuff online and we sell merch at our shows but it doesn't cost us a huge amount to give music away online so it can be done easily. Plus, these days there is more of a focus on live music. If giving our music away for free increases our audience for shows then its well worth it!!
Where did the EP title "On the way down" come from?
Paul: "On The Way Down" is the second track on the EP and is probably the heaviest song we've written. The song itself was really a representation of my outlook at the time. It's about "thinking like a viper" and doing whatever necessary to sort your life out and fighting against forces which can seek to crush you. It's finding the strength to take strides to be the person you want to be, whatever that may entail. It was kind of like giving myself life advice.
What was the inspiration for the EP's front cover?
Paul: The front cover is based on the image of Atlas, the titan who holds up the earth in Greek mythology. The figure of Atlas is replaced by our skeleton character which featured on our first demo EP "MWDA". In this instance, rather than holding the earth he is being crushed by the weight. You see on the inside the line "Do you ever wonder about the wicked things you do?" as a question to the viewer to consider the consequences of their actions. We see the character defeated but there is a rising tide of water, there is still life there, the resurgence is coming!

The EP covers many styles across the 6 tracks, is it hard to get the different elements to fit together?
Steven: Yeah it can be pretty tough. It's an evolutionary process, but we seem to be getting better and really finding our sound with every song. Because we all bring different tastes and inspirations to the writing process we seem to be able to (for the most part) pull off this sort of hybrid sound. Sometimes a song will present itself through jamming or maybe there will be a full song written by Paul or Matthew. It's hard because in the end you have to have something that you're happy putting your name to. Showing the world what you've got and saying proudly "This, this is us."
Cree: We've got about four shells of songs going at the minute, we never work on just one thing, but there's one song that we think may be the best thing we've ever written. You can imagine how frustrating that is just after releasing our EP!! Still, if all goes to plan you'll hear it sooner rather than later!
Only two tracks on the EP go for longer than 3 minutes, was it the intention to make all the tracks short?
Cree: It is what it is. We didn't really think about the track lengths. We just recorded them the way we wrote them and did what felt natural. That's all you can do when song-writing anyway, what feels right.
You'll be playing a couple of shows next month in Scotland, what can fans expect from your shows?
Cree: We're still a relatively young band and so we're still developing our live show, we can't afford the likes of smoke, lights and all the other bells and whistles but our goal is to play our hearts out and hope that folk enjoy it. Our music is full of energy and we do often lose ourselves a bit on stage and empty the whole clip. It's just balls out hard rock, as loud as the venue will let us play.
Are there any plans to tour outside the UK?
Cree: Not at the moment. We're working on developing the band in Scotland, so there's no room for travelling outside of our own scene just yet. We all have jobs and commitments at home, so it'll be difficult for us to do that until the music starts to pay for itself.
Paul: I mean if we had the option we'd do our best but yeah no immediate plans.
What's the music scene in Glasgow like?
Steven: You could probably write a separate article on this to be honest but I'll try to be concise. Like any other scene there can be a mixed bag of good and bad. It's so active you get to meet and engage with so many different promoters and artists that you potentially wouldn't in any other scene. Every weekend in Glasgow, practically every single pub and club has got live music on. It's absolutely fantastic for the punters, because they are spoiled for choice. However for the bands, promoters, and venues, it can be tough to get a share of the night's audience, especially because of the range of incredible talent that's on the go!
Cree: Glasgow has one of the most amazing and diverse music scenes in the world. Just now as I am writing this (Jan 24th 2016) we have "Celtic Connections" going on, which is an absolutely fantastic folk festival. It's actually an amazing place to be. Since we started gigging in Glasgow we've shared the stage with bands and artists from all over the world. One of our first gigs saw us share the stage with South Korea's Hellivision! So for a musician it's a truly inspiring place to be and we are truly grateful to have all of this talent in our own back yard.
Do you ever listen to your own music?
Cree: Of course! I mean if you don't like your own music then what's the point you know?
Now that the EP is out what do you plan on doing next?
Paul: Our plan is to have a new single out later in the year. Hopefully, we'll get the opportunity to play in towns and cities around the UK. Other than that we're going to keep writing, playing, performing and generally working on getting our stuff out there.
Check out Maybe we're dead already's website to find out more!