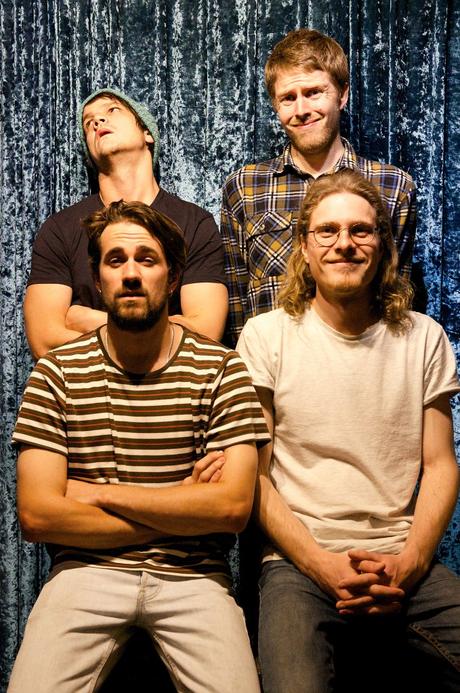 Sydney's stalwarts Zeahorse are finally back with their second record Torana Dreamin. The sophomore record is a move on from the psych drone of 2013 Pools to an exploration of the tougher and visceral forms of Australian punk music. Tomatrax caught up with Max from the band to talk about their latest release.
You're just about to release your second album, how will it compare to your debut?
This new album is a bit tougher, a bit faster, a bit bigger and (in our humble opinion) overall a bit better! Haha.
Did you experience the cliches around making the "difficult second album"?
No, not at all. That thought didn't really come into our minds. Our main focus is just to make music that is fun and exciting for us to play. So if you trust those instincts it will hopefully translate across into the recording and make for a good album.
It's been around 3 years since your debut came out, what were you up to over this time?
Good question. It's quite amazing (and a little depressing) how the years manage to disappear so easily... let's see... we've toured America in that time, which was pretty big for us. And we also did a regional tour of Australia, which was a lot of fun. So I guess we've mainly been focusing on the live side of things.
What made you pick 'Draino' as the album's first single?
The first single we released was actually 'Torana'. And we picked that one because we thought it was a good first taste of our new material. It's a pretty decent representation of what you can expect from the rest of the album. It's also one of our favourites to play live, which is usually a good sign.
What was the inspiration behind the album's front cover?
Credit for the album art goes to Morgan's brother Lachlan Anthony. He's not only family, but also a great, well-respected artist - so it was only logical that we got him on board to do the artwork. We wanted an image that was relatively simple and striking, but also tied in with some of the themes of the record. Which Lach captured beautifully. The palm tree image manages to convey a dark, foreboding vibe related to suburban Australia.
You'll be touring in support of your latest album, what can fans expect from your show?
There's been a lot of great energy at our shows lately, which has been slowly building over the past year or so. We feel really lucky to have such awesome fans. So you can expect a fun and lively show from a band that really enjoys playing live - nothing fancy, just honest noise.
Where did the name Zeahorse come from?
We all used to live in Northern NSW as horse breeders. And very rarely a white foal is born on the eve of the summer solstice with faint black stripes, called a 'Zeahorse'.
Do you ever listen to your own music?
Haha another good question. Personally, by the time the record is ready to come out I struggle to listen to it. During the recording and mixing process I'll listen to the songs a lot, but once it's done I've usually moved my attention onto new material.
What music do you listen to?
A few of my favourite records from the past few years would include 'Autolux - Pussy's Dead', 'Young Widows - Easy Pain', 'Pile - Dripping', and 'Pissed Jeans - Honeys'.
What do you have planned after the upcoming tour?
We're pretty keen to get straight into the studio and record again. There definitely won't be another 3-year gap between records this time around! Promise.
Zeahorse 'Torana Dreamin' Tour dates below. Check out Zeahorse's Facebook page to find out more!
Saturday, 26th November 2016 - Riverfest, Moruya NSW
Friday, 2nd December 2016 - Old Bar, Melbourne VIC
Saturday, 3rd December 2016 - The Eastern, Ballarat VIC
Friday, 9th December 2016 - Factory Floor, Sydney NSW
Saturday, 10th December 2016 - Black Bear, Brisbane QLD
Friday, 13th January 2017 - Rad Bar, Wollongong NSW
Saturday 14th January 2017 - Phoenix, Canberra ACT
Friday 17th February 2017 - Crown & Anchor, Adelaide SA
Saturday 18th February 2017 - Brisbane Hotel, Hobart TAS