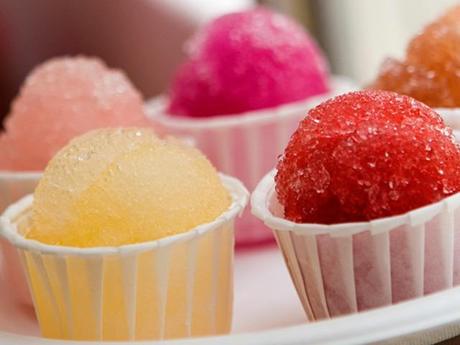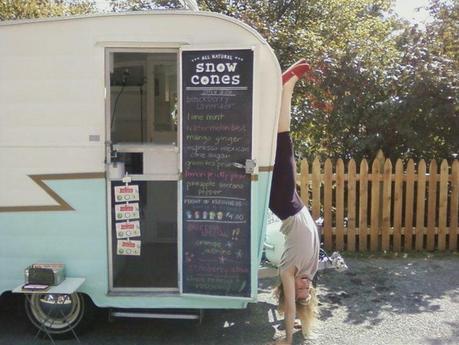 D*S: You're running your snowcone business from a converted trailer- could you tell us a little bit about that and why you chose a trailer over a regular office?
LL: Initially, I wanted an Airstream, but after researching them, I found that the little ones (a Bambi is what I had my eye on) are pretty hard to come by, were a little out of my price range and are a few thousand pounds! So then I stumbled upon the 'canned ham' style trailer and fell in love with the Shasta. It was just so darn cute, compact, and affordable.
I think the admission of my love for food on wheels above explains why I chose the trailer over a regular office…it was a must! Not to mention, the trailer is extremely eye catching. You really can't miss it when you drive down the street, especially with Snowie glowing in all his splendor on top.
D*S: So many of our readers dream of following their passion like you have- could you describe to them what was your "tipping point" that made you decide to follow this dream?
I had a taste test party at my house last summer and invited about 20-30 people over to test all the snow cone flavors. I made score cards for each flavor and asked my guests rank each flavor as well as provide tasting notes. It was such a fun night. The responses on the score cards still make me laugh to this day. Watching a large group of adults get so passionate about discussing the balance of blackberry and lavender was so fantastic. Everyone was responding exactly as I had hoped and that made me know that I wanted to follow through with this.
The real tipping point that lead to the trailer was probably when I received a phone call from the most wonderful banker you'll ever meet. She said, "Hi Lindsay, this is Rita. Your boyfriend told me I should call you. He told us all about your snow cones. We'd really love to help you make this a reality. You should come in and talk to us." So I did. I took out a small business loan in order to renovate the trailer and make it exactly what I wanted it to be. It certainly helps to have supportive people all around you.
D*S: Once you decided to start the business, what were the first few things you did to get started? Did you make a business plan and organize, or did you just dive in head first?
LL: Oh, shoot. Take a wild guess. I dove in head first….but in an organized way.

D*S: Do you have any advice for women out there looking to follow their passion and start a new business?
LL: Just be very honest with yourself.
If you are creative, then BE CREATIVE. If you aren't good at the business side of things, then find someone who is. I don't think you need to be good at everything to be a successful business owner. I think you just need to be very good at FINDING the right people to help you.