If you live in or have visited Dubai or Abu Dhabi, there's a good chance you've had the distinct pleasure of keeping cool in the hot climate by indulging in the guilt-free-yet-ridiculously-tasty treats from Melt & More.
Co-Founder Joanne Lewis is proving to be quite the "Jackie of all trades" since venturing from her background in beauty therapy to starting this delightful concept that includes food trucks, pop-ups and permanent fixtures, inspired by her own very personal experiences.
TELL US A BIT ABOUT YOURSELF
I am from the UK and have lived in Dubai for ten years. I am a mom to two boys aged eight and ten. I used to work as a beauty therapist in the UK, having worked for Harrods for four years, and then free-lanced in London, working with many celebrities and the Royal family. I then had my own salon for eight years before moving to Dubai.
TELL US ABOUT YOUR BUSINESS?
We have a "guilt-free" healthy desert company called Melt & More. Our three main products that we sell are non-fat frozen yogurt, 100% pure fruit ice lollies called Chilly Billy's, and we have a range of coconut "mylk" drinks called Rebel Kitchen, which are dairy-, gluten-, nut- and soy-free, and are paleo- and vegan-certified. This is a truly amazing product for kids and adults with food intolerances. They taste so good, too! We have two food trucks and pop-ups. We have permanent locations at the Football Academy at Dubai Sports City, Emirates Aviation University, and poolside at the Westin Hotel, Dubai. We work at all the major events throughout Dubai and Abu Dhabi, including golf, football, rugby, concerts, Ripe Organic market, schools, private corporate and birthday parties, and Formula 1. We now also distribute our Chilly Billy's and Rebel Kitchen range in Spinneys and Waitrose, and you can also find them around great cafes and kids trampoline parks, as well as hotels.
WHAT MOTIVATED & INSPIRED YOU TO START YOUR BUSINESS?
I had not worked since moving to Dubai, and my boys were growing quickly. I needed a challenge. My eldest son has a severe nut and seed allergy, and my youngest son has so many food intolerances that cause him to suffer terribly with skin problems. I met my business partner, Jieun, through our husbands, and she was also passionate about finding healthy food choices for her two very young children. We saw the rise in obesity and diabetes throughout the region in both kids and adults and wanted to find a way to give people a really tasty dessert without all the added sugars, colours and additives.
WHAT WERE THE FIRST FEW STEPS YOU TOOK TO GET YOUR BUSINESS UP AND RUNNING?
We started by getting our trucks converted, and while this long process took place we really focused on researching our frozen yogurt. We just couldn't seem to find one that we liked, so we set about having our own recipe made in Italy. I was in the UK during the summer when we were setting up the business, and I found this amazing ice lolly called Chilly Billy in my parents' local store. It looked healthy on the packaging, and when I got home and read all of the ingredients, I couldn't t believe that they are made from 100% pure fruit juice. I Googled them and discovered they were made just twenty minutes away on a Cotswold farm run by a husband and wife team, who are also passionate about giving their kids a healthy choice. Once we had two great products, all the hard work then began.
WHAT HAS BEEN THE MOST EFFECTIVE WAY OF RAISING AWARENESS OF YOUR BUSINESS AND GETTING NEW CUSTOMERS?
I think the best thing that happened to us was being park of the Ripe Organic market. We have worked with them for two years now since we started, and it is a great platform to meet people, talk to them, and educate them about our products. They have helped so many homegrown businesses. We have also both worked tirelessly to just keep picking up the phone, emailing and meeting people, and we have had such great response from everyone.
WHAT HAVE BEEN YOUR BIGGEST CHALLENGES SO FAR WITH RUNNING YOUR BUSINESS?
Most definitely converting our food trucks. Also, two years ago when we first set up, we were one of the first trucks out. The first year was filled with challenges as we did everything ourselves, and the event business is so tough. Working out logistics and working with frozen goods on mobile vehicles is hard. During our first year, we worked at every event ourselves, and some nights we would finish at 2am after a concert, and then we would be back in for 5am to set up for a market. We did not get to spend one weekend with our kids and that was the toughest thing ever!
HOW DID YOU OVERCOME THESE CHALLENGES?
We got through it somehow, and when the business started to grow, we employed people to help us. Food trucks are a very new concept in Dubai, so we did everything above board and listened and learned as we went along,
WHAT DO YOU LOVE ABOUT RUNNING YOUR OWN BUSINESS?
We are both so passionate and believe wholeheartedly in our products. It is a great feeling to stand back and see that we have built a brand, and of course, so rewarding to walk into Spinneys and Waitrose stores and see our products on the shelves.
WHAT ADVICE WOULD YOU GIVE TO OTHER ENTREPRENEURS?
Research and do your homework on everything. You have to believe 1000% in what you are doing and be prepared for many knockbacks on the way. Surround yourself with good people.
HOW DO YOU KEEP MOTIVATED THROUGH DIFFICULT TIMES?
We have many tough days as I think everyone in business does, whether working for yourself or someone else, but I never question our business. We are very focused and we know we are providing not just delicious, but healthy, products too.
DO YOU HAVE A BUSINESS PHILOSOPHY?
Stay true to what you initially planned. We will never take on a product that is unhealthy.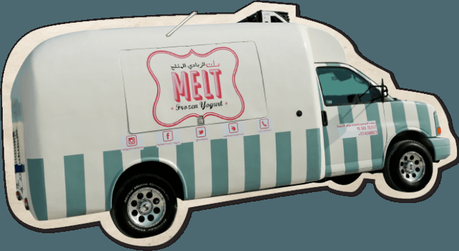 QUICK FIRE ROUND!
My greatest fear is...
Having a power cut in our freezer as sometimes we have as many as 40,000 ice lollies in there!
The most courageous thing I've ever done is...
In the end we only regret the chances that we didn't take.
Learn more about Melt & More
Images courtesy of Joanne Lewis
Jump out of a plane at Skydive Dubai