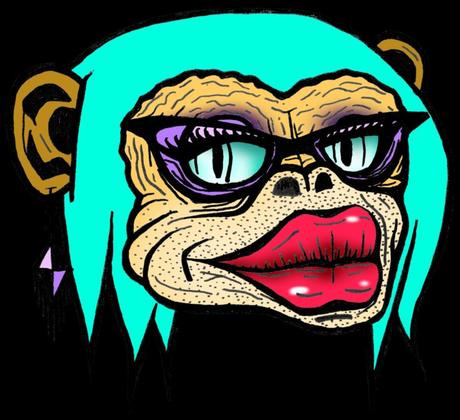 This frilly ape is the brainchild of French musician Jérémy Rumerio. After a few years in the making, This frilly ape's debut album has just being released, bringing forth Jérémy's own brand of experimental / avant-guarde rock.
Tomatrax caught up with Jérémy to talk about his latest work.
How did the band form?
Hard to call that "a band", as I am the only member, here... even if this was not the initial idea! I wanted to found a trio, but things turned differently after some months with the rehearsals. In the future, playing with other band members again could be a possibility. Not sure.
To answer your question, the idea came when my son was born in 2013. I had the feeling that it could be great for him to grow in a house where he could hear music, played by real instruments. The idea to play music with my best friend was also a reason. Both motivations turned out to be bad ideas, as I already said. Long story... tell me if you're interested to know!
Where did the name This frilly ape come from?
In the beginning, I was searching for a name related to the music itself. But it led to a dead end.
So, I asked myself: why are you making music? The answer was pretty clear: it was a way to communicate a message, an alternative to oral or physical communication forms, I mean. Then, I had the feeling that creating music was necessary to find a balance in my everyday life. I also observed that this music was evolving months after months. This made me think it had something to do with psychoanalysis.
Then, as I didn't like the idea of something too serious, I tried to introduce auto-derision in all of that. I decided to consider myself, being a monkey on a psychiatrist sofa, venting my pointless problems, my stupid fears. This is how the first name "This ape psychotherapy" was born. But it was too long, and not so cool! So, I decided to finally select "This frilly ape". I think it reflects the absurd side of the music, even if the main part of the initial idea is gone. But I guess you still get the missing part while watching the artwork, and the way this monkey looks like.
You've just released your debut album, how does it feel to have it out?
First of all, I'm very happy with the result: I struggled for many years with every aspect of the production, but except with some details, this was what I was hoping to get.
But there is something else: I am also very much disappointed about the album reception. I spent so much energy in this, and I'm just so surprised about the little bit of feedback I receive, while sending links to freely download this music! I mean: I'm very curious about the others music, and if someone I know recorded an album, or if someone I don't know asked me to listen to its music, I surely would do it, and give my opinion about it. If I don't like the stuff, it just takes 5 minutes to know what goes wrong between the music and me, and to write an answer about it... But nearly no one did that for me. OK, I'm not a professional of the music industry, I did it all by myself, and with a very little money. But after 5 months trying to promote this music (in which I believe), when I only hear about a dozen of people showing some kind of interest, I think I have some good reasons to feel disappointed. I guess people don't respond because they lack time, or most probably because they simply didn't feel concerned by the music... So, let's say that I didn't find an audience yet. On the other hand, it could be expected, with this kind of music 🙂
It also has to deal with the question "Why am I making music?". As I already said before, I am creating music to find a good balance in my personal life. But this "music message" has no purpose if no one is interested in it. Until someone hears it, and proves it was touched by this music, that it understood the message spread in this music (e.g.: by recommending it to someone else), you only have the half part of the process being achieved...
What made you pick Lovely mutant cauliflower as the title track?
I think it was for 2 reasons: the first one is that this is the track I am the proudest of, in this album (even if it is more repetitive than the other ones). The acoustic part is rich and well developed, the central riffs spread some nostalgy, and the lyrics bring a good balance between this nostalgy and the dissonant/disturbing tones of the music. At least this is what I think. The second reason is that the idea of a mutant cauliflower that needs to be tenderly rocked was cool, and funny to represent!
What was the inspiration behind the album's front cover?
As I just said, I was trying to illustrate the idea of this lovely mutant cauliflower: the smoke, the finger, the eyes and this slimy liquid on it make me think that it is alive, warm, quivering, just like if it had just come to life. I chose a nearly black and white photography and a dark background to fit the album imagery, that deals with subjects like lonely childhood, impressive factories, seedy apartments etc.
Finally, as I wanted something naïve, flawed, savagely organic, I decided to add a dripping purple layer over it, and a hand-written album title. I wanted to use flashy colors that may remind the 90s (ah, great ski clothes!): I decided to inspire from the cover of the Sonic Youth's album "Evol" for that point.
What is the music scene in Durfort like?
Mmmhh... Not sure, but I think it's nearly dead 🙂 However, there are a lot of great places to play around here! (There is a huge forest, great ruins and some abandoned factories)
Given you're from France, why are all the songs in English?
The main reason is that I always thought that English language had nice consonances, and was more appropriate for my music than French. It seems to me that finding the sonorities I was searching for with French lyrics would add a layer of difficulty to the process. Maybe it's a wrong idea, and by the way I can think about some great albums sang in French: "Play blessures" by Alain Bashung, "Déchirance" by Chevignon, "Macadam massacre" by Bérurier noir etc.
The second reason is that when you try to communicate a message, it is better when it is understood by the largest number.
The bad part of this choice is that I'm not a fluent English speaker: I was not able to choose the words with subtlety, like I would have done in French. However, the most important part of the message was the music, not the lyrics. So English was definitely a good choice.
Do you ever listen to your own music?
It happens to me sometimes, yes, mainly because I've heard each part separately so many times, with so many different sound mixes that I'm always delighted to hear the final result, with the elements mixed together!
But this is mainly some kind of "engineering" interest. Musically speaking, it's kind of irrelevant, as you already know by heart what's happening there. I guess it was time to move on, when the album was released. This is the same for any other album that I like: I listen to it for some weeks, and finally put it away, knowing I may listen to it again some years later.
What other music do you listen to?
I had a long black metal period during my teenage years. I then moved over something more "avantgarde" (Virus, Voivod, fleurety, Dodheimsgard, Thorns, Ved buens ende).
More recently, I rediscovered the grunge scene (Soundgarden, Alice in chains), and more especially Sonic Youth & Thurston more, that I worship more than any other band. I'm also listening some no-wave, post-punk or noise rock stuff (This heat, Joy division, T. Segall, Pavement, Swans, The Breeders, Wire, The conformists, Pile, Pere Ubu, L. Lunch...)
...and also, some contemporary / modern / romantic music (K. Penderecki, B. Bartok, D. Chostakovitch, I. Stravinski, PI. Tchaikovsky, J. Williams, S. Yokoyama, P. Glass, E. Satie, G. Ligeti)
...and also, Captain Beefheart, F. Zappa, F. Kuti, Magma, Queens of the stone age, with of course other classic rock stuff!
Now that the album is out what do you have planned next?
As I bought a new house, I've got some odd jobs to do in my week ends 🙂
Then, I think I'll return to oil painting or drawing stuff for some months. Finally, I'll probably start to write music for a new album. I don't know if I'll be alone to record this new album, but I feel like I have many other things to say with my guitars, my bass, my drum kit, and the other instruments that are in my house. I guess my contemporary music project can wait some years more...
Check out This frilly ape's bandcamp page to find out more!