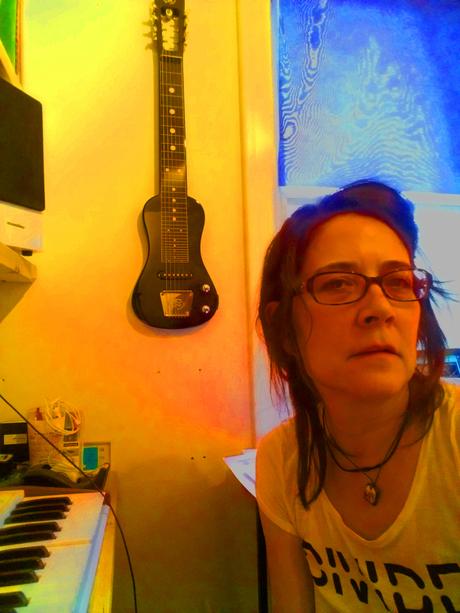 Buildings and Food, a.k.a. Jen K. Wilson has announced her forthcoming sophomore album entitled, "Up Down Strange Charm", to be released on September 25, 2020 via her own label, Number F Records. Tomatrax caught up with Jen to ask a few questions.
You have your second album coming out in September, how does it feel to have it finished and ready to go?
It's so great getting to the point where I feel I have a complet ed collection of music. And i t's a lot of fun gearing up for the album release . I've already put out the first two singles and a third single, "B-Movie" is out on August 31 st . There's a n official video as well and the single comes with a remix version , which is available on Bandcamp.
How will the album compare with your debut release?
I wouldn't say it's a huge departure from the first album, but I think it's a bit different, a bit more cohesive, although there are still a lot of different subgenres represented.
As this is the second, did you have the cliché issues of making a "difficult second album"?
Not really, I just focus on one track at a time and it's not till I have a bunch of recordings completed that I start envisioning the record. To be honest, when I'm starting from scratch I don't know if I'll even succeed in finishing one song .
I'm fascinated by quantum physics and just imagined this abstract connection between music and subatomic particles - the title comes from 4 of the 6 flavours of quarks.
What was the inspiration behind the album's cover?
The cover is actually from a n untitled mixed media p ainting I did many years ago that seemed to fit withe the music and the title of the album.
The bulk of the album is instrumental, what made you decide to take this approach?
I generally gravitate towards making instrumental music as I'm a multi-instrumentalist and that's where my strength lies, but sometimes I just get an idea for lyrics or the inspiration to sing.
When writing do you have an idea whether or not you will add vocals to a song?
I don't employ any particular method in the initial stages of the creative process . Sometimes I'll begin by writing a song with vocals, then when I'm putting the tracks down I go in a completely different direction and take the vocals out. Other times I think what I'm working on will be an instrumental and next thing you know I'm singing on it.
What made you pick 'Streetlights' as the lead single?
When songs are instrumental how do you determine the song title? Sometimes the working title sticks and actually ends up helping shape the recording because I get abstract notions materializing; other times I have a pretty concrete image in my head about what the music I'm making represents, either an idea or an imagined landscape that I am creating a soundtrack for.
You're also a visual artist, do you have any visual arts work planned at the moment? Maybe , but it's top secret. Way back when, one of my university profs told me never to reveal a project until it's completed or it will 'suck the juice' out of it and for some reason that's always stuck with me even though it's probably just ridiculous. So, I'll let you know when it's finished. For now, I can say that I've been making my own 'official' videos for the tracks on this album and it's satisfied a bit of the visual creativity thing for me. It's been so much fun I might just make one for every track on the album !
What was the inspiration behind the video for FM a.m.? I think t his track has a really nostalgic quality to it and I love the look of super 8 footage , which seemed to compl e ment the music nicely .
What do you have planned once the album is out?
I'm looking forward to getting back in the studio. I have a few ideas brewing for the next album and have been thinking about releasing an EP of remixes. I have a collaborative project in the works as well to address the jangle pop itch I have.
Check out the Buildings and Food website to find out more!