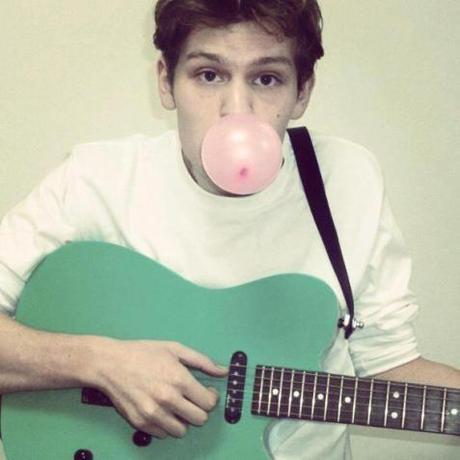 Formerly with the band Breakfast at Pandas, Huckleberry Hastings has embarked on his solo career releasing his debut single Huckleberry Blues. He has already gained acclaim with rave reviews from Triple J Unearthed and being video of the week on hhhappy! Tomatrax caught up with Huckleberry to ask a few questions.
What made you want to be a musician?
Well my father is a guitarist, so music was always a big part of my life. My earliest memory of singing was Disney sing along songs. I knew Pocahontas by heart.
When did you write your first song?
I think I tried to write lots of lyrics when I was in primary school, about crushes and what not….but the first full song I wrote was when I was thirteen, when dad got me my first guitar from the markets.
What made you pick the Huckleberry blues as the debut single?
It is the first song I wrote after playing with my old band, and it pretty much sums up my mental state at the time, and I think it eases you into the gloomy parts quite appropriately.
What was the inspiration behind the video for Huckleberry blues?
Parody on myself. I kind of wanted to make fun of myself a little bit, and make light of all the whinging I do in the song. We filmed it in my house with my friends, and just had a bit of fun.
You've got an EP coming out soon, how will it compare with Huckleberry blues?
It really has my producer Chris Rollans stamp on it for one. He is fantastic…a very creative person, and has a very organic sensibility. Lyrically it encompasses a time in my life where I was particularly frustrated with my surroundings, and had a lot of trouble coping with the concept of love, and letting somebody love you. So I hope that the journey is one that the listener can relate to…I think that everyone in some way struggles with those things.
What will the EP be called?
It will be called Huckleberry Blues.
Do you have any plans for an album release?
Well, I'm kind of steering away from calling this release an EP because its 8 songs. I didn't want to try and fit more songs in or take any out because in my head it was finished. I have been writing for another release, and have been playing these new songs live, but as far as recording them goes I don't have a date set.
You've entered songs on Triple J's Unearthed site, has that had any impact on your music's exposure?
Absolutely it has. I put up the demo of Exorcism up there which did very well. Through that I got a few great gigs…one being Folk Club at Oxford Art Factory, which was run by "The Falls" and had a beautiful community of regulars. The Falls have been up to this day a huge support to myself and many others on the scene. But I definitely look back at that first folk club gig I played and thank them.
You were also part of the band Breakfast at Panda?, how does playing solo compare to being in a band?
It is incredibly different. I love both in completely different ways. Playing solo I have freedom and versatility to follow impulse and play songs differently or change up a set. But in a band (particularly if I don't have to play guitar) I can move about and dance. There is also a great sense of comradery that is lost when playing solo.
Do you ever listen to your own music?
To learn, or to practice…I think it is important to listen to yourself…I wouldn't be improving if I didn't learn from myself.
What other music do you listen to?
Always, Laura Marling, Billie Holliday, Baths, Best Coast, Nina Simone, Johnny Cash…at the moment I absolutely love Stealing Sheep and How To Dress Well….also Beyonce. Along with everyone else on the planet.
What do you plan on doing once the EP is released?
Same as always. Playing, Writing, Drawing and learning.
Fingers crossed Recording and Traveling. :)
Check out Huckleberry Hastings' Facebook to find out more!