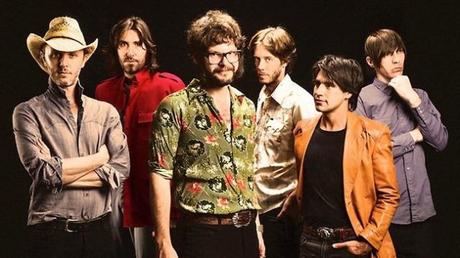 Led by Henry Wagons, Wagons are a group full of charm and charisma as well as a little enigmatic mystery that put out music that covers everything from rock, to country and everything in between.
Wagons will be taking part in the Mornington Peninsula's annual music festival Between the Bays at the end of the month. "It sounded like an incredible cause", said Henry. "I've become a half local at the Mornington peninsular. I've got a holiday home / studio on the hill at mount Martha so the idea of having a place to party and a nice dressing room in the lead up to the festival isn't half bad either. I love it up there I think it's one of the nicest parts of Australia."
Wagons will be putting on the full rock and roll show as part of their show. "As always we never leave anything behind", said Henry. "I feel sorry for whoever's going to use the microphone afterwards because we always leave a lot of blood sweat and tears behind. Especially as we're expecting some nice weather there's going to be a whole lot of noise, smiles, and bodily fluids across the stage".
As well as Wagons, an old favorite of Henry's will also be taking stage at the festival. "I used to be a massive Custard fan back in the day" said Henry. "They were definitely part of my subconscious makeup. I haven't seen a full of theirs since I was a teenager. So I'll be looking forward to gazing across their way as an adult."
Henry will also be sharing the stage with a former boss. "James Reyne was my first boss, the first TV show that dared to let me on the airwaves was a show called Dig TV on ABC2 and he was the host. I had a segment where I would burst into people's houses and berate them for their music collection so I'm looking forward to having a reunion with my boss."
While Henry played the part of a judgemental music snob he admitted that he too has some questionable records in his collection. "I kind of hold the most embarrassing things as a pride of place. I have a massive collection of Kraftwerk records. I too am devoted to Hot August Night by Neil Diamond; there might even be a copy of Whispering Jack [by John Farnham] in there somewhere."
Waggons put out their most recent album last year titled Acid Rain & Sugar Cane. Henry explained that the title "was a lyric from a song on the album [Hundred Years Or Six Foot Down]. Basically I think that's a good source of material for album titles. If you name an album after a particular songs it tends to draw attention to that song at the neglect of others and I have trouble choosing between my favorite children. That line seemed to capture that long journey from the highest peaks to the lowest troughs of the roller coaster that we were trying to capture in the album."
The album was co-produced by Mick Harvey. "We were all devoted to the guy; I'm a massive fan of his production work as well as his work with Nick Cave. To have him in Melbourne when we were recording was an opportunity we just couldn't pass up. From what I can tell he's a little selective with who he works with but not out of some meritocracy or based on fame or notoriety, he just needs to look at a project and think that he can help and we just didn't have our shit together just enough for him to think he could help and I'm glad for that."
The album was recorded in Henry's home studio at Mount Martha, "I definitely did want a sense of spontaneity with the album" said Henry. "Our history with recording had been more sterile. We didn't want to work behind laboratory like double glazed studio walls; we wanted to all be in the room making noise. So there is a sense of spontaneity and togetherness.
"A track we ended up releasing as a single Beer Barrel Bar was actually part of the demoing process we didn't actually intend to keep that recording and that recording was actually the first time we ever played it properly. We never managed to recapture the feel of that track even though it was re-recorded. We tried to re-record it in a more high fidelity way.
"Because we've recorded this album more live than ever before the transition between studio and live venue is actually much easier."
Wagons will be taking part in a number of festivals around town, after which Henry will be focusing on his next solo album. "It's going to pay tribute to some of the country inspirations of mine. We've kind of drifted away from the country genre recently. I feel like getting back into that smart arse narrative song writing that I'm missing a little bit."
Wagons will be performing at the Between the Bays festival on Saturday 28 February 2015 along side Mark Seymour, Custard, James Reyne, Sweet Jean, Combo La Revelcion, Indigenous Hip Hop Projects & The Billabong Boys. Check out the festival's website to find out more!
To find out more about Wagons, check out their website!