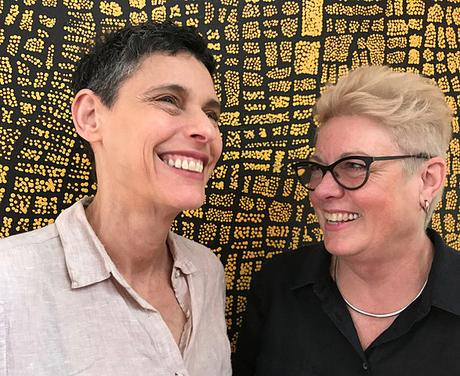 Do Re Mi, arguably the most successful Australian act of the post-punk era, make their long overdue return this summer for the By The C Festival appearances (featuring Icehouse and Sunnyboys) and headline shows in Sydney, Melbourne and Brisbane.
The Sydney born band featuring singer Deborah Conway and bassist Helen Carter are best known for the chart hits Idiot Grin, Adultery, Guns and Butter; the indie chart topper Standing On Wires and the controversial Man Overboard.
Tomatrax caught up with Helen Carter to talk about Do Re Mi's reunion.
Do re mi played together last year for the first time in around 30 years, what inspired this reunion?
Deb and I have remained in touch since the band split, and we were asked to perform the closing song at the inaugural Australian Women in Music Awards. Of course, it was Man Overboard! A bit of a feminist anthem in many ways, so it was a good fit. After that, I got a call from my pal Pete Oxley from Sunnyboys. He asked me if Do Re Mi wanted to play at the By the C festivals with them. I said, Sure! But we don't have a band! It wasn't long after that I was able to bring together the fabulous Julia Day and Bridie O'Brien to be part of the new lineup. We feel that the songs are still very relevant - maybe even more so - politically and musically, so playing them again was an exciting prospect for us.
Has it been hard to return to playing your music after this time?
Yes and no. Yes because I haven't been consistently playing since those days, and No because the music seems to have been welded to my soul and so with a bit (a lot!) of practice the fingers have caught up.
ll be playing shows around Australia, what can fans expect from your show?
You can expect some awesome merch! Oh and of course a banging set, shorter at the festival shows and full length at the headliners, filled with those funky, angular beats that we are so well known for. We're doing all the singles from both albums - Domestic Harmony and The Happiest Place in Town - including Man Overboard, Idiot Grin, Warnings Moving Clockwise, Haunt You, King of Moomba, Adultery...
Are there any plans for any new music from Do Re Mi?
Not at this stage but we've had so much fun we won't say 'never'. 2019 is busy for us all so we'll see what 2020 brings. In the meantime, Bridie (guitarist), Julia (drums) and me on bass are continuing to work together after the Do Re Mi shows and we are super excited about the possibilities. The three of us worked hard in the lead up to this mini-tour and we enjoy working together. We want to take advantage of that.
You had an unreleased third album, are there any pla ns for this material to be released?
No, unfortunately there's no money to do anything with the recordings. I might upload something onto social media at some stage. We'll see.
ve been cited as an influence for Australian indie/punk bands, how does it feel hearing music from artists you inspired?
Personally, I feel very humbled by that. Even after just a couple of shows so far, lots of people have approached me to tell me how the feel about Do Re Mi and my playing. Amazing, and very much appreciated.
Since making music for Do Re Mi you ' ve embarked on a career in non-profit management, wor king for Greenpeace, aged care and disability organisations. How does managing these issues compare with making music?
I use quite a few of my 'management' skills in music and vice-versa! It's all about people - bringing them together to achieve something good and feel valued. Creativity has always been a hallmark in my management career. Both jobs take a highly developed sense of humour and persistence.
Do you ever listen to your own music?
I've listened to a LOT of my own music recently J in prep for the shows. But no, not really.
What music do you listen to?
I listen to a bunch of different stuff, from Miles Davis to E.S.T, Wire to Courtney Barnett, Bach to Zoe Keating, Neil Young to Regurgitator. Depends on the situation of course. I love Spoon and Ryan Adams...the list could go on.
What do you have planned after the upcoming shows?
Bridie, Julia and I want to write together and perform. I'm hoping we'll have something to debut this year.
Tickets for all shows are on-sale from feelpresents.com