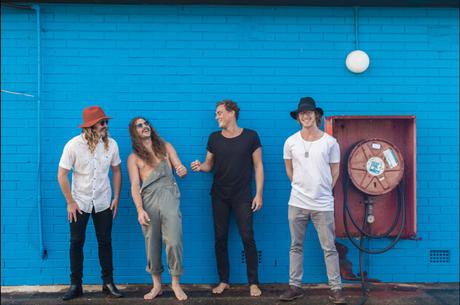 noceur (n.)
one who sleeps late or not at all; one who stays out late to revel or party.
With a charismatic tendency to refute definitions and genre boundaries, Gold Coast's Yes Sir Noceur revel in their fierce, late night reputation. The band have just released their latest track 'Dreamin' from their forthcoming E.P. Tomatrax caught up with Harry Toll, the band's base player, to talk about music!
How did the band form?
Marc (singer/ guitar) was blowing some minds performing some solo stuff at our local bar, Ell shyly approached him and asked him to come home with him... ... .. to jam! Rory was living with Marc at the time so naturally he got involved with the jamming. After a while Ell's brother Harris jumped in on the action and the band was born!
Where did the name Yes Sir Noceur come from?
We'd love to know where bands pull their names from, do they have a list of awesome names on hand? Is it a lightning bolt moment? For us we had our first show approaching and they needed a name for the promotions, we'd been playing with some names but couldn't settle on anything in particular. Marc speaks fluent French so he'd been playing with some French/ English combinations when he found the word NOCEUR (one whom stays up late/ a reveller). NOCUER fits all of our personalities well, and YES SIR gave it its little play on words. Since naming ourselves though we've had heaps of people struggle with the pronunciation NOCEUR- NO SYUR, but its always a laugh for us.
You have an EP coming out soon, how will the rest of the EP compare with your first few releases?
In two words, totally different. Our first E.P consisted of honestly the first songs we had collectively written together, it was a colourful mish-mash of styles and sounds. We loved the result of that E.P but it reflects a teething time for us as a band in its infancy. After playing together for two years we are starting to hone in on the sounds we want and a consistency in song writing that wasn't evident on the first E.P. We're a little more mature now.
Do you know what the EP will be titled?
Not as of yet.
What was the inspiration behind the video for Voodoo?
Tom Adam (producer of Voodoo) is fantastic behind the camera. We gave Tom free range on the concept of this video and he envisioned a cheeky kid rocking out in the midst of an older crowd- boom video was completed.
What was it like to appear on Channel 7's Sunrise show?
That was a spin out. Rory has a massive man crush on Koche so it filled his little Canadian heart to bursting, sadly the Koche wasn't on hand to sign Rory's breasticles. In truth we only found out about it the day before so it was actually a mad dash to convert one of our songs into a decent acoustic version. It was cool, but we were filming/ waiting around on the beach for most of the morning while the surf was firing so we were losing interest fast haha.
When writing what comes first, the words or the music?
In the words of Eddie (Eddie and the Cruisers) 'Words and music ' fingers crossing over each other.
We don't have a set system for our song writing, we play it as it comes out. Sometimes we will have a riff that we play around with for months, sometimes we have a random jam and a song is born instantly, sometimes we have a poem or some lyrics to inspire.
Do you ever listen to your own music?
When we are in the recording process we tend to listen to it, mostly for harmonies or to add more layers. However we have a large support crew who like to support us by chucking it on full boar to shit us off when they can.
What other music do you listen to?
Everything and anything. We each have our own music tastes. Marc and Eliot love the 50's to 70's guitar based blues and rock, Rory and Harris love the math / post rock stuff. Together we have formed a love for bands like King Gizzard and Wizard Lizzard, Thee Oh Sees, The growlers anything that gets a bit weird with their sounds gets our motors running HOT!
What do you have planned once the EP is out?
There's a few things in the works for the end of the year. We will be doing a run of shows with label mates BORNEO, heading down Sydney way to do some shows with North Coast legends IVY. We're currently in the process of organising some Melbourne appearances. You may even see one of our ugly mugs as the poster boy for an international add campaign- supported by one of our earlier songs.
Check out Yes Sir Noceur's website to find out more!