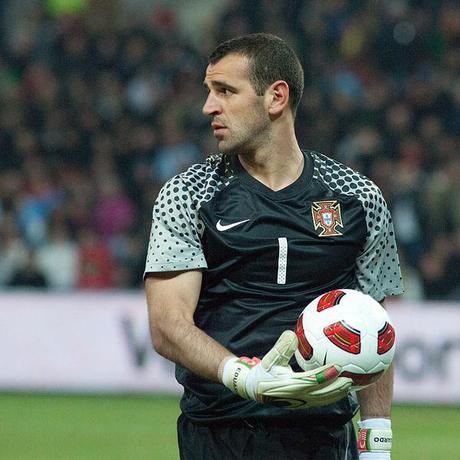 Portuguese international Eduardo (Wikimedia)
Had the pleasure to enjoy a great conversation with Eduardo dos Reis Carvalho. He was the biggest star for Portugal during the past World Cup and he had some interesting topics to discuss.  In this first part we will talk to him about his development as a player as well as his rise to being called up as one of the goalkeepers for the Portuguese national team.
Hope you enjoy.
Olá Eduardo. Tell me a bit about your beginnings in football. 
When I was very small I played at my local club, Miranda do Douro, later on I had the chance to to play in Braga and I didn't think about it twice, I was at Braga since I was 14 years of age.
When did you say I wanted to be a football player? A goalkeeper?

That dream was one I had since I was kid.  As you get older and the years pass and you have a chacne to play for a big club like Braga you start to believe that it is possible to make that dream become a reality.
One of the main things that I really like about your career is how you began your professional career. Tell me about some of the highs and lows  leading up to your chance at Beira-Mar.

When I was young, there was a possibility of playing at Beira-Mar and I accepted it later on. I was young and I needed to show my worth in the Portuguese first division.  Things went well for me the following year as I went to Vitoria Setubal and then I returned to Braga.
It took a while to get a chance to play at the top level. How was that time helpful for you in helping your mental toughness for the long term?

Every player  knows that it is not easy to get to the top.  In a goalkeepers case, I  believe it is a bit more difficult because most big clubs already have a top flight keeper, that forces you to work very hard every day in order to grab the attention of a big club or the national team coach.  Fortunately, that happened.  With that being said, this has to make one work much harder in order to maintain our form and stay on top because we know that competition is very intense.
Tell me about that Taça final while you were with Vitoria Setubal. take me through that penalty shootout.

It was fantastic to be able to win that title when I was playing for Vitoria Setubal.  It was a very emotional match and we knoew we had to execute to perfection.  That's why it was even sweeter when you werea bel to to do so against a club like Sporting.  They were the heavy favorties in that match.  Fortunately for us, luck was on out side on that day.
Of course, that was your first title. Where did that moment rank in your most memorable one, careerwise.

Of course, winning a title with a team like Vitoria Setubal will always be unforgettable. I keep that as one of the best memories I had as a footballer.
You then head to Sporting Braga and win the Intertoto. Tell me a bit  about that squad and how it started to grow from that point.

When I played for Braga I had some great seasons domestically.   We saw taht club growing from that moment and I believe  that Braga began consolidating itself among one of the big clubs in Portuguese football.  The team is now respected in Europe. As of that moment Braga was able to start fighting with Benfica for the title until the final round.  We also were able to play in Champions League where we were able to leave a good image that season as we were able to get to the final of the Europa League later that same year.
So, after you win the cup, you start gaining the attention of Carlos Queiroz and get called up for national team play. What did you learn from that initial time behind Quim?
I was very happy to be called up for national team duty.  Any player that gets that call is obviously very happy.  It is without a doubt the high point of any player's career. Since I was young I admired Quim a great deal, he's one of the greatest goalkeepers in Portuguese football history. Quim showed it throughout his career both at Braga as well as at Benfica.
You get to South Africa and your team look solid on defense. Tell me a bit about how you felt when you were considered by many mediums as the best goalkeeper of the World Cup in 2010 especially after all the criticism that you received initially?

To be quite honest, I do not make it a habit to be looking at what the media say. I had a great time when I played at Braga and on the national team. I thought I was doing well at that point but I played an incredible World Cup. Of course we ended up playing Spain in the knockout round and that really made our task that much difficult.

When you saw the World Cup matches in the future, what did you see that changed in Eduardo compared to the Eduardo that was playing in the  final against Vitoria Setubal?
These types of competitions give us a fantastic experience for our careers. We played some of the best teams and players in the world. We were able to evolve and improved as players.
***WE WILL HAVE PART TWO OF THIS INTERVIEW UP NEXT WEEK***
WHAT DO YOU THINK? LET US KNOW BY LEAVING YOUR COMMENTS AS WELL AS STATING YOUR CASE ON FACEBOOK, TWITTERAND GOOGLE+.