This will be the last retrospective post. To finish things off before return to the present we will look at the performer who appeared the most in the Tomatrax Top albums of the naughties, twice as a solo artist and twice with his band My Friend the Chocolate Cake. This interview was done with David Bridie just before the release of his 2003 album Hotel Radio.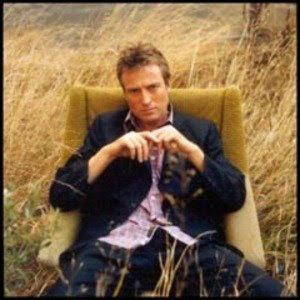 David Bridie has had a very fulfilling musical career playing with the bands Not Drowning Waving and My Friend the Chocolate Cake as well as writing soundtracks for various films. He has just finished his latest musical masterpiece; his second solo album Hotel Radio.
Instead of just recording the songs in the one studio David decided to travel around recording bits and pieces of the album all over the country. "Because the recording gear is quite mobile, the computer and the pro-tools, you can pack up into a couple of station wagons" said David. "We went up to a house in rural Victoria for a little bit. We were kinda writing as we went in some cases and there were other songs that I had written at home. We went up to the country with Nick Littlemore for a couple of weeks and then would let it sit for a couple of months and then go to my studio at home. Doing it in segments was good because you could evaluate what you've done, let it rest for a while, have a listen and think 'okay I need to fix this' or 'this is working and that's not.' It took over a year to get done and I quite like that timing, that pace. I quite like recording in different locations. I like getting away from the sterility of recording studios so going out and setting up in a house that has a pretty nice view out the window. It is a good way of spending time and I think having a good experience when making a record leads to a good record."
On the album David is joined by a stack of special guests such as George's Katie Noonan, the Go-Betweens' Amanda Brown and the Reel's Dave Mason. "I was very grateful that they wanted to play with me. I was quite keen on vocally being able to vary the sound, I think my voice gets boring after a while, I think any vocalist's voice gets boring after a while. The texture of the backing vocals or in the case with Dave Mason, him singing a duet with me kind of means that as you travel through the record the vocals are done in a different way and not just that, in some of the songs I tried to sing in a different way. On some of the songs I'm really pushing the vocals on others I'm singing quite back and I use different microphones and different approaches to the singing. The vocal is right up the front in the mixes of most songs. So I think you should pay as much attention to that as you would the snare sound or the guitar sound because it does occupy a preeminent part of the mix."
David has also played a big part in putting the Morning Star compilation together. "I just wanted a CD where local artists were engaging in their region. I sent out a whole lot of tracks to a whole lot of remix and soundscape artists who I admired; Pauk  Mac, Nick Littlemore, Tim Cole, Biftek. They were all quite excited about the project, they put their energy, heart and soul into it and I was really happy with the tracks that they sent back and I did a couple myself. I think it's a really strong CD."
Check out David Bridie's webpage to find out more!