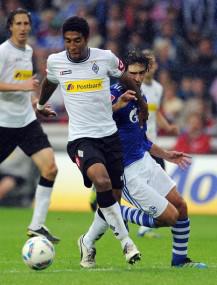 After talking about his team's current run of form in part one, we look at his personal goals in the second half.  Although his trademark afro is no longer present, Dante Bonfim is not just about a look.  His current form has him among one of the top defenders in the Bundesliga right now.  Dante has played every single league game for Gladbach and they are currently the second best defense in Germany only conceding four goals so far.
In the second part of our interview with Dante, we talk more about adaptation as well as the possibilities of being called up to the Brazilian national team.  He also talks about the way he sees the game now compared to when he was a bit younger and still looking to feel his way out in this profession.
Q:
Dante, tell me about the early part of you career. Tell me of your adaptation from life at Juventude to heading to France with Lille.
A:
In football, the beginning of one's career is always complicated.  You never have stability, you have no idea where you're going to be the following year.  My career was no different.   My career began that way in Brazil.  I went over to France and played sparingly.  Things got a little more stability here at Borussia. I am really happy to be here. 
Q:
How has changing from one league to another a growing experience (from France- Belgium- Germany)?
A:
It was great.  I always looked to learn as much as possible wherever I was, without a doubt.   The different styles of football I played in added something to my game.   For me, it was great to have so many different experiences in such a short period of time.  This all helped me row as a player.
Q:
What has changed for Dante from a player perspective in each of these moves?
A:
Of course we all grow up with time. I feel I have matured a great deal now.
Q: 
What are your long term goals careerwise? Do you see it feasible to mention Monchengladbach as a title contender?
A:
It's only a dream, but we believe we can do it.  Just a few years ago, Wolfsburg shocked the enture league.  We have to believe in ourselves.  That was the reason we were able to avoid relegation last season and that is the reason we are in the top spots in the Bundesliga right now.
Q:
Could it be feasible to say that Dante should get a shot at the Canarinha?
A:
(Laughs) I'll leave that up to the coach. I'm doing my part.  I dream that I wil someday have the chance to play for my country. Brazil right now have very good players in those positions, but I will always fight for a chance to be called up. 
Q:
Best player you have played with? Why?
A:
Look, I have played with a great deal of phenomenal players.  I just stopped looking at that when I saw the potential that a group has.  What I went through this past season was magical.  The best player on this team what the unity and dedication we all had.  Right now, all of my teammates at Borussia are the best players for all they have done so far.