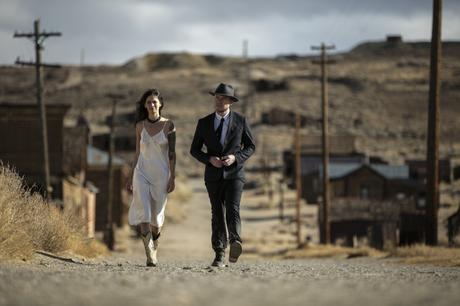 Little Hurricane, the 2-person alternative rock band from San Diego, California, featuring front man Anthony "Tone" Catalano and drummer Celeste "CC" Spina is gearing up for the release of their third full-length studio album Same Sun Same Moon on April 14, their first on Mascot Records.
From day one, the narrative of Little Hurricane has echoed the tale of a momentous journey: Their story began in San Diego, where Little Hurricane formed. With so much history behind the band, their new record is a nod to its predecessors Homewrecker (2011) and Gold Fever (2014) while taking a resolute turn with its intention. Tomatrax caught up with CC to ask a few questions
You have your third album of original material coming out next month, how does it feel to have it finished?
Great! It's been a few years in the making so to finally be able to share these songs with everyone is a good feeling.
How will the album compare with your previous work?
Like every record we make, it's an evolution of our sound and lives. Same Sun Same Moon is a representation of where we were not only physically but emotionally as well. We've experimented with new soundscapes and textures, and tried to push ourselves out of our own comfort zones to create something new and different.
Where did the name Same sun same moon come from?
It's a track on the album that we wrote with the intention of bringing people together. We thought the sentiment was so meaningful we titled the album after it. Currently the political landscape of the US and the world is so divided, we wanted to remind people that we are all sharing one planet.
What made you pick OTL as the album's single?
We think the sound is unlike anything we have put out in the past, and we wanted to see how it would resonate with our fans. Some people loved it, some people accused us of changing our sound. But it's just one song, and does not represent the entire body of work.
You previously did a covers album, how did this idea come about?
We had been working on different cover songs to add to our live set over the years, and we found ourselves with a little time off the road, so we thought it would be fun to record them all. It was interesting to take a bunch of our favorite songs and put our own spin on them.
If you could appear on anyone's tribute album who would you pick?
Probably Van Morrison because he was an artist we bonded over in our early years. We both gravitate towards the music our parents introduced us to, and he was a big influence to both of us.
How did the band form?
I (cc) put an ad on Craigslist looking for a guitar player / song writer. Tone responded with a list of his credentials that really caught my eye. He is a very experienced audio engineer who has worked with most major artists. I wrote back and to my surprise he only lived three blocks away on the same street! Within a year we were touring nationally.
Where did the name Little Hurricane come from?
A lot of brainstorming for something that will describe our band- small but powerful.
You've been described as the a second generation White Stripes, is that a fair call?
That is something we would never call ourselves. I'd equate that comparison to calling The Rolling Stones a second generation Beatles. They both had four members and played rock music, but if you study their catalogs and careers they are both unique bands with their own history and hearts. That being said I think the White Stripes were a great band that I respect and appreciate.
Do you ever listen to your own music?
Only when recording and mixing. After that we have heard it enough for a lifetime!
What music do you listen to?
All sorts. Anything from classic Oldies from the 50's and 60's to current top 40. Good songwriting can come from anywhere.
What do you have planned once the album is out?
Lots of touring, both home and abroad. And of course more writing- we never stop!
Check out Little Hurricanes's website to find out more!