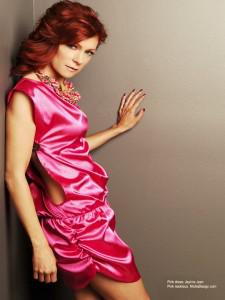 Carrie Preston has been really busy during the hiatus of True Blood and now she is busy back in action on the production of Season 4 as Arlene who has a new baby on the way.  Even so, she has stopped to provide an interview to Brooke Hunter.  The interview starts with some information about Carrie's career and then goes into questions and answers. Below are some excerpts from that interview:
Carrie Preston completed two episodes of The Good Wife last season, playing Chris Noth's new lawyer. She can be next seen on the big screen starring opposite Jennifer Connelly and Ed Harris in Dustin Lance Black's What's Wrong With Virginia? Also on the horizon is her harrowing turn as a struggling single Mom in A Bag of Hammers, with Rebecca Hall and Jason Ritter. Carrie Preston is also busy with the post production of her feature film, That's What She Said, in which she directs.
Question: Are you able to give us an indication of what happens in Season 4 of True Blood; we know Sookie Stackhouse is a fairy but what's next?
Carrie Preston: This is the season of the witches. So you will get to see how that gets played out. You will also get to see Arlene struggling with the same dilemma she had at the end of season 3. Only the problem has grown.
Question: Can you talk about working with Aussie, Ryan Kwanten?
Carrie Preston: I think Ryan Kwanten is one of our strongest players. I don't think the world really realizes just how good he is or how difficult his role is because he makes it look so playful and effortless. I have a great respect for him, and I never tire of watching him work. I'm usually critical about Aussies and Brits playing American southerners because that's where I grew up. But Ryan Kwanten nails it every time.
Question: What is a typical day on the set of True Blood?
Carrie Preston: I shoot a lot of my scenes in Merlotte's, which takes place on a sound stage in Hollywood. The exterior of Merlotte's is on the backlot of the Warner Brothers lot. If we are shooting the interior bar scene, I'm usually one of the first actors to arrive. I usually get into costume first and then they bring me in to have my makeup and hair done. This can take a while with me because there's so much to be done. Then we rehearse the scene on set while the crew watches and sets marks. We finish getting ready while the crew lights the stage and rehearses camera moves with our 2nd Team, who stand in for us actors. Once they are ready, we come back and commence shooting the scene from every angle. This repeats all day until the day's work is done. We take our lunch about 6 hours after the main crew are called, which is about 8 hours after I arrived. So "lunch" could be 1am in the morning, if you are having a night shoot.
Question: You've starred in Shakespearean movies; can you talk about the degree of difficulty involved in the Shakespearean dialogue?
Carrie Preston: I haven't done Shakespeare on film, but I've certainly done my share of Shakespeare plays. I started studying how to act Shakespeare when I was a teenager, and then I went to Juilliard in New York, which is a classical training program. But I am still learning. It's a life long process, but I love trying to figure out how to make that poetry sound like it's being spoken by a real person for the first time.
Question: How does that compare to your accent on True Blood?
Carrie Preston: We don't do accents in Shakespeare unless they are called for in the production. Generally Americans perform Shakespeare with a standard American dialect, which is clear and basically void of any regionalisms.. Sometimes directors want to place a production in a certain context. So they will, for example, do a production of "The Merry Wives of Windsor" and set it in a trailer park in Alabama. Then the actors would do an accent for that particular production. Although Shakespeare is challenging, I think all forms of acting have the same goal: to figure out what the person you are playing wants, how they will get what they want and why they are saying what they are saying in order to get what they want and what are the obstacles in the way. That's universal, no matter what words you are speaking.
Question: What does it take to get into playing the character of Arlene Fowler?
Carrie Preston: I grew up in the south, so I know women like Arlene. I also trust the writers, and I let their words take me where I need to go.
Photo credit: Regard Magazine.
read the full interview over at  femail.com.au.