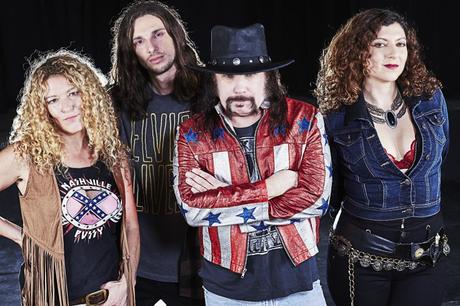 Atlanta Georgia Southern Rock n' Roll legends NASHVILLE PUSSY are set to blaze a trail through Australia and New Zealand in May 2017. Defying any genre, Nashville Pussy are a cowpunk, southern HARD rock and psychobilly monster smeared with whisky soaked sleaze.
Tomatrax caught up with Blaine Cartwright, the band's lead singer and guitarist, to ask a few questions.
You've been putting out music for around two decades now, what's the secret to the bands longevity?
The secret is not quitting! We could have packed it in years ago. But we're always rewarded if we stick it out. We played the Whisky a Go Go last night and kicked ass. Now I'm stoned and riding down the California Coast in perfect weather towards the next gig, listening to old Aerosmith looking forward to stopping for tacos. Who in their right mind would quit that?
You described your last album, as your "Back in black", was the album a hard one to put together following the change in line up?
The music part was easy. That's what held it all together. There were lots of factors working against us when we were recording UP THE DOSAGE. But then lots of stuff fell magically into place. I called it our BACK IN BLACK just for the hell of it. But I'm standing by that now. It was a struggle to get it done. But it's done and it's fucking great. One day I'll tell the whole story behind it. But right now I'm looking forward towards what the future holds.
Has any work begun for the seventh Nashville Pussy album?
Yeah! I'm always working. But now it's official we will be recording in Kentucky in September. Daniel Rey(Ramones) will be producing again. Daniel made me promise him that we'd go to Barrick Recording in Glasgow, Kentucky after he saw pictures from there. That was 8 years ago. But we're finally going! I tweeted that the next lp would sound like The Sex Pistols recording Physical Graffiti. That statement was picked up has gone a little viral. So expectations will be high.
Your song 'Til the meat falls off the bone' featured in Jimmy Bickert' film FRANKENSTEIN CREATED BIKERS, how did this come about?
He's one our best friends and part of our Atlanta crew. We're honored.
You're about to tour Australia and New Zealand, what can fans expect from your shows?
The shows are going to be kick ass. We are revved up and ready to go.
Nashville Pussy will be touring Australia and New Zealand next month, dates below. Check out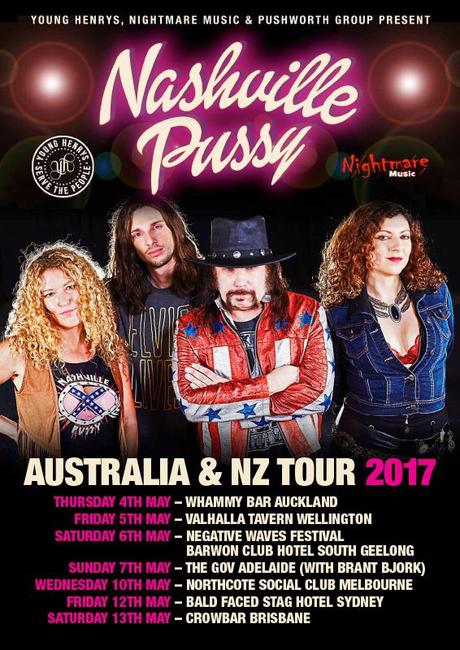 Nashville Pussy's website
to find out more.