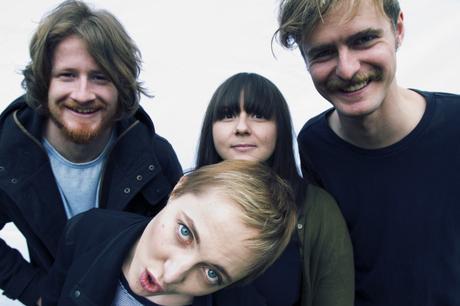 Rag n' bone's new album new record A Handful of Ash, is a "statement on love, loss, communication, family, and the state of the current political landscape", and creating dialogue around this is incredibly important to the band. Tomatrax caught up with Axel from the band to talk about their latest work.
How did the band form?
Raggers formed in early 2012 - Kiera, Sara and I (Axel) all went to university studying music together, where we decided that what we were doing in class could be improved upon if we ignored it - we also needed a shit hot Scottish drummer, so Jamie answered the call quite expertly.
Where did the name Rag n' Bone come from?
Rag and Bone men were grubby scavengers who found old discarded goods and tried to sell them to merchants - in the beginning, this was apt to describe how we formed into being, our mutual and separate influences mushing together to try to eventually create something new and worthwhile - hopefully we've got there!
You've just released your debut album, what's it like to have it out?
Aw, pretty good! It's the culmination of the past 5 years of our lives as a band, collecting all of our work and ideas towards our sound, our messages and ideas together in one tight half hour blast. The response so far has been great and we really hope people gain something from listening to it.
Where did the title A Handful of Ash come from?
It's a lyric from the song 'Solitude' and we thought it summed up the meaning of the album pretty well: our preoccupations with death, love, family, communication, language and identity necessitate that. It follows a wee bit of Wittgenstein and Joyce, in that you can't escape your heroes, especially one built on words - you're just going to become dust eventually anyway.
You've said that the album is statement on love, loss, communication, family, and the state of the current political landscape, what inspired you to make this statement?
Being young artists in Australia kinda makes it necessary to become active and try to make a definitive statement of support in your medium - our country's treatment of our indigenous people, refugees, identity-fluid and the lesser fortunate people leaves one wanting. We're still learning as we go too, but if anything, our hope is that a single listener is inspired to also make a stand for what they believe, too.
You'll be playing some shows in support of your album soon, what can fans expect from your show?
A buncha noise, minimal banter, flailing limbs, hopefully a dope light show, Jamie smiling every now and then, Sara staring off into the middle distance, Axel breaking something, Kiera breaking your heart.
When writing what comes first, the words or the music?
For this record, they kinda went hand in hand with some exceptions: 'Pissy Flow' and 'Mon Coeur' were rehearsal room jams made good, while 'Tall Ships' was originally meant to be a poem - I read it at a poetry night once - it needed Kiera, Sara and Jamie. Usually the songs come in to the room with some form in both music and lyrics, but often with no pulse: they leave the room fleshed out and given life.
Do you ever listen to your own music?
When given mixes and masters, yes. When trying to remember where the cutlery overdub was, yes. Otherwise, no.
What other music do you listen to?
Oh damn. Right now I've personally been getting back into Charles Ives and early 20th Century Western Art Music, as well as a steady diet of the first three P.I.L albums, Danny Brown and heaps of local Perth Music - I know Sara recently bought a synth because of Les Cloix and Stranger Things, Kiera's been clutching onto a copy of a Sugarcubes record and Jamie's been learning Portuguese - hit up some Tropicalia there, fella!
What do you have planned following your upcoming shows?
Touring! We're going over the eastern side of Australia in May, touring regional Western Australia around that time too and we have some exciting international opportunities we can't reveal just yet! We've also just started writing the next one and it's already sounding pretty cool!
Check out Rag n' Bone's website to find out more!