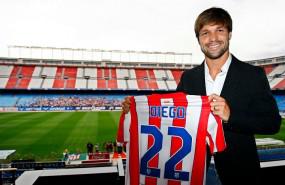 As soon as Atlético Madrid were able to obtain the services of one Diego Ribas da Cunha, Colchonero fans already knew that the team had a great deal of potential leading up to the new La Liga season.
When he stepped onto the pitch at Mestalla on Saturday it was quickly evident that he was going to be the cog that would make the machine run much smoother.  Despite losing 1-0 to Valencia, Atlético's ball movement and attack became much sharper.  They even generated much more important options. That was the impression after only 36 minutes of play in La Liga so far.
After being nearly seven years in Europe, Diego established himself as one of the big playmakers for Porto during the early stages of his career, he was always among one of the the best Brazilian products of the past decade.  Although the successes of Porto in terms of silverware did not follow him in his adventures at Juventus, Werder Bremen, and Wolfsburg; his talent was never in doubt.
For the native of Ribeirao Preto, Atlético Madrid is one of the biggest opportunities for him to get back in the spotlight on the international scene and find a place he believes he deserves within the Brazilian national team.
Juan Arango: How do you see this new project at Atlético Madrid?
Diego: I'm very optimistic. Atletico are a big club and have big expectations for this season. I hope to be able to help the team reach those objectives.

JA: What made you decide on coming to Spain- specifically Atlético? How did this move emerge?
DRDC: I always had a desire to play in Spanish football. There were many offers on the table and it was very seductive to have an offer from Spain and from a big club like Atlético.

JA:As a player you were the type that had the qualities to be very successful in La Liga. What are some of the qualities that will help you meet those expectations this season?
DRCD: I am a midfielder that can get to goal and be a threat. I also look to see where my teammates are and to see which one is the one in the best position to score. We're working to make the adjustment. When we begin to understand each other on the pitch, I believe that will begin to show in practice.

JA What can we expect from Diego this season?
DRDC:  You should at least expect a Diego with a great deal of desire and willingness to win on the pitch.  I am a very technical player, but above anything else, fans will see a very determined Diego on the pitch.
JA: What are your first impressions about your team and Spanish football- from the inside?
DRDC: I have been impressed.  I played in Germany and Italy, I know them well but Spain is fantastic. The structure of the clubs is fantastic and the fans are very supportive. I feel like I have to do a great job this season.
JA: How to they see Spanish football ina place like Germany?  What are the differences between La Liga and the Bundesliga?
DRDC: I think that German football is more rigid, there is a great deal of physical demand on the players.  I see Spanish football much closer to Brazilian football.  I see less of that demand in Spain.  More techincal, more open.  It's a type of football that flows better.  Despite all this, I like both styles.  Each one has its unique characteristics.
JA:What is the role that Gregorio wants you to fill inside the pitch?
DRDC:Right now we're working on this in practice. This is so I can fit in best with the team.  But it is based mostly on what I was doing over at Wolfsburg as well as with other clubs I played with. I will be playing as a attacking midfielder close to the forwards.
JA: You talked about it being "11 on 11 on the pitch" when talking about the big two here in Spain.  What have they told you about Real Madrid and Barcelona as of now?
DRDC: I said that without the intention of minimizing what Madrid or Barça have done.  They are both fantastic teams.  As a matter of fact, many people think that the Spanish league is just about these two teams.  I disagree.  There are many good clubs here and Atlético is one of them.  We need to confirm that in order to defeat any of our opponents.
JA: Your attitude is quite refreshing in regards to that.  As a person having watched La Liga from the outside, how do you think that the other teams approach Barca or Madrid?  Do they do so with a bit of fear or with resignation towards the inevitable?
DRDC: Fear, never.  We have to always respect our opponents, to fear them is a not a good thing.  I believe in my teammates' potential and I think that we can play better after every match and with every passing day;  so we can be among the best.   I respect  Barça.  I respect Real Madrid,  but I am going to always believe in the potential of my teammates here at Atlético Madrid.
JA: How do you see the Brazilian national team right now?  I imagine that one of your goals this season would be to get back into the national team this season?
DRDC: Without a doubt.  I am back in a big market with a big club so I can show what I can do.  I am going to work very hard to help out my team and give them my best.   A callup from the national team is a reflection of how you are doing with your club.  I will contribute.  I will return.  When I do so I will be two times as happy- for being back with the national team and to know that I am doing everything things the right way.
JA: Are you still following the Brasileirao?
DRDC: I follow.  Not very closely, but I watch via internet when i have the chance.
¿How did you feel and where were you when Santos won the Copa Libertadores?
DRDC: I was so happy.  Eu fiquei muito feliz. I thought about releasing a statement to the fans so I could express my love for the club's title.  It's a team that represents a great deal in my life and in my career.  I have a great deal of affection towards Santos
JA: How is the move from Germany to Spain going?
DRDC: It's going well.  Madrid is a beautiful city to live in and I was received very well. I don't think I will have problems adapting to life here.
JA: What do you miss the most about Germany?
DRDC: Nothing specific.  Germany is a beautiful country and I was always happy living there.  I only have good memories there.