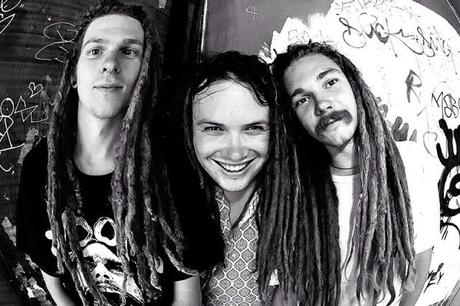 Wollongong 3 piece Kaleidoscope have just released their latest single Junior along with a home made video clip filmed in one take. Tomatrax caught up with Anthony Sween from the band to ask a few questions.
What was the inspiration behind the video for Junior?
We just wanted to bomb the mall on skateboards with a mad crew of our mates and froth tins at Rad bar after, so we figured it'd be cool to film it and use it for the song. It fits the song really well too, because it's kind of about being young and stoked about all the fun things in life.
The video was all done in one take, was this always the intention?
Yeah we really wanted to try make it feel like you are there when you watch it, and some crazy 7 angle perfectly framed masterpiece wouldn't do that.
What was the inspiration behind the skating skeleton on the cover for the single?
Back when Kscope first started jamming, Kane had a mad stack on his skateboard and ended up in intensive care for a while with legit brain injuries. He does all the artwork and made up the character so that has kind of seeped into the design a bit. Skating has always been a big part of us anyway and the skeletons a bit of a lord, so he deserves to have a shred every once and a while.
You previously released a 7 inch singe, do you think vinyl will continue to play a key role in music?
People always like to hold something so there's always gonna be something physical. We're in Indonesia at the moment and we've been asked heaps about vinyl, so people everywhere are diggin it still. We're just wax to the max hey.
Are there any plans for an album release?
Not sure, we've got a whole bunch of songs ready to record but we're just kind of wingin it at the moment and recording whatever we can whenever we can.
You've received a lot of praise from several high profile musicians, does that make you feel any pressure going forward?
Nah we're too chill to kill hey. We're just stoked that all these legends that we are huge fans of are our mates and dig what we do. We don't feel pressure, we just get hell hyped to show them what we're doing next.
You're also touring in support of the single, what can fans expect from your show?
Heaps of dreadlocks, heaps of volume, heaps of energy, heaps of frothin, heaps of tinnies, heaps of pitted legends and a whole lot of shakas.
What is the music scene in Wollongong like?
It's sick hey, there's a whole lot of legends making mad music. I reckon it's a bit of an underdog at the moment, but Rad Bar have mad shows every night and bands like Hoon, Step Panther, Hockey Dad, Love Buzz, BRUCE!, Ugly Mundays, The Pinheads, White Blanks, The Nuclear Family, and heaps more are just making some of the best music in the country at the moment. We are heaps proud to be part of it.
Where did the name Kaleidoscope come from?
It literally just sounded like a cool name at the time. We're not that good at naming things, if we could go back we'd probably be meth till death or Frothin to the coffin or something sick like that.
Do you ever listen to your own music?
We were talking about this the other day and it's kind of funny. We have to listen to it heaps when we are mixing it and maybe it's just being young and naive but we all like hearing it, because in theory it's exactly the sort of thing we all want from music. But that said we don't really drive around blasting it once we've finished the whole mixing/mastering process.
What music do you listen to?
Heaps of mad aussie stuff at the moment. Muddy Chanter and WALKEN from Brisbane are two of the best bands we've ever heard. Actually Brisbane as a whole is killing it, everything that comes out of the Bedlam Records house is mad. Then Batpiss, Sheriff, Swine, Scumm, Drunk Mums, Zeahorse, The Berkeshire Hunting Club, Dead Wolves, The Loveless, Cosmic Kahuna, Propeller, just way too much to really list hey.
What do you plan on doing after your tour?
Pretty much getting straight to work on the next single release. There's no point in stopping now hey!
Kaleidoscope are touring in support of their latest single (dates below). Check out their website to find out more!
Thursday, 26th February 2015
Frankies Pizza, Sydney
Friday, 6th March 2015
Captains at Mariners Hotel, Batemans Bay
w/ Muddy Chanter, Ugly Mondays
Saturday, 7th March 2015
Rad, Wollongong
w/ Muddy Chanter, Daggerz, Love Buzz, White Blanks
Friday, 13th March 2015
The Tote, Melbourne
w/ Dead Wolves, Cosmic Kahuna, TBA
Saturday, 14th March 2015
Flamingos Nightclub, Goulburn
w/ The Amphibians, Propeller, TBA