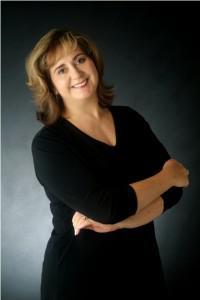 An avid knitter, coffee junkie, and devoted chocoholic, Allie Pleiter writes both fiction and non-fiction.The enthusiastic but slightly untidy mother of two, Allie spends her days writing books, buying yarn, and finding new ways to avoid housework. Allie hails from Connecticut, moved to the midwest to attend Northwestern University, and currently lives outside Chicago, Illinois. The "dare from a friend" to begin writing has produced two parenting books, fourteen novels, and various national speaking engagements on faith, women's issues, and writing. Visit her website atwww.alliepleiter.comor her knitting blog atwww.DestiKNITions.blogspot.com
How early in life did you know you wanted to be a writer?
Not early at all.  I set out in life to be a soap opera villainess, believe it or not.  I'd never considered myself a writer until a friend dared me to write a romance novel.  I have always been a storyteller, however, so there's where the basic skills come from.  I'm definitely not the role model for how to break into publishing.
If you weren't writing what would you be doing, career wise?
I've outgrown my theatrical tendencies (although my family might disagree), but still love the onstage rush of public speaking.  If the career fairy came down and asked me for another career, it would be traveling the world speaking and writing about knitting.  My knitting blog accomplishes that dream on a small scale, but cruise ship resident knitting guru could fit in there very nicely.
You are known for your knitting and love of yarn. When did this "love affair" begin and how do you feed the need?
I began knitting as a direct result of my need for an antidote to writing.  Contrary to what you'd think, reading isn't the opposite of writing.  My brain would kick into work gear every time I opened a book, so it wasn't relaxing.  I'm terrible at sitting still, so knitting not only met my "no words" criteria, but it is one of the most socially acceptable forms of fidgeting.  It's my passion outside of words, to be sure.  I feed the need through endless yarn purchases, but also through my blog "DestiKNITions" where I travel to cities and visit yarn shops.  Then I ask each yarn shop "what else is good in town?" It has led to some wonderful adventures.  For example, I'm typing this from a Wisconsin restaurant where I'm waiting to try their legendary macaroni and cheese with bacon.  Tough job, don't you think?Y
You do have it hard, Allie!
If you were a type of yarn, what kind would you be?
Oh dear, I'm EVERY type of yarn!  Something shiny and dramatic, like beaded silk, in a rich bold color.  I'm definitely not rustic or tweedy.  And since scarves and shawls are my trademark, I'd have to be something knit up into a lacy, drape-y shawl.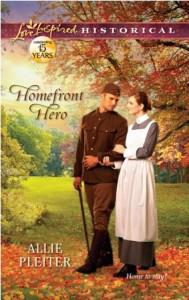 Tell us about your story in the book HOMEFRONT HERO.

I'm so excited about this book–it's a pure joy to combine my loves for historical romance and knitting into such a sweeping tale of wartime heroism.  Captain John Gallows is a wounded war hero with scars far beyond what people can see.  When he is forced to learn knitting as a publicity stunt for the Red Cross campaign to knit socks for soldiers, he's indignant.  Army nurse Leanne Sample isn't about to let the dashing captain make a mockery of her beloved craft.  Just as they are coming to a truce, a dangerous epidemic breaks out and they are bound together in a struggle to stay alive.

How do you weave in faith in your stories without getting preachy?

This is an important goal for me.  I work very hard to make the faith authentic in my books.  Faith comes in bits and pieces, not leaps and bounds–like gears that finally lock into place.  Faithful people aren't perfect, either.  They backslide, do the wrong thing, and give into weaknesses.  It's how they come back, however, that grows them in the ways God intended. I hope my books show how faith finds its feet in a broken world.

What do you hope readers will take away from your story?

I hope they realize that God always has more in store for us.  We can always count on Him to fill the gap between our faulty capacities and what life demands.  That's the courage of the faithful.

Is there a common theme that runs through all of your stories?

I spend a lot of time thinking about this subject this year when I came up with my tag line/brand of "The adventure starts right where you are." I believe this deeply.  God has an adventure in store for each of our lives, and for each of my characters.  I want to encourage people to say "yes" to the adventure that's right in front of them–because I believe it is truly there.

A few fun questions…

Favorite comfort food

Chocolate, in just about any form.  Followed closely by coffee.

Favorite writing space

I don't have one.  I write anywhere.  God bless the person who invented the laptop!

Favorite thing to knit

Ha…very funny.  Everything.  The hardest thing to knit is the second sock or mitten.  I use up all my excitement and enthusiasm in the first one, then can't seem to muster enough nerve to do it all again.

Summer or Winter?

Spring, actually.  I don't like to be too hot or too cold.

Coffee or Tea?

COFFEE!

Sweet or Savory?

Sweet.  I could never eat another potato chip for the rest of my life and not even notice.

 Thanks Allie, for sharing your yourself with us! 

Back cover copy:

Dashing and valiantly wounded, Captain John Gallows could have stepped straight out of an army recruitment poster. Leanne Sample can't help being impressed—although the lovely Red Cross nurse tries to hide it. She knows better than to get attached to the daring captain who is only home to heal and help rally support for the war's final push. As soon as he's well enough, he'll rush back to Europe, back to war—and far away from South Carolina and Leanne. But when an epidemic strikes close to home, John comes to realize what it truly means to be a hero—Leanne's hero.