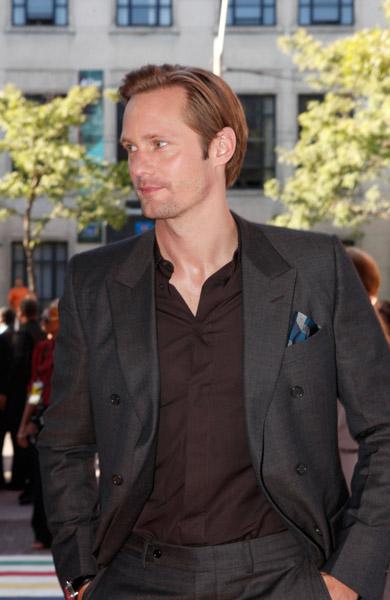 True Blood's Alexander Skarsgård gave an interview to The Guardian.co.uk while sitting in a spiffy bistro in the Bowery section of New York City.
Below is part of that interview.
In the interview, Alex talks to Aaron Hicklin about his famous father, military service and why Lars von Trier is actually 'a very sweet man.
We are sitting in a spiffy bistro, just off the Bowery in New York's NoHo, and the incongruous presence of a celebrity vampire – Skarsgård's profile in the US rests largely on his role in HBO's lusty drama True Blood – is creating ripples of interest. At 6ft4in and shamelessly handsome, it's hard to ignore him. A young girl interrupts to ask his name. "Alex," he replies, "What's yours?" "Emma," she says, before racing off to confirm to her mother that, yes – it is the man from True Blood. A waiter approaches to congratulate him on the latest episode, before recommending the potato pizza with truffle oil and fontina cheese, a house speciality. We order one between us. There has to be wine, too, though Skarsgård agonises momentarily. "I got here two weeks ago, and I haven't been sober one day since," he says. "It's not like I'm wasted, but every single night there's been something. In LA you have to plan, like, 'All right, next Saturday, let's get drunk and let's not drive – we'll arrange a car.' In Stockholm or New York you go out, you have a late lunch, you end up ordering a bottle of wine, and someone shows up, you order another. I love that, just the flow of it."
There's a fresh, unguarded quality to Skarsgård. He's not yet so wary of journalists (or too primed by publicists) to have lost his spontaneity. Although he lives a lot of the time in LA, he gets back to Stockholm as often as possible, as if to keep his ego in check. Fellow Swede Jonas Åkerlund, who cast Skarsgård as Lady Gaga's paramour in his 2009 video for "Paparazzi" – he pushes her off a ledge, she returns in a wheelchair to poison him – describes it as a "country cousin" mentality, which turns out to be a compliment. It means that Skarsgård is incapable of affectation, and it explains why he doesn't get mocked or disparaged back home. "Swedes tend to judge very easily; nothing really impresses them," says Åkerlund. "It's really hard to find the right balance, and the only way to do it is to be the guy you are, and never forget where you come from." Skarsgård is not the first in his family to have managed that balancing act. In that respect, at least, he is just like his father – "one of the coolest guys in Sweden," as Åkerlund calls him.
The cool guy, of course, would be actor Stellan Skarsgård, who seems to glide effortlessly between theatre, art-house movies and camp blockbusters such as Mamma Mia! But his position as the most famous Skarsgård on the planet is looking shaky right now – at least in the US, where True Blood has established itself as HBO's biggest hit since The Sopranos. Young Skarsgård says it was only in the past year or two, during the second season of the series, that he began to realize his career was taking off, some eight years after his dad's manager suggested he audition for Zoolander, but he bats away the suggestion that there might be any oedipal rivalry in progress. "We're more like brothers than father and son. We hang out. I'll take him out with my buddies in LA or in Stockholm, and it's never awkward or anything. He's 60, but he likes to party." You get the impression that this is something that comes easily to both of them.
To read the rest of this interview, go to: guardian.co.uk