True Blood star, Joe Manganiello  is interviewed where some surprising things are revealed about him, including how it was working with his old college buddy, Matt Bomer, his aspirations outside of acting, his concerns about being typecast for his shirtlessness as well as the surprising skill he mastered at the ripe old age of six!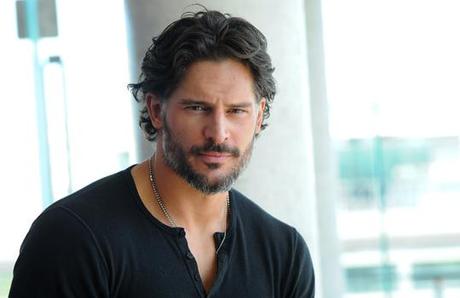 AfterElton: Let's talk True Blood first. One thing I've noticed is that for a werewolf Alcide has a very nice moral line. Do we ever see that kind of get shaken, or would you like to see that get shaken up a little bit?
Joe Manganiello: Yeah, you will see that get shaken up. Towards the end of the season you will definitely see that, but I think it is done in a very interesting way, let's just say that. It is done in a way that made me very excited when I read it.
AE: Is this something you've wanted to see happen for him since you've been on the show?
JM: It actually is. I've wanted to see what would happen if he crossed the line, and I think everybody that is watching whether you consciously know it or not, it is a line that gets crossed that you really want to see get crossed, yeah.
AE: Alcide is still very moony-eyed over Sookie (Anna Paquin), but their timing always seems to be a little off. I'm wondering, is he going to wait around, or is he eventually going to get tired of waiting?
JM: He is a man at the end of the day. He's a man with a big heart, and I think that he needs it to be reciprocated. So I think there is only so long that someone can go without it being reciprocated. But hopefully the timing does wind up working out at some point.
AE: Vampires traditionally are very sexual and very homoerotic. Do you think werewolves are kind of the same way?
JM: Elements of homoeroticism in werewolves? I don't think Alcide is. Alcide is straight, and I'm trying to think of the other werewolves. That storyline hasn't really been explored on the show.
Read the rest of this interview by going to: afterelton.com