The following interview is published in the February issue of the magazine of the Vienna State Opera. On the occasion of the first Adriana Lecouvreur at the Vienna State Opera ever, this issue focuses on the guest stars. Anglea Gheorghiu talked to Andreas Lang about this beautiful production that will open on February 16.
Claudia, thanks a lot for the translation!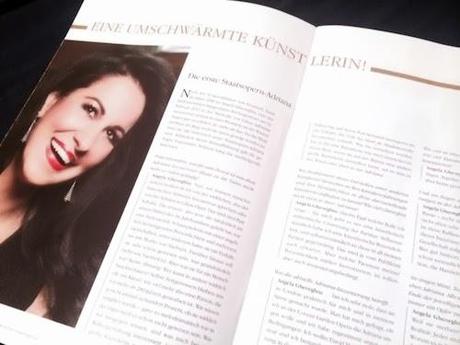 The first Adriana at the State Opera (Vienna) An idolized artist
After the new production of Gounod's Faust in 2008 Angela Gheorghiu, one of the greatest singers of our time, sings now the title role of Cilea´s Adriana Lecouvreur on 16 February 2014 in a premiere at the Vienna State Opera. Yes, more than that: This opera has never been shown before in the House at the Ring, it is the historically first Adriana at the State Opera. On the occasion of this premiere, the popular soprano has given the following interview to Andreas Láng,


Ms. Gheorghiu, which kind of person is Adriana Lecouvreur? Today, her name is not so familiar anymore

Angela Gheorghiu: Now, we first have to make a difference, if we are talking about the real, historical Adriana Lecouvreur or about Cilea's Adriana in the opera. These are two very different entities. The first one, who lived in first third of the 18th Century, was a major actress with an allegedly compelling personality and several liaisons, among other things, she had a relationship with Maurice of Saxony. In addition, she was very beautiful, which is not always a disadvantage. But what kind of person was she? No idea! Who can really look into others? Even contemporaries often remain a mystery to us, much more a person who died more than 280 years ago. We don´t even know one hundred percent if she was really poisoned - quite melodramatic as in the opera it will not already have been. But what we know and what I am interested in during creating a role is the fact that she was a great artist and the theater world was at her feet. No less a figure than Voltaire wrote the Ode "La mort de Mademoiselle Lecouvreur". You will understand, for an artist like me it is special to represent another great artist on stage, whether it is Tosca or Adriana.


How does it work, representing another artist? Do you try to slip in your artistic experiences and your personality ? How much of Gheorghiu will we find in your Adriana?

Angela Gheorghiu: (laughs) No matter what role I sing - for me the artistically authentic rendition of the score is important. Of course I have an artistic personality and of course this is currently in all my roles. This is indeed expected by the audience. But which facets of my personality become more prominent, depends on the role and also on the staging.


Concerning the current Adriana staging. . .

Angela Gheorghiu: ... I am very proud, it was made in London effectively for me. They asked me if I wanted to sing Adriana at Covent Garden and I agreed on two conditions: I wanted David McVicar as director and I insisted that the production takes place in the original time, without any modern mise-en-scène which we all have widely experienced during the last 30 years on the international Opera stages. And now I have to say: I have never been allowed to wear such beautiful costumes on stage!


How much of a role-making is inspiration, how much craft and how much intellectual concept?

Angela Gheorghiu: You have just mentioned all three necessary aspects - but I can give no percentage (laughs).


And which are the musical challenges of Adriana?

Angela Gheorghiu: It is not an easy part overall - quite dramatic. And the orchestra is not very small. But what I really like is this refinement of the composer, how he adsorbed this French lifestyle of the era, the Society and reproduced it. Who listens well, gets already a significant information about the situation, the actors, the atmosphere solely from the music.


You sing Mimì, Tosca, Marguerite, Violetta - and now Adriana. All these young women are dying at end of the opera. Don't you mind to always be a victim?

Angela Gheorghiu: A victim! Why a victim? Because they die? Let's stay down to earth: everyone dies sooner or later. In actual fact, it is: How do I have lived before death? It´s true Adriana dies very early, but her life before was fulfilled in every way. Cilea has made an Opera out of the last part of her full life. A victim? Remember how full of character she is, how much courage she has, when in her Phèdre text she chooses the intonation, that she snubbed her powerful enemy, the Princess of Bouillon. No, no, Adriana Lecouvreur is not a victim for sure.