On a warm summer's night several years ago, I found myself caught in what I like to call "the YouTube spiral." I had spent the last hour and a half sifting through ballet videos, watching, studying, gawking. I came across a video of the Le Corsaire pas de deux performed by Adiarys Almeida and Joseph Gatti at the USA International Ballet Competition. For the full ten minutes and thirty-two seconds of the video, my jaw hung open. To this day it is still one of the most impressive and dazzling renditions of this pas de deux I have ever seen. No scenery, no props, no story. Just pure, unadulterated ballet.
  

From that moment on, I was a fan of the power couple. And not just in the "oh, I like them" way; in the "I'm going to choose what ballet to see based on what roles they're dancing" kind of way because it's worth doing. Not to mention Adiarys and Joseph are dating, which makes their lifestyle all the more adorable and intriguing to us dance enthusiasts.
  

It's a pleasure and an honor to have the opportunity to conduct an online interview with one of my role models, Miss Adiarys.
-
What first inspired you to become a dancer and when did you begin dancing?
I started dancing at age 6 at "Casa de Cultura" (Culture Home) in Matanzas, Cuba, my hometown. I did 3 years of pre-ballet there, before I joined the Vocational Arts School "Alfonso Perez Isaac" when I was 9 years old.
 My biggest passion was painting. But I had the artist in me since I was very little. I was always giving shows, dressing up, dancing and singing around the house.
 All starter one night at my grandmother's house. My aunt had invited a friend for dinner and she was a ballet instructor. She saw me painting on the floor on a full open split and said: "...she is very flexible... you should bring her to take ballet class..."  And my family did. I didn't like ballet right away, but the challenge of it and the freedom I feel when I dance made me fall in love with it.
-
What is your favorite place to perform?
  

In Cuba! There is not audience like the Cuban audience. Ballet is big in my country. Is As big as Sports. People understand it and there is a huge appreciation for it. They go crazy at the theater! But.... I haven't performed in Cuba for over 10 years. I'm afraid I can't... Since I defected in the United States looking for the artistic freedom and the opportunity to bring my art to every possible place in the world. I hope one day before I retire I can dance in Cuba again.
-
What is your favorite on stage memory?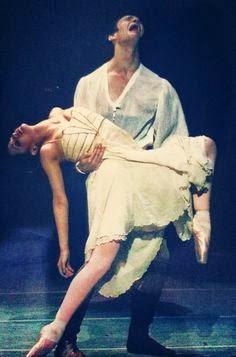 I have had many great memories on stage but to mention a few I could say:
When I got to dance Victoria Morgan's "Romeo & Juliet" with the Cincinnati Ballet in 2008. My Romeo was my boyfriend Joseph Michael Gatti so I felt the story was even more real. It was very special and emotional.
Also when I dance Natalia Makarova's "La Bayadere" in Liceo de Barcelona in 2009. I was Gamzatti and I got to share the stage with such stars and wonderful artist and people.Alina Cojocaru ( One of my ídols) was Nikiya and Ángel Corella was my Solor. I will never forget that performance. It was like a dream.
-
What is your most embarrassing stage moment?
When I was 18 years old and I was just starting to rise at the Cuban National Ballet I got to dance "Munecos" one of my favorites Cuban ballets by choreographer Alberto Mendez. This performance was for a Gala in celebration of 4th of July and they where broadcasting the performance live on TV for the whole country. There were so many important people in the audience, even the president.  I slipped and I fell on the floor in the middle of my solo. I was so embarrassed.
-
What is your favorite role and why?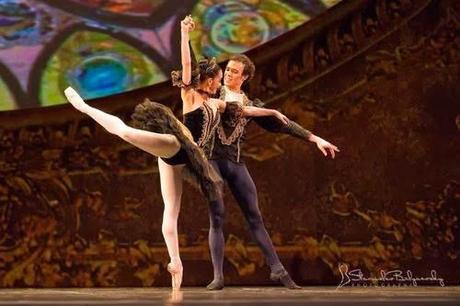 "Manon" by Kenneth McMillan I have never dance this role. But it is my very favorite. Manon is about a young girl corrupted by Parisian Society in the 18th Century. She falls in love for the fist time, but her life turn the wrong way and she ends up dying. I love the movement in the ballet and the amazing music score, but what I love the most is how McMillan describe the story with such dramatic scenes. To dance this  ballet is the biggest dream in my career.
-
Do you have any pre-performance rituals?
No really. I just like to be around the theater and get ready with time. Don't like to rush before a performance. Doing my hair and make up makes me relax and I also like to have some extra time to visualize my performance. Think about the role, etc...
-
I've heard that you love to do story ballets and add your own feeling and emotion to a character. Of the roles you've danced, which is your favorite to dance and which character do you relate most to?
My favorites roles to dance are:
 Juliet ( Romeo & Juliet )
 Giselle ( Giselle )
 Nikiya ( La Bayadere )
 Love these ballets because I can transport my self to a different world. Is more than dancing,  is the acting in them what i love the most, is so deep that is like you are really living in these stories.
I relate my self to:
 "Carmen" ( Carmen )
 She was a very strong woman, very secure of her self. She was a gypsy a fortune teller. She knew her destiny from the beginning, but she still when her way, because she wanted to live her life the way she wanted, without caring about what others think... I'm a little bit like that. When I want something or I have a goal, I will go for it.

 I also relate my self to:
 "Kitri" ( Don Quixote )
 She is a very playful young girl that likes attention, have such an independent personality, a free spirit and she is fiercely stubborn.
I can be like that too... Lol...
-
With a wide variety of roles and awards under your belt, what are your goals and aspirations as a dancer from here on out?
I just want to keep growing and become the best artist i can be and make every performance special in a different way. I want to touch people heart with my art and drive them to a different world.
-
What it's like working alongside the man you're dating?
Is great! But sometimes is hard. The great part is that we get to dance together a lot and that is very special. We have a great chemistry on stage and I love that we can share the adrenaline and energy in many performances. We also get to travel together most of the time and we have each other for support, thing you need a lot through this career.
 The hard part is that we feel so comfortable with each other that sometimes while rehearsing together we get to small disagreements. We don't fight a lot like other couples I have seeing... But sometimes we do... Also is very hard when one of us is injured... Because it becomes very stressful for the other.
-
Describe the atmosphere of the Boston Ballet Company. What were the pros and cons of working there and why did you decide to leave and work for the Cincinnati Ballet?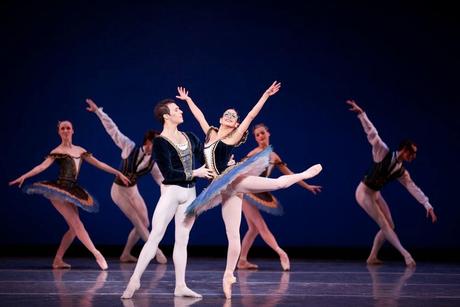 I was very unfortunate my first year with the company. I had to deal with a bad injury and missed almost the whole season. But I came back from
It stronger than before and didn't get hurt for the rest of the time I was there. Beside that....
 Boston Ballet wasn't the place for me. It was very hard and frustrating after being a Principal Dancer for 5 years with 2 different companies and find my self dancing secondary roles. I was seating in the audience for most of their Opening Nights, I wasn't cast for any contemporary work and the role I got to dance the most it was the Chinese Dance in the Nutcracker. Mentally it was very hard for me because I felt I was at their Principal Level, technically and artistically. I constantly saw dancers getting promoted and fire within the same year and I didn't want to live with that stress for the rest of my career.  Every year to me was a big question if I would have my job back.  My boyfriend felt the same way so we both decided to take a break from company life and go on a freelancing adventure together. So we resigned from Boston Ballet last February. Its funny because after that, in a period of three months Boston Ballet gave me all the principal role.
The best things about Boston Ballet  is that they not only have great dancers, but wonderful human beings. I made some really good friends there. And for me particularly working with Larissa Ponomarenko, she is an amazing coach and helped me so much.
We are now International Guest Artists and have been invited by Victoria Morgan to dance with the Cincinnati Ballet for three months during the company's 50th Anniversary Season.
-
What ballets/productions are you currently working on and what's next on the roster?
I'm working on a completely new production, with new sets, costumes and new music score. Victoria Morgan is creating a new "King Arthur's Camelot" for Cincinnati Ballet's 50th Anniversary season. I'm going to dance the role of Guinevere. I'm really excited about it!!! The premiere is February 13-16.
-
Describe a working day in your life.
If I'm in a company. I take class for an hour and half, then most of the time I have a full day of rehearsals, 6 hours total. We have an hour for lunch in between, that usually gets really busy for me. In my lunch time, I have to eat, find time for some therapy if i need it, and sometimes I have to rehears for my guestings. It all depends... Sometimes rehearsal schedule can be rough. We can go from flat shoes, to pointe shoes, to character shoes.... It gets really crazy sometimes.
-
What is one thing you could not live without?
My soul
-
What is your inspiration/who has your role model been throughout your dance career?
I find inspiration in people, in life, in friends in family. I think that I can always learn something from each dancer. Everyone of us have something special and unique. But I can also mention some of my favorite ballerinas, those who inspire me everyday through my career.
  Lorna Feijoo
 Alexandra Ferri
 Alina Cojocaru
 Sylvie Guillem
-
What is the legacy you would like to leave? When you retire one day and people look back on your career, what do you hope they remember?
I hope they remember a true artist that's was able to touch their heart in a different way with every single performance. I think that is the most important. I will say 80% of the audience doesn't know about ballet technique, you have to make them feel something special with your artistry and the freedom of your movements. That's what they will always remember.
-
What advice would you give to aspiring professional ballerinas about making it in such a competitive field?
This is very difficult profession. You have to be very smart and to be the best dancer you can be you have to compete with your self. Work hard everyday and be open to listen to the ones can help you, don't ever think you know everything. In ballet you are always learning until the very last day of your career. At the end of it you will be happy and satisfied that you have tried your best and you have enjoyed the journey.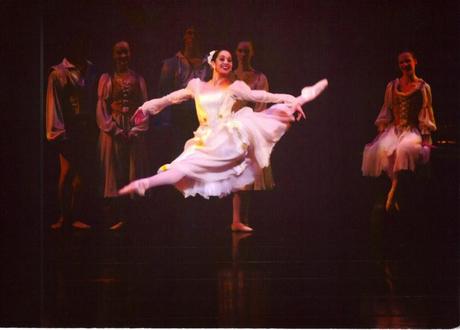 Written by: Rhiannon Pelletier Special thanks to Adiarys!