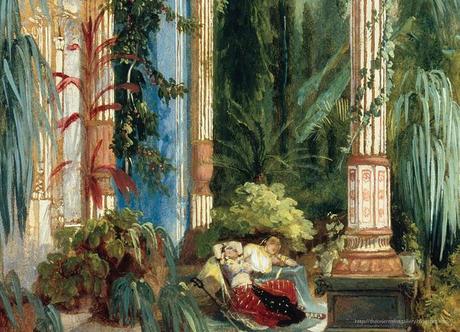 Detail of Interior of the Palm House
Artist: Carl Blechen
Title: Interior of the Palm House (1832-1833)
Medium: Oil on Paper, stretched on canvas
Size: 64 x 56 cm
The Palm House was built on the Pfaueninsel (Peacock Island). Frederich Wilhelm III asked Carl Blechen in 1832 to paint a diptych of the room as a gift to the kings daughter the tsarina of Russia.
The artist made many sketches of the room and created an Orientalist themed setting by placing lounging odalisques in the tropical room.
At first glance I thought this was a water color painting only to find out that the artist painted with oils on paper. Thinly applied paint enabled him to create an airy, sun lit setting. Note how little time was spend to create the figures. Their features are only hinted at, because they are simple human props to emphasize the  Oriental themed setting, which seems very much Indian inspired.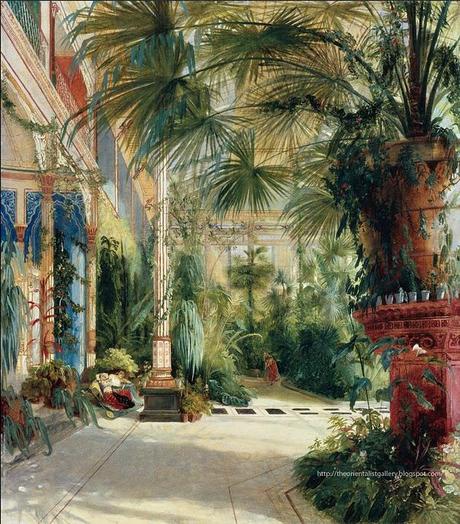 Interior of the Palm House
~
Painting Commissions are Happily Accepted ~
 Layaway Plans are Available!
★Thank you for Visiting!★ 
Join Me on Facebook
~ Return to Portfolio ~ Return to Blog