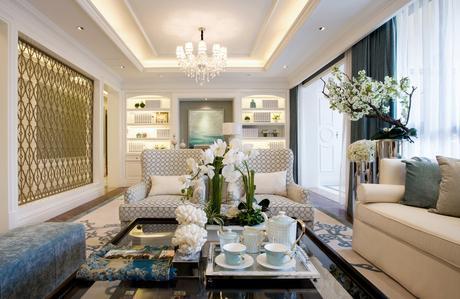 Close your eyes and picture yourself sitting in a stylish, tasteful room.
The smell of freshly cut flowers is in the air, the peaceful tones and designer furniture ooze luxury and refinement.
Could anything be more captivating to the senses than the serene haven of an elegant, well designed home? It is easier than you might think to transform your living spaces from dreary to delightful.  Here are a few simple ways to bring a touch of refinement into your life.
Embrace the Tones
Whether you desire the cool grey, blue and white tones of classic French Provincial style or the more opulent reds and golds which would give your home a sumptuous feel, your paint and fabrics are the first step.  Begin by decluttering your rooms and removing anything that does not fit in with your new vision.  Elegance often goes hand in hand with minimalism, so remove the distractions such as knick knacks and clutter to move one's focus onto the whole, rather than the parts.
Leather tones are always in style, and when refurbishing my home I couldn't go past Roth Newton's lounge suites which, when placed beside my open fireplace, gives an impression of refined quality to my living area.
Setting the Stage
As any successful home seller knows, setting the stage is a vital part of giving a room an air of aspirational living which is, after all, what we are all aiming for.  Occasional tables thoughtfully placed, ornate mirrors and sumptuous soft furnishings can all create an inviting aura in your home.  Don't forget to take the theme of your home into each and every room which will allow your home to 'flow'.
Quality furniture can be spotted immediately and it is far more prudent to spend money on a few well designed pieces than a lot of cheap chipboard tat.  If your budget doesn't stretch to buying everything new then check out places like Ebay or local auction rooms for quality pieces.  You can give a quick and economical makeover to any furniture simply by using things such as 'crackle paint', to give wood the look and texture of chic style.  Large gilded mirrors are another feature which create an imposing look of grandeur to a room.
Lights, Camera, Ambience
The soft glow of carefully placed lamps and lighting is a strategy that is often neglected when creating an elegant mood.  Warm standard lamps sitting in a nook next to a leather reading chair can create an inviting, enveloping cocoon where you can imagine nestling on a cold winter's night.
Candelabras in gold and silver have always been synonymous with opulent living, but need to be used tastefully to avoid crossing the fine line between chic and gaudy.
Features
Adding quality features to the entrance of your home is a sure fire way to set the scene for what lies within. Wood panelling, beading and wainscoting are all breathtaking signs of luxury and refinement.  The impact that they can create in hallways, up staircases and even in areas such as bathrooms, is well worth the time and effort of having them fitted.
Retrofitting features which may have been removed from older homes can restore their beauty and elegance. Magnificent ceiling roses, picture railings, mouldings and sash windows are all signs of a home's classic beauty.
In the kitchen, features such as pendant lighting, pot hangers and heavy chopping blocks all give little touches of vogue living to your room.
There are many other ways in which to give your home that air of elegance and refinement. Borrow ideas from magazines and real estate sales sites and add your personal touches to them.  Make every room in your home a delight to enter and a peaceful refuge where you want to kick off your shoes and stay a while. Enjoy.
**